As much as we may wish it different, the vast majority of us have a limited amount of time and money to spend on vacation. Trying to align our Walt Disney World priorities with these constraints can be incredibly challenging. We get that! While the Disney water parks are some of my favorite vacation destinations to relax and unwind, there have been several trips where I just couldn't fit one in—let alone two. When one can make time for it though, water park days are a highlight of any Walt Disney World vacation!
We're here to help you decide which water park is better for you and your family so that you can maximize your time and experiences by doing a head-to-head comparison of the two parks. You're welcome to read our full detailed analysis below or watch/listen to the video immediately under this paragraph (or on YouTube at https://youtu.be/LAX_ZRUZVXk). Let's dive right in!
So, you're going to Walt Disney World, and you're planning to take a day to visit one of the Disney water parks. That means that you, like so many others, are facing the inevitable question—which one: Blizzard Beach or Typhoon Lagoon? Which water park should you go to? Which one is best? More importantly, which one is better for you?
I'm Heather with Seeking the Magical, and I'm going to help you answer all those questions today by doing a head-to-head comparison of the two parks in ten different categories. We'll determine, as objectively as possible, which park wins in each—leading to an overall winner based on the number of individual categories won. You can use this information to subjectively determine which park is best for you and/or your family. If all you care about are the thrill rides—then head to the park with the best thrill rides. If you really want to relax, and you care about the theming, wave pool, lazy river and various amenities—then the results from each of these categories will inform your choice. If you don't know what matters most to you, the breakdown we provide detailing what each park offers will enable you to determine where your Disney time is best spent.
Before we get started, just a quick reminder to please like this video and subscribe to our channel if you want more content like this. We really appreciate that feedback, and we thank you so much for watching. We're loving helping our fellow Disney fans have magical vacations, and we're so happy you're a part of it! So, let's get started!
1. Theming
First things first, category one is the theming of each of the water parks.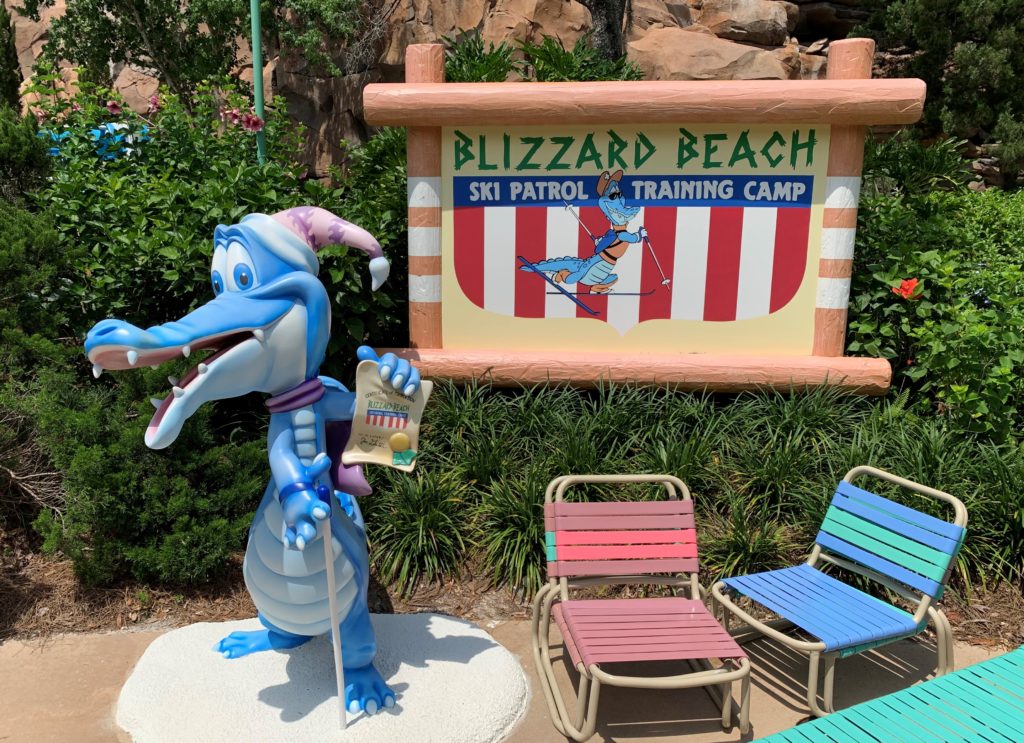 Typhoon Lagoon, the older of the two theme parks, is based on the Disney legend that a typhoon devastated what was once an idyllic tropical paradise. Caught unaware in the storm, a shrimp boat named Miss Tilly, was impaled by the peak of Mount Mayday. Now, the mountain erupts every half hour shooting off like a geyser 50 feet into the air and sounding the bells for the change in wave patterns in the surf pool below. Besides the boat centerpiece, there is a fair amount of destruction—from broken surfboards, to marooned vessels and leaning shanties throughout the park.
Blizzard Beach's legend is a little more far flung than that. This park tells the story of a massive cold front that hit Florida bringing about major snowstorms and the development of Florida's first ski resort at Mount Gushmore. Once the weather returned to normal and the snow started to melt, the operators were about to cut their losses when they noticed a blue alligator sliding down one of the trails and landing in the pool created by the melting snow below with a cheer. They realized they could repurpose their fledgling resort into a water park, and Blizzard Beach was born and led by their mascot, the "Ice Gator."
Ice Gator was so popular when Blizzard Beach first opened that Disney created a corresponding mascot for Typhoon Lagoon—this one is called Lagoona Gator. He loves to ride the waves and is usually "Gone Surfin'". You can find his home in the Board Room at the base of the clocktower though, and a statue of him at the entrance of the park.
The theme impacts the vibe of each of the parks. Typhoon Lagoon has the feel of a relaxing, tropical paradise with palm trees, little beach huts and the consistently chill vibe of distressed wood and muted, pastel tones. The music is more instrumental beachy with a kick, and the environment is very laid back. Blizzard Beach has a more upbeat, active vibe with punchy, fast beach songs played throughout. The buildings read alpine ski resort with rich wood and vibrant colors, and they—plus the ski jump, the chair lift and all the concrete painted white to look like snow piles—are in complete contrast to sunning on a beach chair in the sand. It's a dichotomy that requires one to do some mental gymnastics to resolve. This is Disney though, so you know they pulled off the elaborate theme—as weird as the combination is.
THEMING WINNER: Overall, Blizzard Beach wins in the category of theming because of the sheer extent of it. It's far easier to turn central Florida into a tropical paradise turned typhoon survivor than it is to turn it into a failed ski resort turned water park. Plus, they're so detailed with the ski resort theming, that there are skis attached to most of the chairs on the lift and water shoots off the ski jump every time someone goes down the slide. While I personally prefer the chill vibe of Typhoon Lagoon, I must give it to Disney that the theming is superior at Blizzard Beach.
2. Wave Pool
Next, we'll talk about the pools. Blizzard Beach has one, large wave pool for all guests. There are continuous small waves in the 1-acre pool and tubes are allowed. Conversely, Typhoon Lagoon has a giant surf pool that is the largest in North America. It fluctuates between constant small waves for half an hour to huge, 6 foot swells every 90 seconds. Innertubes are not allowed in the pool, and guests should take extreme care in the big waves—heed your swimming ability and that of those around you. Typhoon Lagoon also has an alternative swimming area that is adjacent to the Crush 'n' Gusher but roped off for safety. This pool does not have waves and it's smaller and substantially less crowded than the surf pool.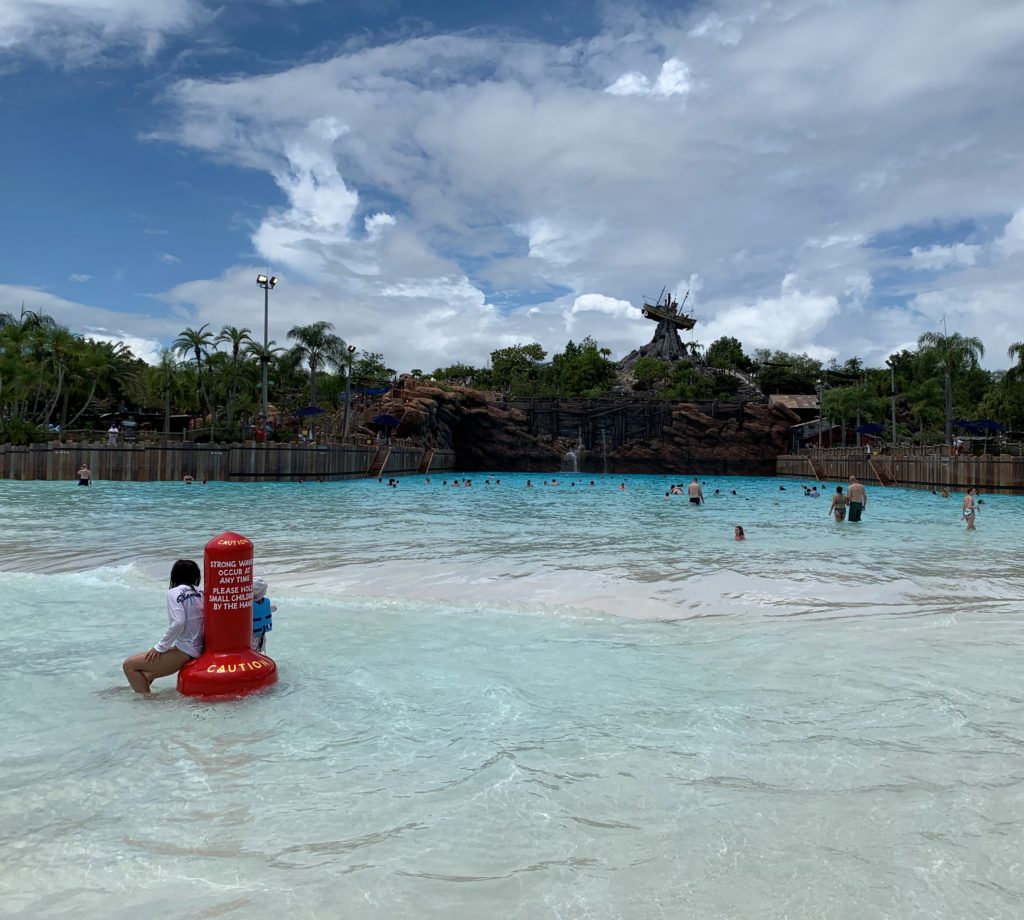 WAVE POOL WINNER: Typhoon Lagoon wins this category hands down. Their wave pool is far superior, and they have an additional pool without waves for those that are so inclined.
3. Lazy River
Now to my personal favorite aspect of any water park, the lazy river. I understand that some people like quote unquote "lazy rivers" that aren't so lazy—the ones that propel you forward quickly and have some rapids. Those are great too, but as neither Disney park has one, we'll stick with objectively comparing the two as actual lazy rivers. Typhoon Lagoon's is called, "Castaway Creek," and it's between 2,000 and 2,100 feet long making it take approximately 20 minutes to lap. Most of the river is standard, but there's one point where it splits, one large cave and several points where you can get hit with water being sprayed on you from the sides or above. This water is cooler than the river but not straight up cold.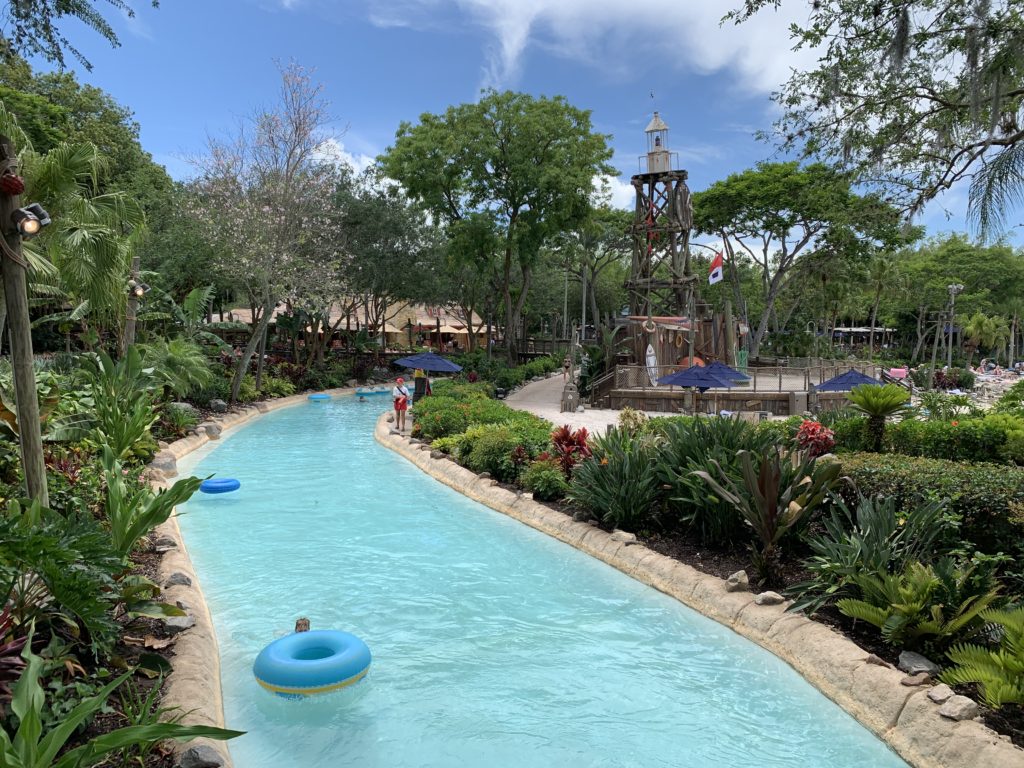 On the other hand, the water that's sprayed on you at Blizzard Beach is cold-cold. Like ice-cold sometimes. Keeping with their theme, some of this water comes out of broken snow machines, and you can definitely tell the difference in temperature. "Cross Country Creek" at Blizzard Beech is 3,000 feet long and takes approximately 30 minutes to lap. There are a few more covered areas on the journey here, but it's mostly standard too.
Guests should know that both waterparks have lifeguards stationed throughout the river to the monitor for guest safety, and there are multiple points of exit and entry at each. They also have a variety of innertube options—including new ones this year that allow you to sit lower in the water on a non-inflated part. Disney, if you are listening, these are a wonderful addition, and you should get more of them! When the parks were dead, I used to MacGyver a flotilla of sorts to fully lay out and cover my head when going under the spray zones, but it's so much easier with these! Thank you, Disney!
LAZY RIVER WINNER: Anyway, to the winner—this one must go to Cross Country Creek at Blizzard Beach because it's substantially longer and more unique than Castaway Creek at Typhoon Lagoon. I will note though, I personally prefer Typhoon Lagoon's because I find the ice-cold water that they use at Blizzard Beach to be far too jarring to the chillax vibe of a lazy river. True, one can try and avoid it by taking one of the toddler innertubes that has a solid bottom and holding it over your head, but that only does so much. It's still enjoyable, but one can't just sit back and quasi nap in the same way. Thus, take this as an asterisk on Blizzard Beach's win.
4. Family/Group Raft Rides
On to the next category—the family/group white-water raft rides! Typhoon Lagoon has two options for guests—Miss Adventure Falls and Gangplank Falls. Both have four person rafts, and both are medium intensity according to Disney. Miss Adventure Falls is touted as the "longest ride in the history of Disney water parks," but this distinction cracks me up. A huge chunk of this ride is just climbing the slope on the aquatic conveyor belt in the raft. Sure, it's part of the ride—and kind of cool—but it isn't what the ride is about. The actual rafting portion seems very short. It's fun, but it goes by very quickly. Gangplank Falls is not individually themed like Miss Adventure Falls, but it's fun and provides some decent thrills.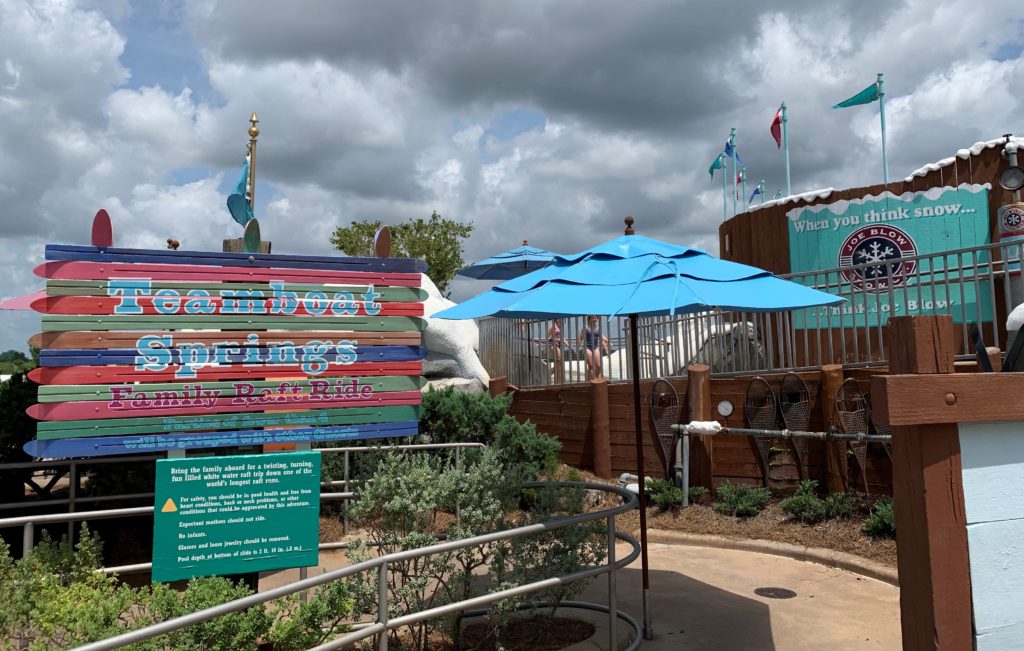 Blizzard Beach only has one group raft ride, but it's a really good one! Teamboat Springs is a 1,200-foot-long course that is all downhill—making it one of the world's longest group white-water raft rides. Guests board rafts for 4 to 6 riders at the top of Mount Gushmore so none of the ride time or distance is wasted in a long ascent. This one lacks any specific theming on the way down, but it makes up for it with a few bigger thrills.
FAMILY/GROUP RAFT RIDES WINNER: Picking a winner here is challenging. If one favors two, good raft rides with more elaborate theming in one and the chance to ride an aquatic conveyor belt as well, then Typhoon Lagoon wins. If one prioritizes slightly bigger thrills on one ride and less theming, Blizzard Beach wins. While very close, I think this one has to go to Typhoon Lagoon for quantity and theming.
5. Thrill Rides and Slides
Now, the category that I'm sure many of you have been waiting for—the thrill rides and slides! This category has the most components so let's take it one park at a time.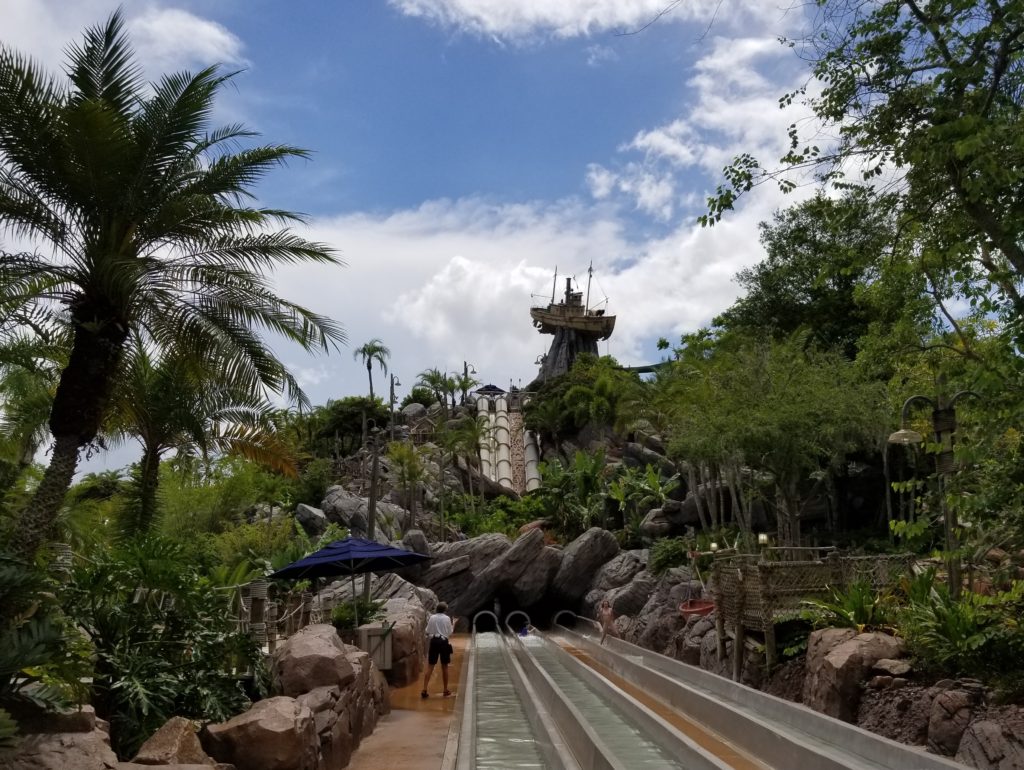 First, we'll cover the options at Typhoon Lagoon. Typhoon Lagoon features five different thrilling slides, but that number is really deceiving because there are many individual slides at most. Some, like Humunga Kowabunga have 3 side by side slides that are exact replicas of each other, but some—like Crush 'n' Gusher have three separate, distinct slides making the total number of slides way higher.
The most extreme thrill at Typhoon Lagoon is Humunga Kowabunga. This 3 duplicate slides attraction is a 5 story drop at a 60-degree angle down Mount Mayday. It's super fun and fast so be prepared for your swim bottoms to painfully creep up on you as you reach speeds up to 39 mph.
While not quite as extreme, there are major thrills to be had at Crush 'n' Gusher. The Gusher is made up of three separate and unique raft slides that are referred to as "water coasters" because they're propelled by jets that push rafts up inclines and back down. The Pineapple Plunger provides the greatest thrills because it goes faster with bigger drops and is mostly enclosed. Next, the Banana Blaster, has fun drops and lots of tighter turns. Lastly, the Coconut Crusher is a good, all around thrill coaster.
On the other side of the park is Mayday Falls. This is a medium intensity, one-person raft ride, and it's the highest and longest slide at Typhoon Lagoon. While not as thrilling as the three at Crush 'n' Gusher, it is still a great option.
Next to it is Keelhaul Falls, another one-person raft ride, but this one is pretty tame.
Finally, there's the Storm Slides—made up of 3 different winding body-slides: the Jib Jammer, the Stern Burner and the Rudder Buster. These are fun, fairly low-intensity, standard water slides. Nothing special but still good.
That sums up the options at Typhoon Lagoon.
Over at Blizzard Beach, there are six different thrill attractions. Just like at Typhoon Lagoon, several of the attractions here have more than one slide with some being duplicates and some distinct so that number is misleading.
The biggest thrill at Blizzard Beach is undeniably Summit Plummet. You know the big ski jump that you can see for miles around the park, that is Summit Plummet. Well, the slide that goes through that is anyway. It features a near-vertical drop, plunging riders 12 stories down a 360-foot-long descent. It is the third tallest and fastest free-fall body slide in the world reaching speeds up to 60 mph. It is completely exhilarating and goes by so quickly. Some find it challenging that it is a self-descent slide—meaning there isn't a trap door at the top, but I prefer it that way. It's amazing to see views of the rest of Walt Disney World from the top and push off for an epic ride.
On the contrary, the next biggest thrill is one I do not enjoy. It's the Slush Gusher, and it's a 90-foot waterslide just below Summit Plummet. This one features two rolling hills that result in what Disney calls an "invigorating lift" that gives riders "airtime". One isn't just hydroplaning on this thing—you'll catch air, which is very unique for a waterslide. I am great with airtime—heck, I've been sky diving before and loved it, but I'm not a fan of how this slide beat me up. Some say the airtime is scary because it makes one want to uncross and grab onto something—which one cannot and should not do. It can be painful though when one reconnects with the slide, and it tends to jostle riders around at the bottom a lot. I know many, many people who've been bruised up by this slide so just FYI. Ride at your own risk. Also, be prepared for major swimsuit creep at the bottom of both Summit Plummet and Slush Gusher.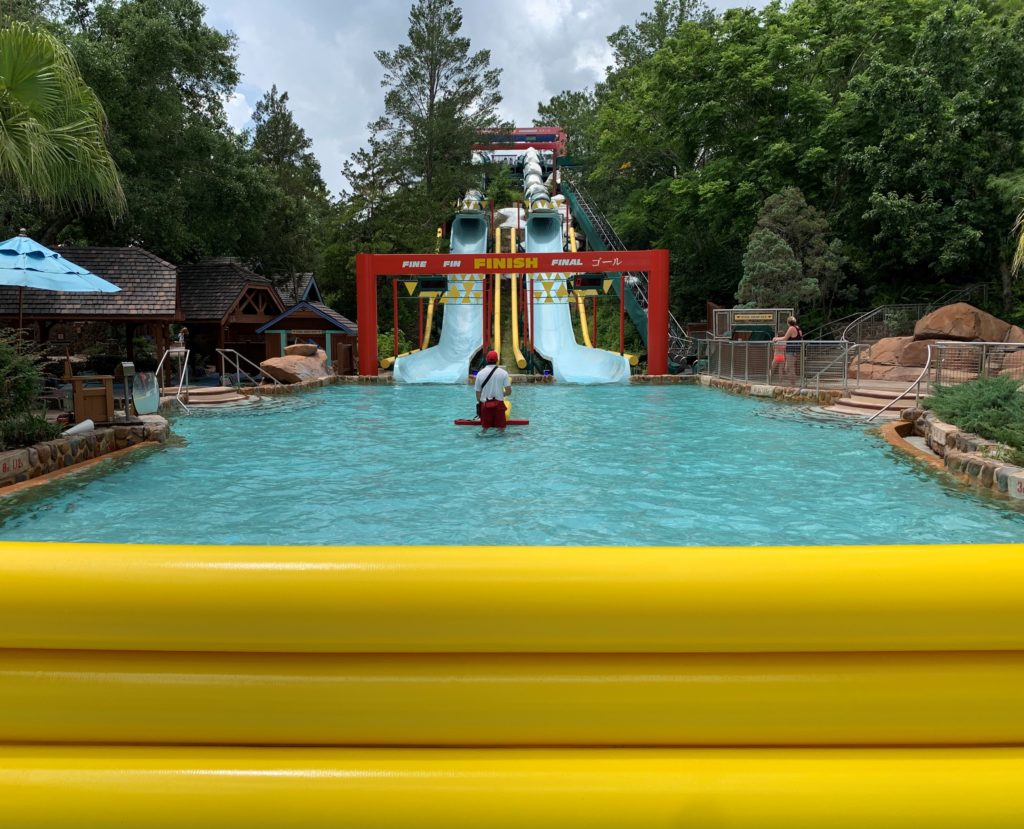 A super fun option at Blizzard Beach is the Downhill Double Dipper. This one includes two identical, enclosed innertube waterslides with retractable starting gates, a timer and buzzers. You and a fellow rider will race head to head down the 50-foot drop reaching speeds up to 25 mph. This one is sure to have a line, so I say use that time to determine if the winner or loser has to buy the ice cream when you're done.
Next up, are the Snow Stormers. These 3 separate flumes are 350 feet long, and riders lay, face-down, headfirst on toboggan-style mats. These are quick rides but fun. I will caution you though, do not put sunscreen on and immediately ride this ride. I made that mistake one time, and the sunscreen had not fully absorbed into my skin, so it was super slick making it impossible for me to stay on my mat. I fought to stay on the whole way down, but I hit my head, shoulder, elbows, knees…you name it. I was beat up…it wasn't fun.
Sharing a feeder for the mats with Snow Stormers, are the Toboggan Racers. This is an 8-lane slalom-style waterslide that looks exactly like the water version of one of those giant slides you would see at a fair. Instead of sitting on your rear though, here, you race headfirst down a 250-foot-long track with 3 drops. This is a great one for large groups, and a fun way to work off some of those Mickey bars by climbing the stairs to ride it repeatedly.
Last but not least, are the Runoff Rapids. These are on the back side of Mount Gushmore, and they're made up of three different innertube slides—2 open and 1 enclosed. All three are roughly 600 feet long so they provide long rides and lots of thrills.
THRILL RIDES AND SLIDES WINNER: While there's some real competition in the mid to lower tiers of the thrill category, the greatest thrills are inarguably found at Blizzard Beach. It's the clear winner for thrills; plus, it offers more opportunities for the whole group to get involved on racing slides.
6. Toddler/Preschooler Play Area
Moving on, let's talk about play areas and options for preschoolers and toddlers at each park. Both parks have a staffed kids' play area away from the water to color, play with hula hoops, play pretend, etc. This small area is near the showers in both parks, and it's almost always dead. Still, it's a great option for when your child needs some quiet time to play away from the throngs of people. Additionally, both parks provide life jackets in varying sizes for kids throughout the park. It's not a requirement for children to wear them, but they're available if you so choose.
Typhoon Lagoon is complete with Ketchakiddee Creek—a water playland for little tikes including slides, climbing areas, geysers and fountains. This area is sectioned off from the rest of the park well, and the little ones just love it! They also have the Bay Slides which are small, low-grade waterslides for young children that are part of the main wave pool but off to the side in a more protected area. Here, kids can slide down in an innertube and right into their mom or dad's arms at the bottom.
Speaking of the wave pool, there are large areas around the pool including Blustery Bay and Whitecap Cove that are zero depth entry tidal pools surrounded by sandy plots with beach chairs. These areas are perfect for youngsters to play (while being watched of course) in the shallow water and on the sand beaches.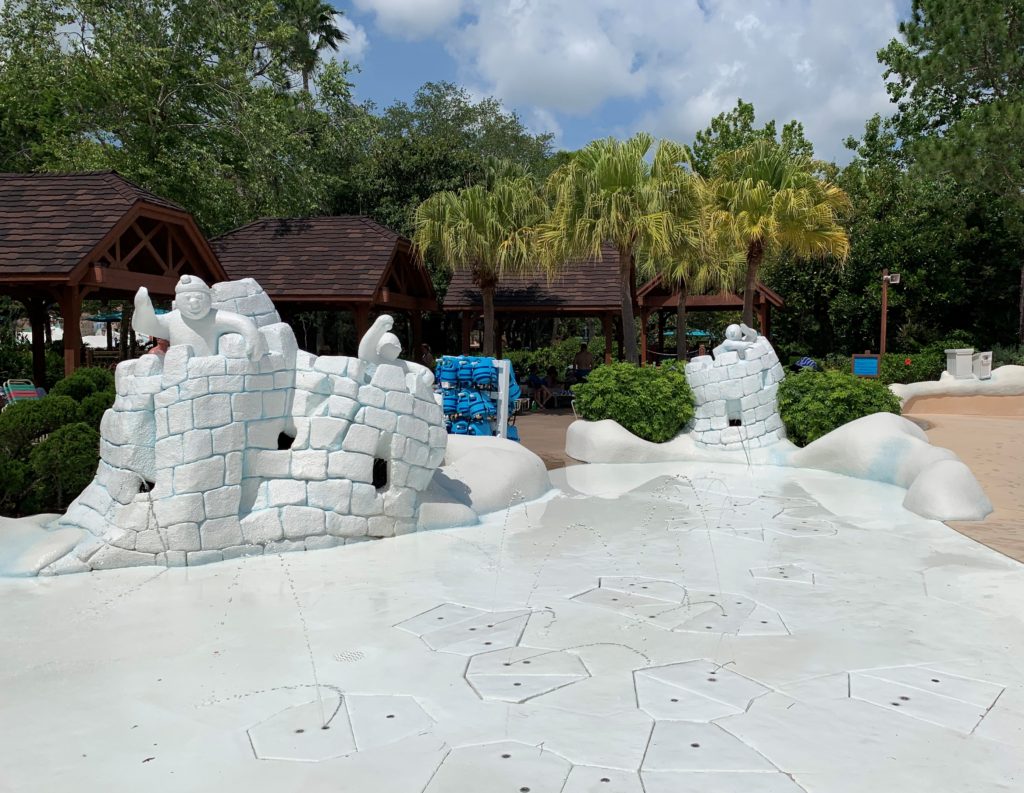 Meanwhile, Blizzard Beach offers Tike's Peak—another secluded, play area for the youngest guests with slides, fountains, climbing equipment and plenty of sand to build sandcastles. Next door to Tike's Peak is the Ski Patrol Training Camp. This is mostly geared towards older children, but it does include Cool Runners—a few inner tube slides that appeal to most preschoolers.
TODDLER/PRESCHOOLER PLAY AREA WINNER: It's hard to pick a winner here because every child is different and only the parents really know what works best for each individual child, but Typhoon Lagoon wins as far as options and attractions for the majority of preschoolers and toddlers. Their play area may not be quite as large as Tike's Peak, but, when combined with the Bay Slides and the tidal pools, it wins out.
7. Kid/Tween Play Area
This next category is not a hard call because one park doesn't even compete in it—they have zilch, zip, nada! Typhoon Lagoon doesn't provide any play areas directly geared for kids or tweens. Sure, most will say that the kids would just be tall enough to ride most of the adult rides, but that is not always the case. Plus, they like to have their own fun too sometimes on attractions that are customized for them like Blizzard Beach offers at the Ski Patrol Training Camp.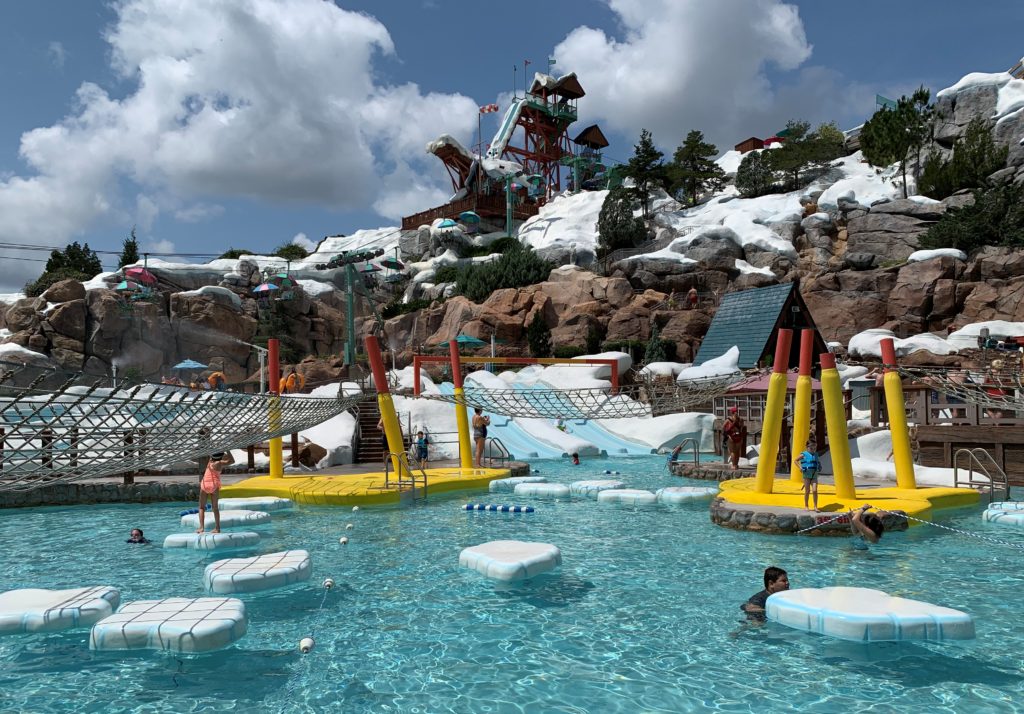 Technically, the training camp does not have a height minimum or maximum on anything but the zip line. This is a good thing for parents who want to or need to do some of the activities with their kids. The biggest draws for kids tend to be the Thin Ice Training Course where one must walk across floating ice chunks and Fahrenheit Drops—a zip line that ends with a plunge into 8-and-a-half-foot deep water. There are also enclosed and open body slides and the innertube slides mentioned earlier.
KID/TWEEN PLAY AREA WINNER: There's no question that Blizzard Beach wins in this category. In truth, it's a total blowout.
8. Food and Beverages
And now we come to what is usually one of my favorite parts of a Disney park but is certainly not when it comes to the water parks—the food and beverages. As sad as it is to say, the food and beverage options at both parks are still mediocre at best and jokes at worst. Both have made significant improvements in their offerings over the past few years by showcasing a much larger variety of menu options and including some vegetarian and vegan selections as well. Unfortunately, the food is still disappointing. There are a few things that are better than others, but nothing outside of a few dessert options is truly great.
In fact, the only food item that the water parks are consistently known for is a dessert item—the mini donuts from Joffrey's. These are decent and a fun little indulgence when one isn't wearing a lot of clothes…. I mean, why not—you're on vacation! Still, I sometimes feel like they're not worth it. They're not amazing; they're just your average, freshly prepared mini donuts.
Other dessert highlights include edible cookie dough at Blizzard Beach, sand pail sundaes at both parks, pineapple Dole Whip at Typhoon Lagoon and orange Dole Whip at Blizzard Beach. Then, there are the usual shakes, ice cream sandwiches, Mickey bars, etc. at both parks.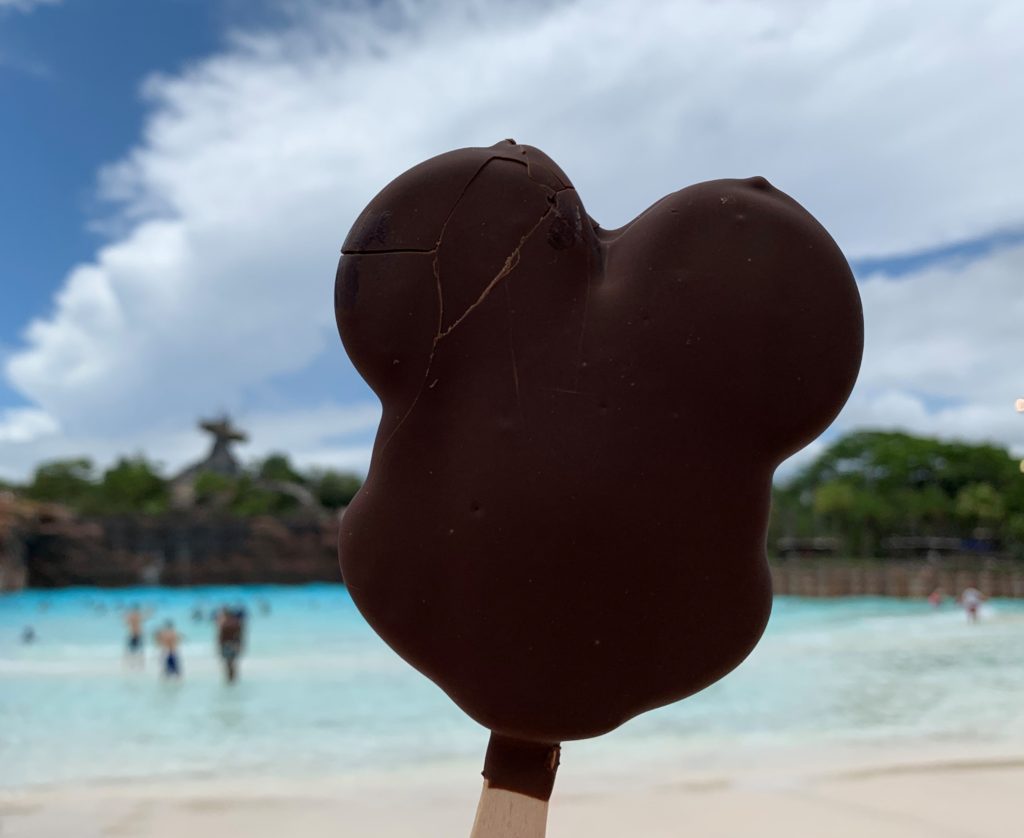 Food wise, you can find your typical amusement park fair at either—the usual chicken nuggets, hot dogs, pizzas, burgers, sandwiches and wraps. However, Typhoon Lagoon puts a Caribbean spin on most of its non-standard menu items while Blizzard Beach has a jumbled mix of American food with some Italian influences.
Typhoon Lagoon features Adobo Pork, jerk chicken or Picadillo rice bowls, shrimp cocktail, shrimp or jerk chicken salads, fish tacos and fish and shrimp baskets. Meanwhile, Blizzard Beach features roasted chicken or tofu bowls, flatbreads, loaded potato barrels, barbeque turkey leg crunch, bratwurst and loaded nachos.
If none of that appeals to you or you wisely decide everything outside of the desserts is just not worth the price, you can always bring your own food and drinks to the parks—you just can't bring alcohol or glass bottles.
As far as beverages go, both parks offer the standard lineup that one would expect at Disney along with some fun, themed adult beverages as well. The refillable soda mugs are possibly the most popular option at each park though. These mugs currently run for $11.99, and one can reactivate them at either water park for $8.50 per additional day.
FOOD AND BEVERAGES WINNER: On the whole, Blizzard Beach has a few more food and beverage locations and slightly better food on average while Typhoon Lagoon has fewer locations that are consistently open, and a handful of more unique items. However, their options tend to be more lack luster. Thus, I think this one goes to Blizzard Beach, but it's painfully close and a win in mediocrity.
9. Park Amenities
That brings us to our second to last category, park amenities. This encompasses everything from changing areas to transportation, and, notably, there are not a lot of differences between the two parks. Both offer locker rentals, towel rentals, showers, changing areas, lounge areas, private patio rentals, free life jacket usage, first aid, hair braiding and airbrush and glitter tattoo stations and a general store with souvenirs, sunscreen and specialty towels and the like.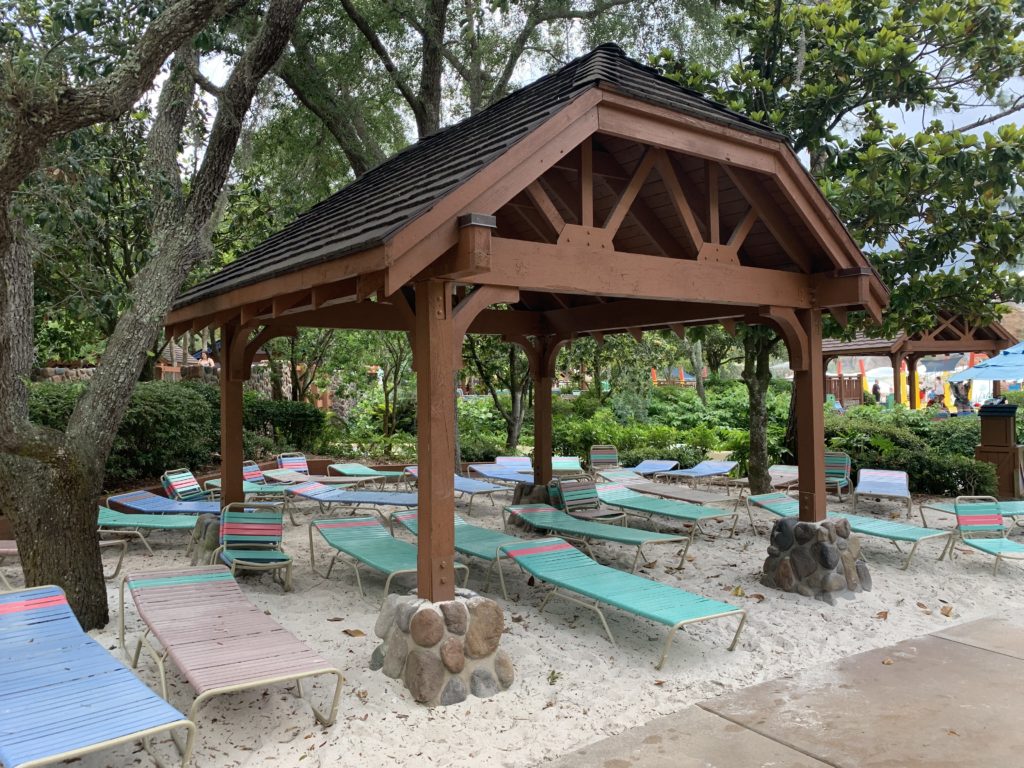 While most of these are the same or on par at each of the two parks, Blizzard Beach stands out for having nicer, more well-lit and expansive areas to change and shower. The main bath house at Typhoon Lagoon is smaller; plus, it's rather dingy and dark in there, and it often seems hotter and more humid. As public showers go though, both are very well maintained.
Sadly, I HAVE to call Disney out on one thing. That is, they have only one hook on the wall in each of their shower stalls. C'mon—that's ridiculous! People have towels and bags to deal with, and they can't put them on the floor because they'll get wet. Guests are paying around $70 a day just to get into the park—let alone food, beverages, locker rentals, towel rentals, you-name-it—you can provide another hook or two on the wall, Disney! Seriously—fix this.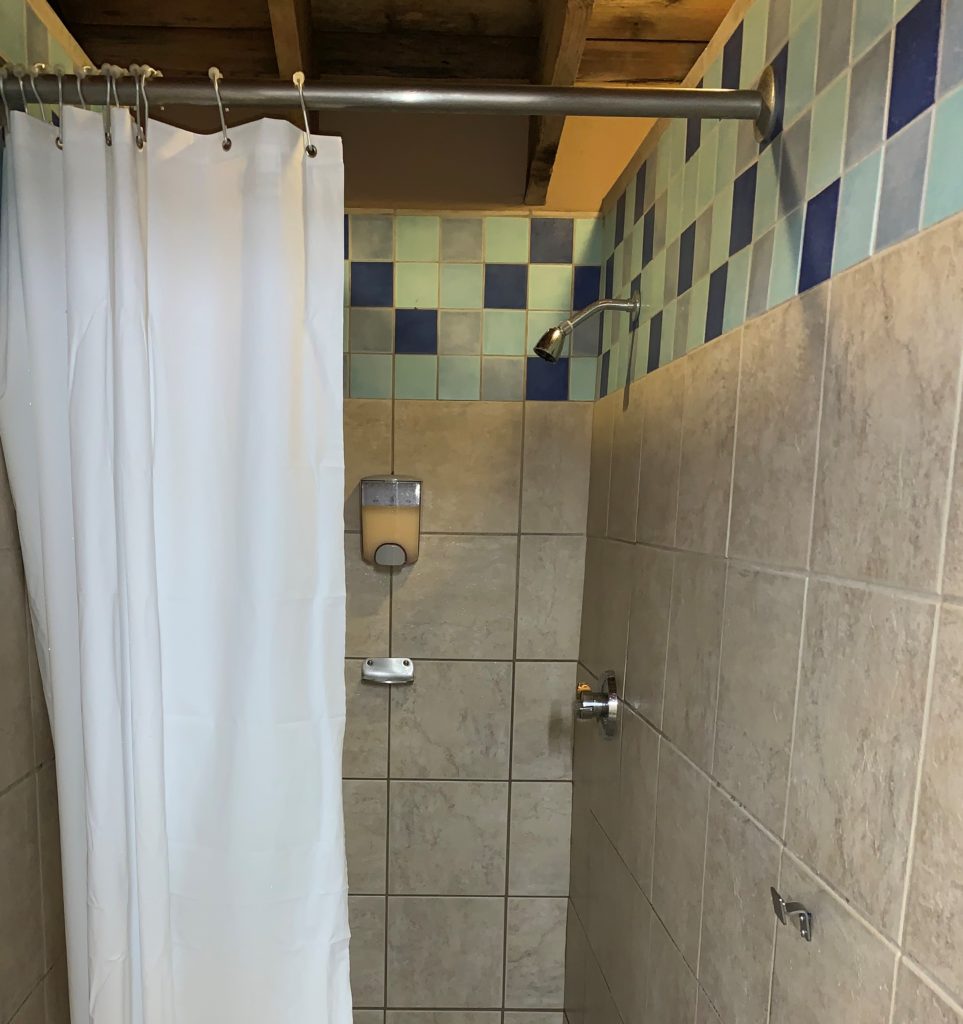 Anyway…thank you for letting me get that off my chest.
So, back to what the parks do provide. Both parks offer bus transportation to and from all Disney resorts and select theme parks. The resort buses run constantly when the water parks are open, but the theme park buses are oddly scheduled and don't always go to each park. Thus, it's best to check with Disney directly for the exact dates you're traveling because water park to theme park bus routes and schedules change all the time.
The last park amenity is unique to Blizzard Beach—the chairlift. This lift is more than a mode of transportation—it truly is an attraction in the park. Yes, it transports guests up Mount Gushmore, but it also provides beautiful views and the chance to see the slides from a different angle along the way. It even has a height requirement—32 inches or taller in case you're curious, and there's a gondola available for guests with mobility concerns. One can always take the stairs up the mountain if they choose, but the chair lift is a fun, relaxing way to get there, and it's only available at Blizzard Beach.
PARK AMENITIES WINNER: Since both parks are so similar in this category, Blizzard Beach's superior changing and shower area along with the chairlift, make it come out easily on top. So mark that down as another win for Blizzard Beach.
10. Park Extras
Finally, we've arrived at the tenth category—park extras! Extras include all the things that aren't part of or always available with regular park admission but are available at set times or for special events. Here Blizzard Beach comes up short as it doesn't offer any special events or park extras at all; whereas, Typhoon Lagoon is replete with extras!
First, at certain times of the year—namely around the holidays or other particularly busy times—Typhoon Lagoon hosts an adults-only hideaway complete with a bar and live music. They also offer H2O Glow Nights in the summer that are special ticketed events where guests can enjoy shorter wait times and exclusive park options after the park has closed to day guests.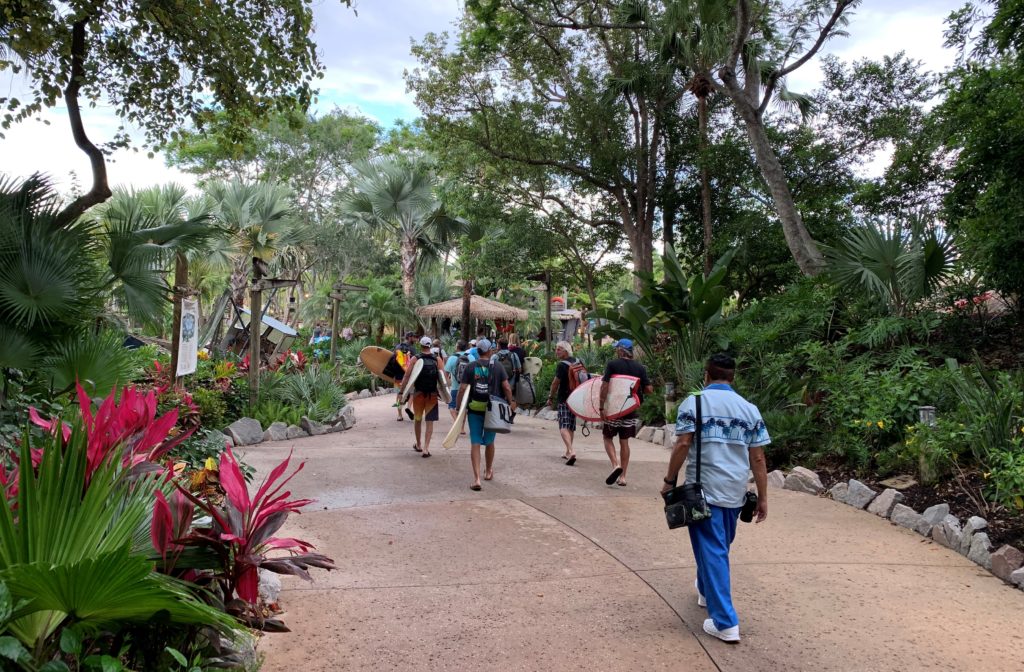 Additionally, Typhoon Lagoon makes great use of its ever-popular wave pool by providing private and group surf lessons. Private surf lessons are available for you and up to 24 of your closest surfer buddies to catch 100 waves in 3 hours. Meanwhile, individual guests ages 8 and older can sign up for group surf lessons that are held prior to the park opening.
The availability, pricing and other logistical considerations for each of these options changes frequently so we'll refrain from providing further detail here and keep the information current in a separate article instead. To find out more about these options, please visit https://seekingthemagical.com/water-park-extras-at-disneys-typhoon-lagoon/.
PARK EXTRAS WINNER: Clearly, Typhoon Lagoon is the strong winner of the extra's category! Blizzard Beach was nothing but a white out.
And the winner is…
So where does that put us?
Even though Blizzard Beach was a no show in the final category, it put up a huge fight elsewhere. Typhoon Lagoon won categories for having the best pool, family or group tube slides, the toddler/preschooler play areas and their park extras! Meanwhile, Blizzard Beach won for better theming, the lazy river, thrill rides and slides, the kid/tween play area, food and beverage options and their park amenities—although it should be noted that one win was exceptionally close, and another was qualified with an asterisk. Still, that puts it at 4 to 6 with Blizzard Beach being the overall winner of the best Disney water park. Yay!!! Congrats to Blizzard Beach!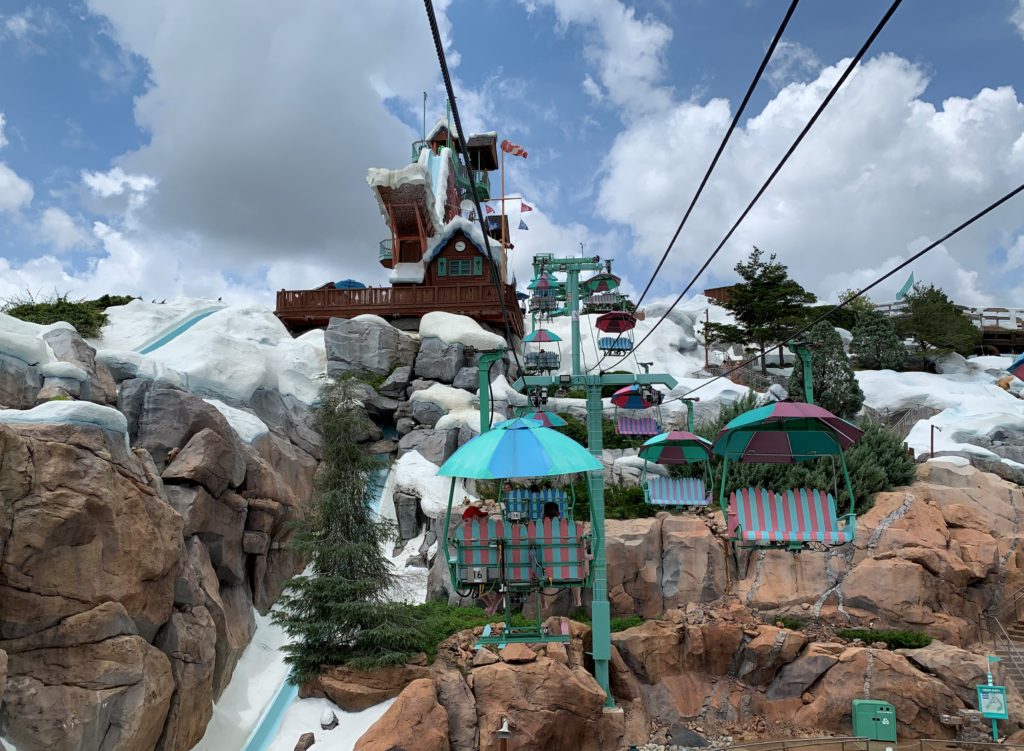 Is that how you thought it would turn out? What do you think of this comparison? Personally, I would come to a different conclusion. For me, Typhoon Lagoon comes out on top because I mostly prioritize the categories where it excels over the others when selecting a water park. However, when I want thrills, I'm all about Blizzard Beach! That was the point of this though. Anyone can tell you their favorite water park based on their personal preferences, but I really tried to break down each park objectively so that you could make an informed decision based on your priorities not mine. By knowing the strengths and weaknesses of each park, you can decide what is the best fit for your family with your limited and valuable Disney time and money!
Maybe that means Blizzard Beach is the better water park for you. Maybe it's Typhoon Lagoon. Maybe it flip-flops. Any which way, we truly hope you found this detailed analysis helpful. Thank you for sticking around, and please let us know if you have any questions or feedback for us in the comments below. Please give this video a like and subscribe to the channel so we can continue providing you with quality content.
Until next time, remember to hug your loved ones, cherish the memories and always continue Seeking the Magical.