By: Heather
I frequently think of the iconic Alanis Morrissette song, Ironic when I'm in the Disney parks. While it's questionably ironic, the line, "A free ride when you've already paid…" exemplifies the Disney experience. Sure, you can conquer all the mountains in Magic Kingdom without shelling out a penny, but you already paid for your ticket to get in to the kingdom, let alone to get to Walt Disney World, park and eat making all the rides anything but "free." However, that is NOT the case at DVC Moonlight Magic events; they really, truly are FREE! Parking is free, park admittance is free, dinner is free, select snacks are free and rides are free not to mention special character meet and greets, shows and exclusive party events—they're all complimentary! What's not to love about that?!
I'm Heather with Seeking the Magical, and I was thrilled to have the opportunity to attend the DVC Moonlight Magic Event in Animal Kingdom on January 21st this year! I'm so glad you're here because I can't wait to tell you about it and help you prepare for upcoming party nights! First, I'll provide a rundown of what to expect at Moonlight Magic events including a brief overview of the Animal Kingdom specific offerings. Then, I'll review event highlights so it's easier to prioritize what's best for you and your family, and I'll include tips and tricks to help you maximize your time and get the most out of all the freebies and exclusive offerings.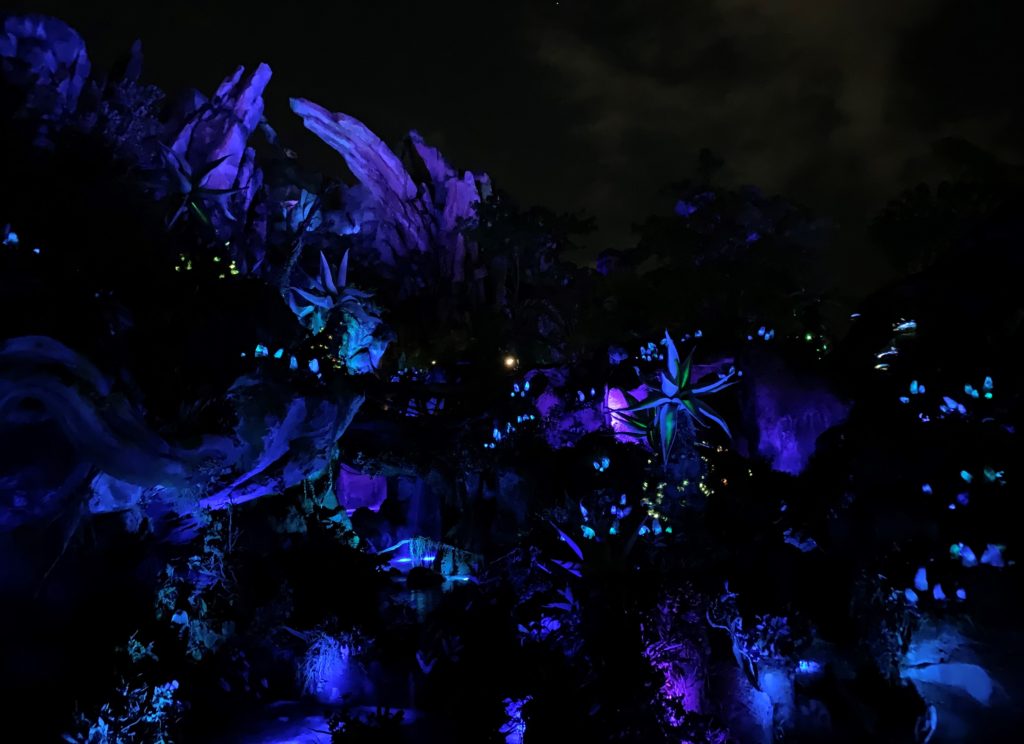 Start with Gratitude
Before we get started, I want to thank you so much for reading and for being a part of this community that's Seeking the Magical at Disney and in day-to-day life! I also want to start off by saying a big thank you to Disney for holding these events for members. I get that is fittingly ironic because Disney throws these parties as a thank you to us, the DVC member community. Still, I'm saying thanks for thanking us with such awesome events! Sure, members pay a hefty sum for points, dues and maintenance costs, but nowhere in the contract does it stipulate that Disney must throw complimentary events in their parks for members. That's a huge perk, and I like to live in gratitude so thanks DVC! Now, let's get howling with Moonlight Magic!
DVC Moonlight Magic 2020
Currently, DVC has thirteen Moonlight Magic events scheduled in Walt Disney World in 2020 and states that dates are pending for Disneyland. The thirteen parties are spread throughout the first ten months of the year and include two or three nights each at Animal Kingdom, Magic Kingdom, Epcot, Typhoon Lagoon Water Park and Hollywood Studios. All of the details on who can register, how and when are readily available on the DVC website and fairly self-explanatory, so I won't bore you with that. Instead, I'll fill you in on what isn't freely accessible.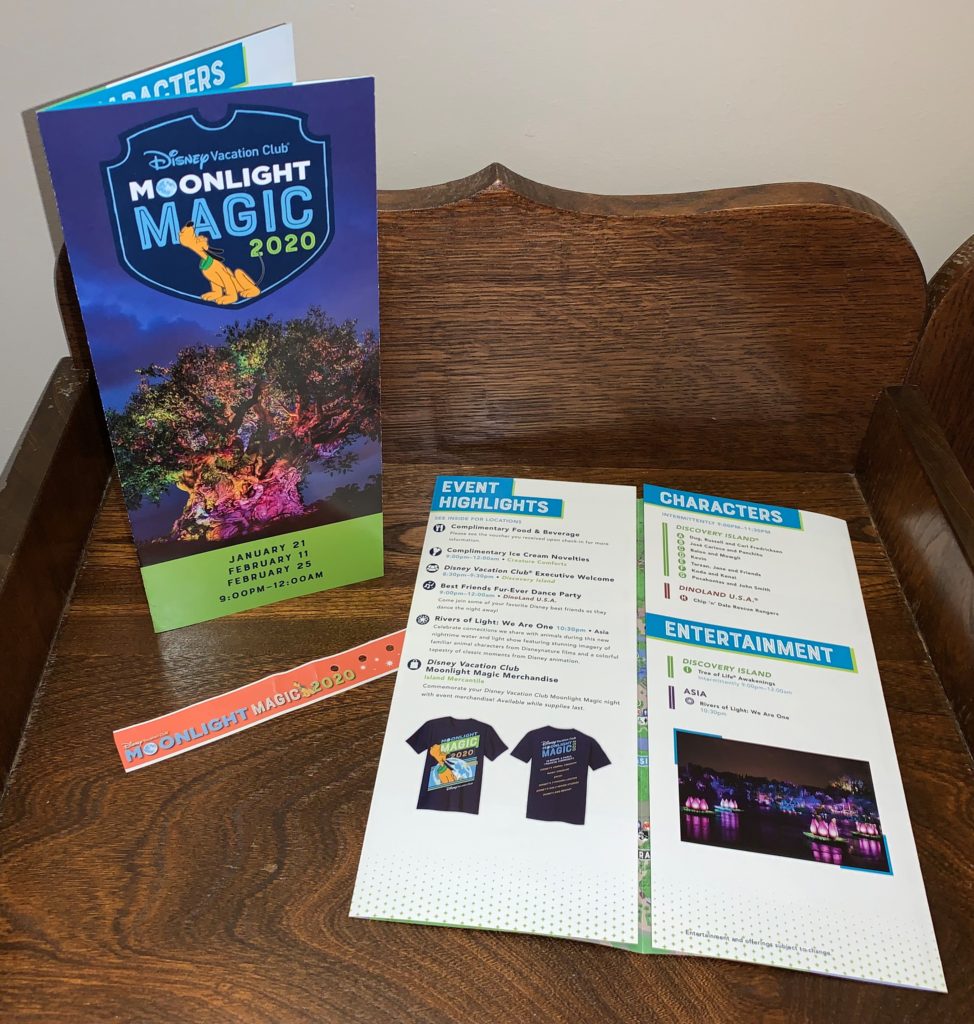 Event Check-In
Once you're registered for an event, you'll receive an email from DVC about a week before your party date with all the pertinent logistical information including when you can arrive, parking, transportation options, check-in procedures, etc. Pay close attention to their instructions and remember to bring your DVC membership card and photo ID to check-in. The specifics of the check-in process will change based on the park and party times, but for the Animal Kingdom events this year, party guests can enter the park beginning at 6:00 p.m. without a park ticket but with the Moonlight Magic wristband. The park then closes to regular day guests at 8:00 p.m. and the party officially begins at 9:00.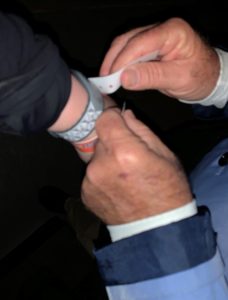 When you check-in, you'll receive a wristband along with your complimentary meal voucher. Be certain to grab a Moonlight Magic edition of the park map to see the event details and maybe an extra one for posterity. Animal Kingdom guests are also given a one credit game voucher for Fossil Fun games at Chester and Hester's Dino-Rama that is only valid the night of the party. This is a fun little bonus and a great way to experience an aspect of the park that many guests skip over since the midway games are not included in park admittance.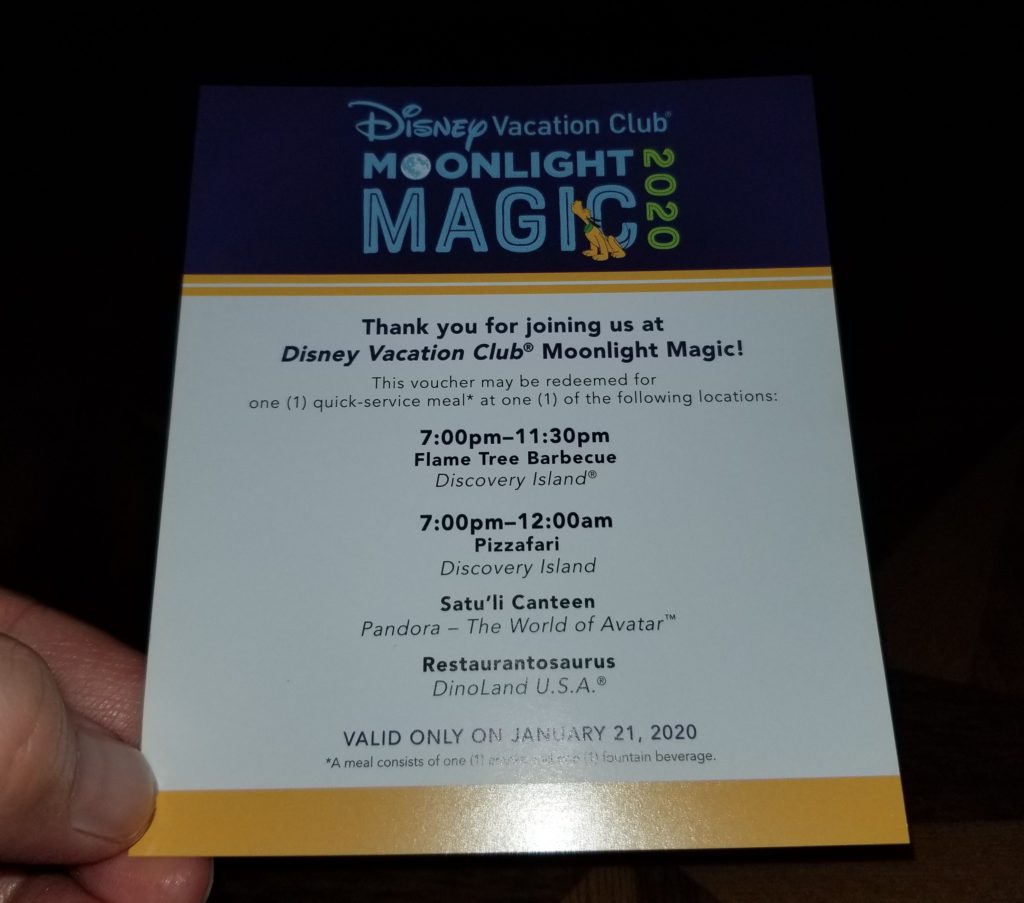 Complimentary Meal and Treats
The complimentary meal voucher is valid that night only for one entrée and one fountain beverage and redeemable at Flame Tree Barbecue until 11:30 p.m. or Pizzafari, Restaurantosaurus or Satu'li Canteen until midnight. Disney also offers Mickey's Premium Ice Cream Bars and Sandwiches along with the Fruti Frozen Strawberry bars for free throughout the party at Creature Comforts—the Starbucks location in Animal Kingdom. You can expect this same setup to apply at all upcoming Moonlight Magic events this year. Each guest will receive a meal voucher for select quick service restaurants and certain complimentary frozen treats will be available throughout the party.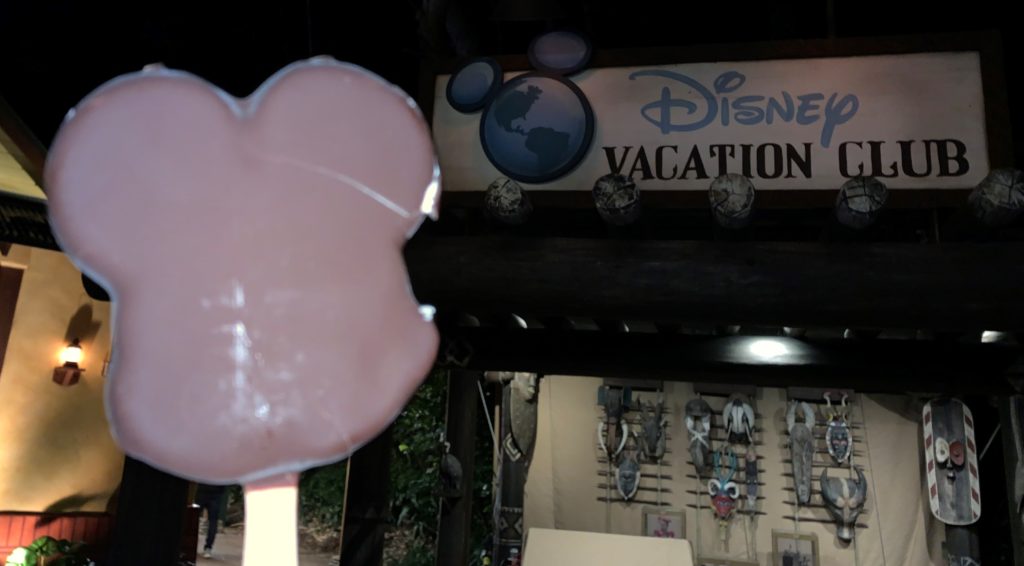 Merchandise
With the new year comes new Moonlight Magic merchandise! Beginning at 2:00 p.m. and running throughout the party, guests wearing event wristbands may purchase an exclusive DVC Moonlight Magic themed t-shirt and/or pin at Island Mercantile. This year's items feature Pluto howling at the moon on the front and include the list of 2020 party locations on the back. As always, guests must remember to show their membership card at check out for the DVC discount!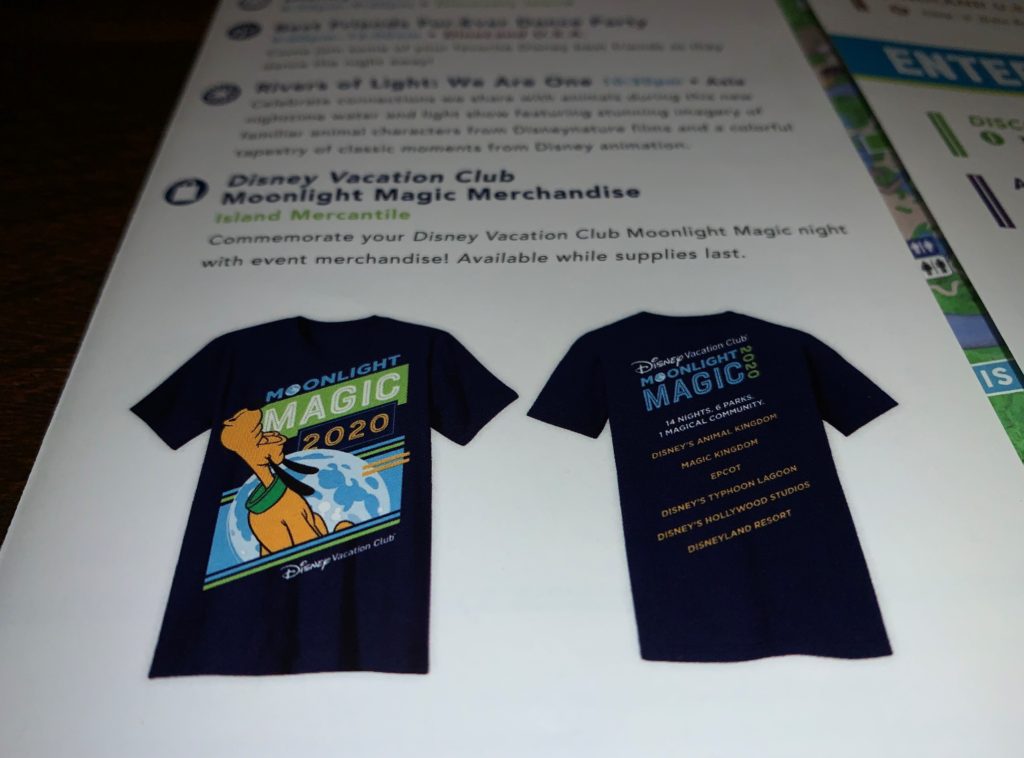 DVC Executive Welcome
While the event technically didn't start until 9:00 p.m., they kicked things off with a Disney Vacation Club Executive Welcome at 8:30 p.m. in the Discover Trading Company area to the right when one approaches the Tree of Life after entering the park. Although I didn't attend the welcome, I heard from other guests that it's a regular feature of the parties and provides a great opportunity to meet DVC executives, ask questions and share your feedback regarding DVC and Disney overall. Since one rarely has the chance to speak with top decision makers, it's best to take advantage of this at upcoming parties if it interests you. Also, I heard from Cast Members that the DVC Executives are always eager to meet guests at these parties and join in the fun.
Getting the Party Started
At 9:00 p.m. some guests started spontaneously cheering as the Best Friends Fur-Ever Dance Party started, eight attractions opened, and twenty characters appeared for meet and greets—including eighteen that were noted directly or indirectly on the map and two surprise characters!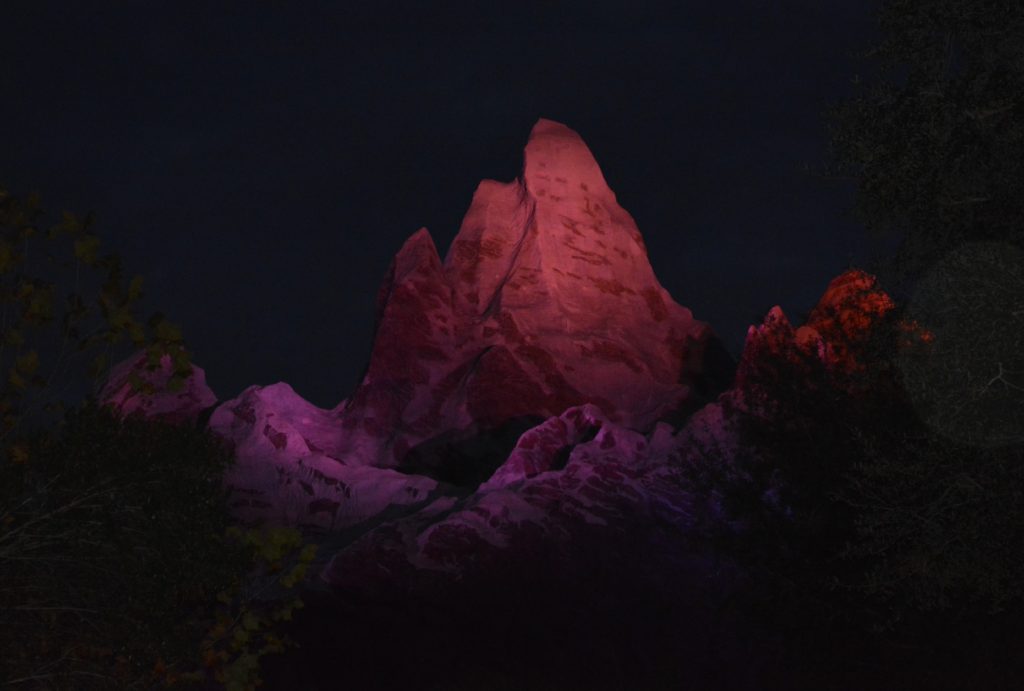 Attractions and Entertainment
The eight attractions that opened comprised every moving ride attraction currently operating in Animal Kingdom as well as It's Tough to be a Bug in the Tree of Life. The only moving ride attraction that wasn't open was Kali River Rapids as it's currently closed for refurbishment. Besides, it was literally 39 degrees by the end of the party the night I attended, so I can confidently say it wouldn't have been a popular option anyway. Minus, It's Tough to be a Bug, none of the shows were running during the party, and all the animal trails were closed. However, there was an exclusive party showing of Rivers of Light: We are One on Discover River in Asia at 10:30 p.m., and the Tree of Life Awakenings took place intermittently throughout the night. More on these exclusive nighttime shows later—I must tell you about the characters now!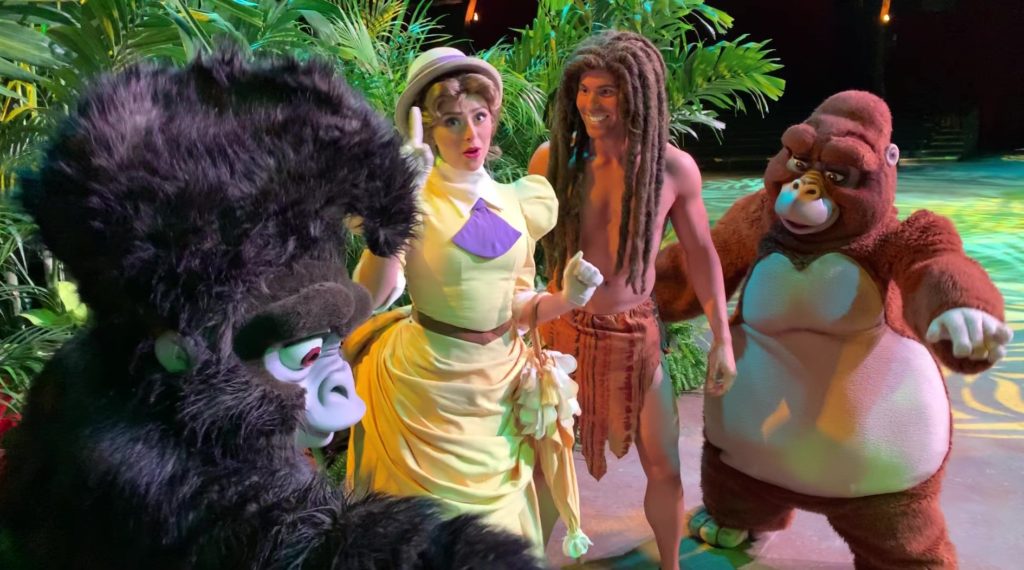 Rare Character Meet and Greets
There were eight-character meet and greets scheduled on the event map, and—apart from the meet with Kevin from "Up"—all were character duos or trios plus the Tarzan, Jane and Friends meet that turned out to include four characters including Terk and Kala who are very rarely seen! Their meet and greet was supposed to take place at the character spot just before the bridge to Dinoland but was moved inside the Festival of the Lion King Theater since Tarzan and his jungle friends are not used to temperatures dipping into the high 30s.
The surprise, bonus character meet and greets were with Jim Hawkins from "Treasure Planet" who met guests at the Adventure Outpost and Jiminy Cricket from "Pinocchio" who was stationed just across from Creature Comforts. (Click here to watch the video of our fun meet and greet with Jiminy Cricket.) Being that the whole party is essentially a gift anyway, I was thrilled to find that there were bonus characters on top of the stated lineup—especially being that they were two of the more elusive characters to find at Disney! They joined other rare characters like Carl Fredricksen from "Up" as the most exclusive party offerings. Additionally, there were half a dozen characters that cycled through the Best Friends Fur-Ever Dance Party taking place in Dinoland USA throughout the party including Safari Mickey, Minnie, Daisy, Donald, Goofy and Launchpad McQuack.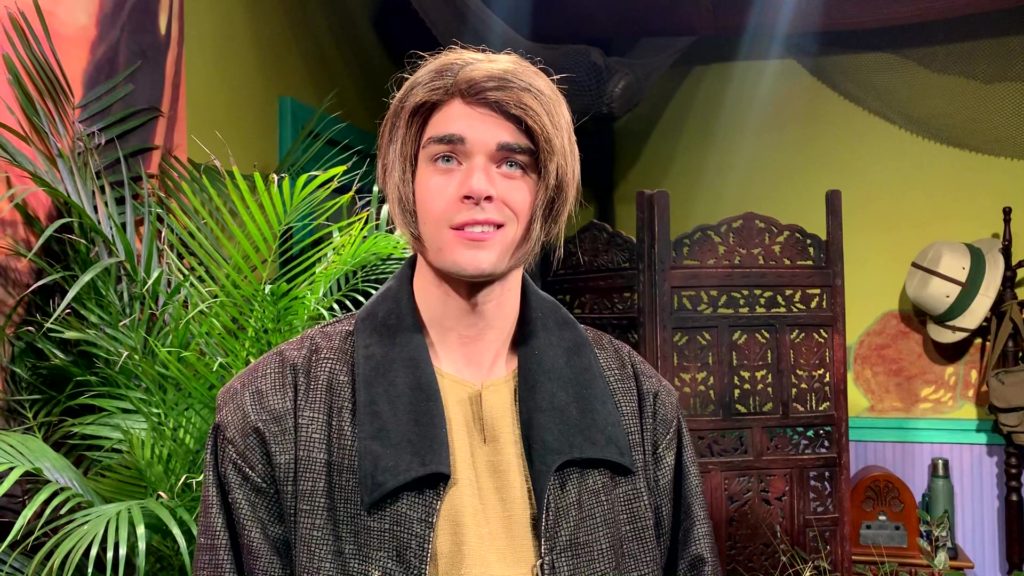 Character Autographs
I was all set for this party with a special item for the characters to sign that we wanted to feature in our "Will You Sign My…" series! I was hoping it would be doable since the lines are much shorter at DVC events than at your typical holiday parties; sadly, the characters do not sign items during the event. However, the character attendants have special autograph cards for each group of characters. Kevin is the only one without a signature card since she's…well, a thirteen-foot-tall bird, and I can respect that. Be certain to remember to ask for these cards as the character attendants typically didn't volunteer them, and it's an easy thing to forget to pick up.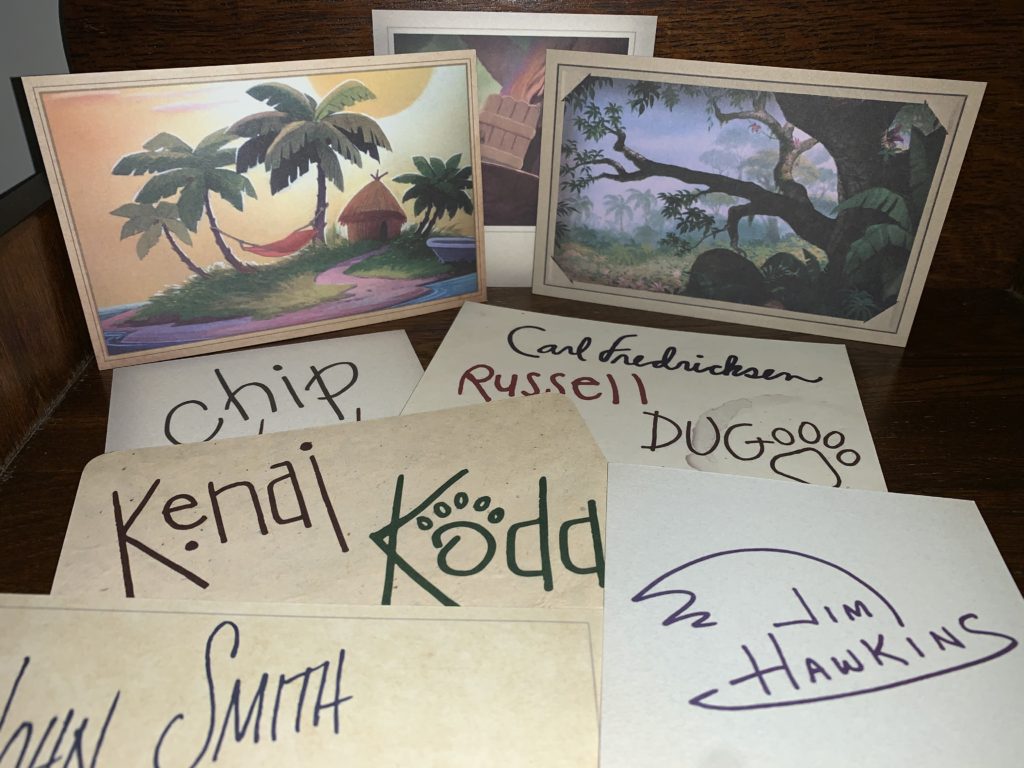 Character Meet and Greet Logistics
Guests should know that the run time for characters is intermittently between 9:00 p.m. and 11:30 p.m. at all of the events, although I know that they'll occasionally come out a little early and/or stay out a little later. Disney clearly tries to keep the lines for the characters short at these parties as the break times generally only lasted between 3 and 5 minutes. That was so nice to see as it made it possible for guests to maximize their party time and not waste most of it in line!
Review of DVC Moonlight Magic 2020
After hearing all that, I assume it's fairly clear that my review of this event and DVC Moonlight Magic in general is glowing. Even moving beyond the fact that the events are free with all of the necessities included, it's an incredibly worthwhile way to spend a night at Disney. I argue it's a must do for any DVC Members able to secure a reservation during their travel dates. Sure, the party only lasts three hours, but guests are able to get into the park three hours before the party begins for a total of 6 hours of park time. Plus, Moonlight Magic is solidly its own thing with a unique combination of DVC member exclusives and some elements of the typical After Hours or Early Morning Magic events and the special holiday parties like Mickey's Not-So-Scary Halloween Party.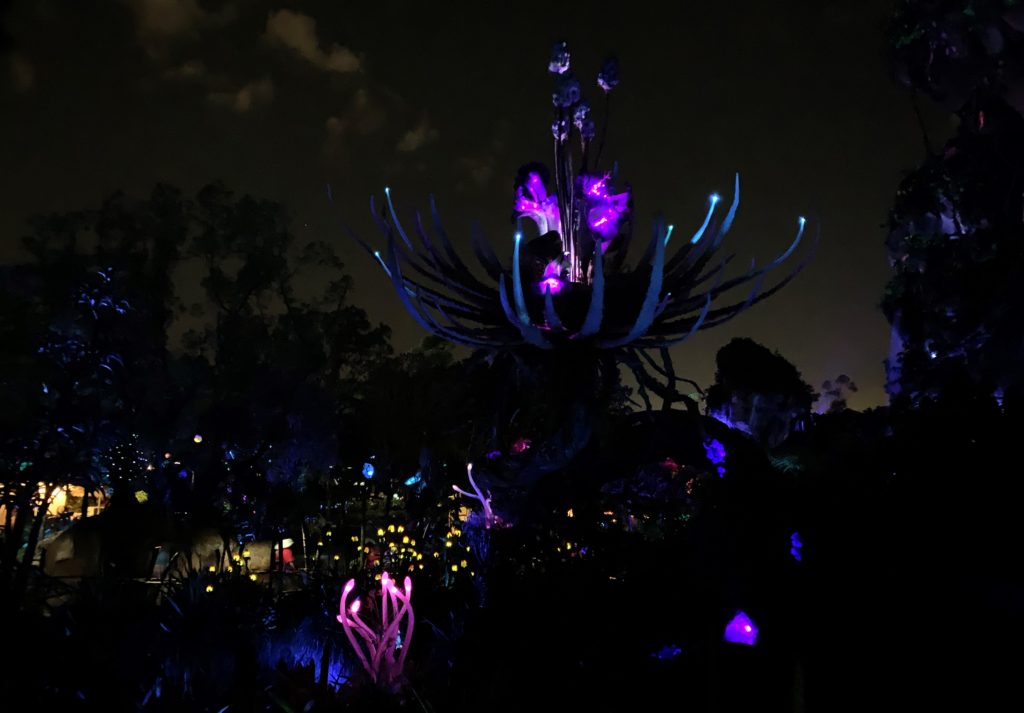 Moonlight Magic features small crowds, short wait times, rare character appearances and, occasionally, special shows along with the complimentary dinner and ice cream. All of these are hot commodities for Disney guests, but the short wait times get the most attention. I argue they're the icing on the cake though, and the most valuable, unique elements are the rare character appearances and special shows if applicable.
Review: Character Meet and Greets
There are rare character appearances at the holiday parties but wait times can be upwards of a couple hours. It's tough to swallow spending all that money to wait hours in line for one meet and greet, but that isn't an issue at Moonlight Magic. Besides being free, the longest line the whole evening was approximately half an hour to meet the Up trio and the same for the most popular attraction—Avatar Flight of Passage—right at the start of the party. Even though it's become truly impossible to meet all of the special characters at one holiday party even with the substantially longer time allotted, that isn't a problem at Moonlight Magic.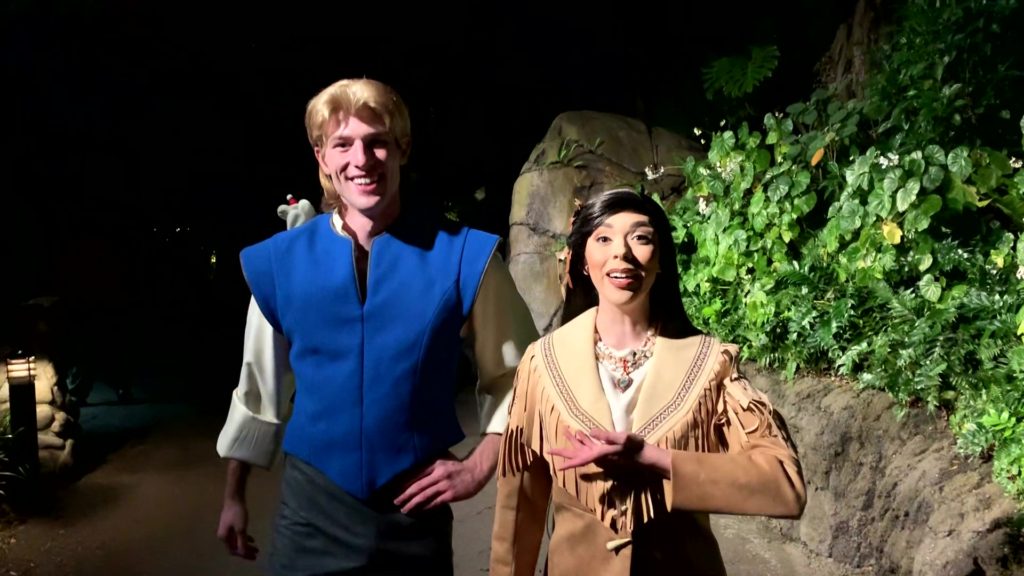 At the Animal Kingdom events, there are ten total character meet and greet locations including the eight that were noted on the map and two surprises, and guests are not shorted on the character interactions. Although I was a little bummed they weren't personally signing items that night, I was not disappointed at all by the meet and greets. All of the characters seemed to take their time with guests and joked, danced or played around as was appropriate. I have nothing but positive feedback for all of them though I will say that maybe Pocahontas and John Smith could have been allowed to wear warmer attire. I get it—their outfits are recognizable to fans—but it was cold! At least Tarzan and Mowgli from "The Jungle Book" were inside—that was a necessity. I mean, it would have been unbearable otherwise. (Get it? Baloo is a bear, and he sings the Bare Necessities…yeah, I'll be quiet now.)
Review: The Best Part
Anyway, the best part of the event is the ability to do so many unique and exclusive things in such a short period of time and not feel overwhelmed by crowds and waits! I was able to meet all the characters, rock out at the dance party, eat, ride the longest ride in all of Animal Kingdom—Kilimanjaro Safaris which lasts approximately 22 minutes—and I still had time for more rides and party fun! That is awesome!
Review: Constructive Criticism
Notably, I did not attend the late-night showing of Rivers of Light: We Are One as it was not customized for this event. One of the incredible things about Moonlight Magic parties that occurred at Magic Kingdom and Epcot previously were unique firework shows with different music and firework combinations. As such shows are truly exclusive to DVC events, they're inarguably must dos for party guests. Since the Rivers of Light: We Are One show at the Animal Kingdom party was not unique, it didn't make sense to me to prioritize it. While an original nighttime show is not a necessity for a party, it's very exciting for guests—making it a disappointment that the Animal Kingdom events don't include one when other parks do. Thus, the only truly negative feedback I have for the event was that it lacked a special show.
Tips and Tricks for DVC Moonlight Magic
With so many amazing aspects to Moonlight Magic events, it's hard to really mess up the experience too much. Still, the party hours are very limited, so taking the wrong approach can be costly timewise. Don't worry though because I'm going to share with you several tips and tricks to help you maximize your time and make the most out of the exclusive offerings.
Tip: Arrival Time
First, get to the party as soon as possible. If you're not using a regular ticket that day in the park, then be at the gates shortly before 6:00 p.m. to enter right at 6:00. If you are planning to use a park ticket in addition to attending the party, enter the park when you choose and pick up your wristband and vouchers before 6:00 p.m. Then, make use of them as soon as possible!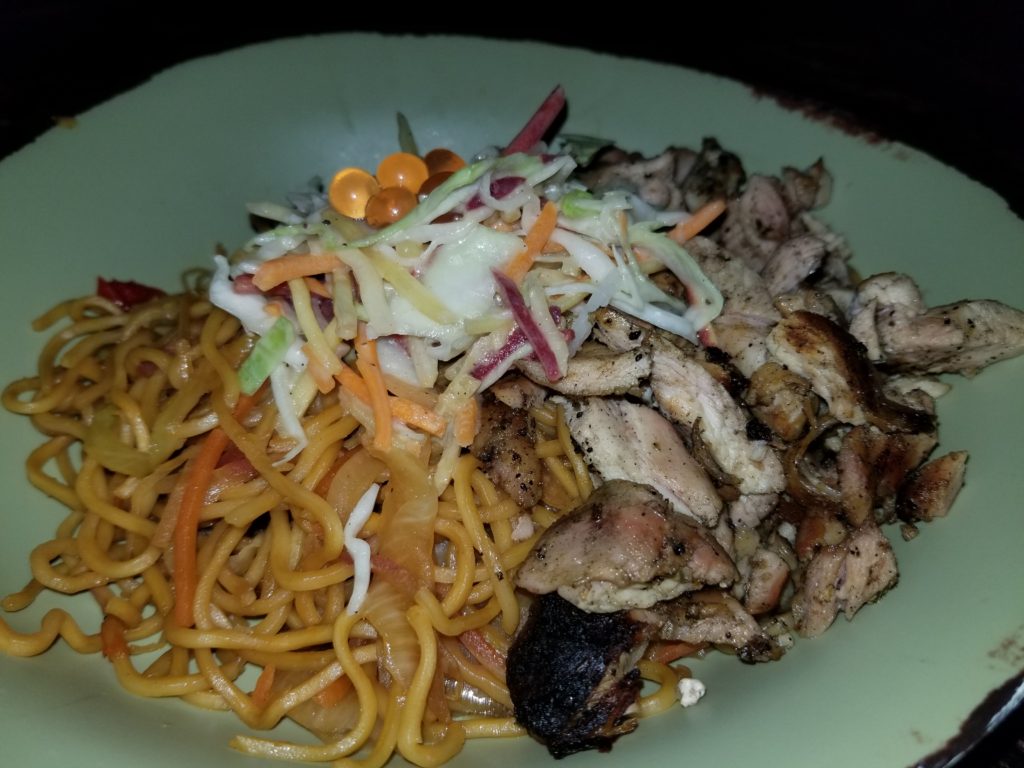 Tip: Eat and Game Early
You do not need to wait until the party begins at 9:00 p.m. to use the meal voucher—it's valid that whole evening and the same is true for the Fossil Fun Games voucher in Animal Kingdom. Be certain to eat your meal and use your game voucher if applicable before the party begins—preferably between 6:00 p.m. and 8:00 p.m. as the lines will get longer the later it gets with other party guests. This will free your time up for other, more unique activities during the party, and you'll be able to grab a frozen treat or two later on if you get hungry.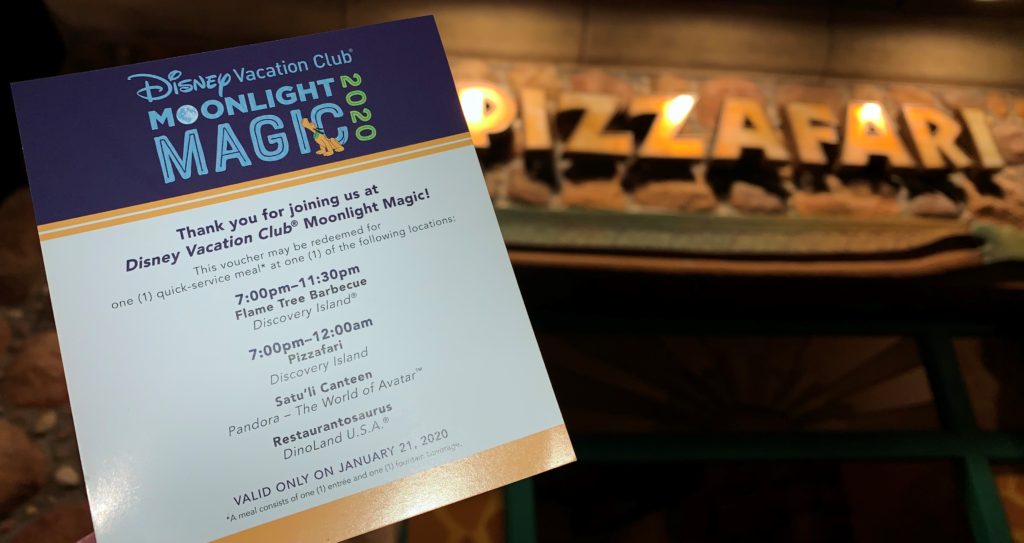 Tip: Set Priorities
The next tip is to pick up the event map early like we talked about and set your priorities before the party begins. This way you won't waste precious party time determining what you want to do. Instead, you'll know if you want to meet all the characters and ride four specific attractions at least or if you want to meet just a few characters and ride as many rides as possible as many times as possible—whatever works best for you. I would recommend not prioritizing the nighttime show unless it's a custom offering or something you haven't seen.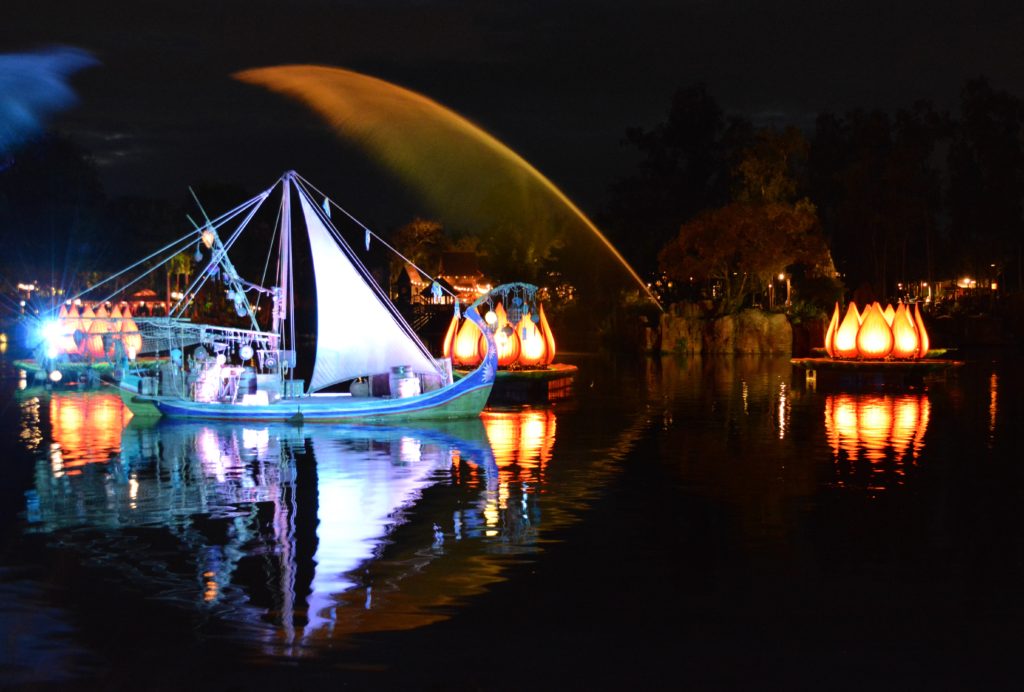 Trick: Maximize Park Closure Time
Along these same lines, make the most of your time before the party starts by riding other rides—especially the longer ones or watching shows that may or may not be running during the event. Wait times tend to dip in the parks in the evening anyway so check the My Disney Experience App to see the status, and remember that if you get in a 20-minute line at 7:59 p.m. when the park closes at 8:00, you'll be able to ride the ride. Pay attention to the wait times though because you don't want to get in a 60-minute line for an attraction that'll be open during the party and will likely be a walk-on by the end of the night.
Getting in a relatively short line right before 8:00 p.m. can be a great way to maximize the time between the official park close and the start of the party. You must be mindful about the line time and ride length though in order to be done with your last ride or show by 8:30 p.m. at the latest. Shopping is another great use of this limbo time if that interests you. Whatever you choose, it's best to be free to get in line for your first party must do right around 8:30 p.m.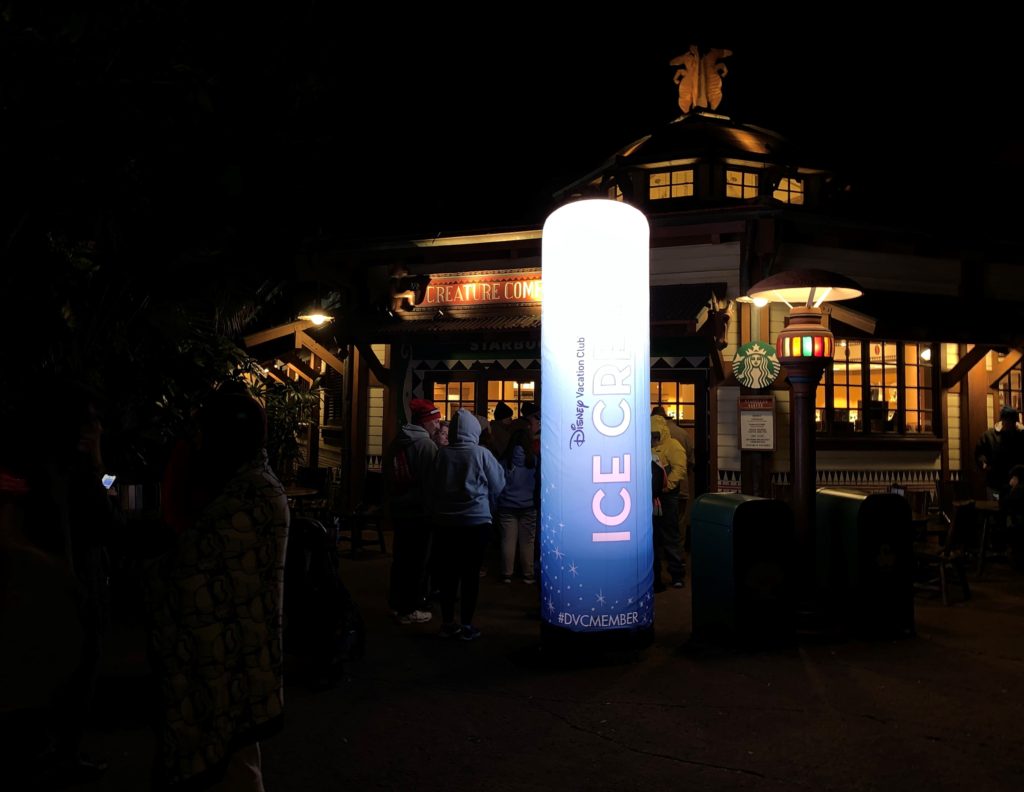 Tip: How to Approach Party Time
Most people choose to line up for the most popular ride at the start of the party, so to maximize your time it's better to not be most people. Barring unforeseen circumstances or something as crazy popular as Rise of the Resistance, the hottest attractions will always have shorter lines late in the evening. As such, there are two main approaches that tend to work best at Moonlight Magic events.
The first approach is to start with a couple less popular attractions, then move to the characters and end with the most popular attractions, and the second approach is to start with the characters, move on to the most popular attractions and end with the less popular attractions. Both approaches work well to avoid peak crowds and maximize your time.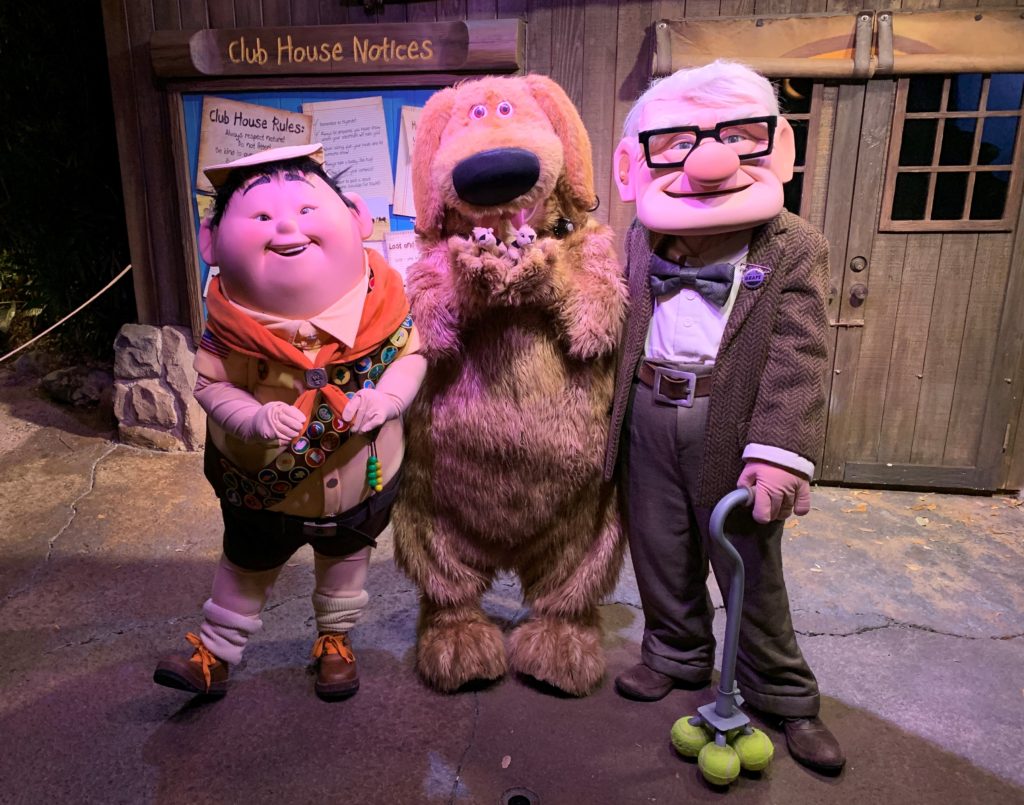 Tip: Meeting Characters
If you decide to start with the characters, make certain to be in line for the most popular option at least half an hour before the party begins. That way you're at the head of the line and can move through it quickly and on to the next character spot. Whatever approach you choose, don't plan to end the night with the characters as their meet and greets technically end half an hour before the party finishes, and it would be so sad to show up too late! Also, make certain to ask cast members if there are any character meet and greets not listed on the guide so you don't miss the surprise ones!
Tip: Wait Times and My Disney Experience
Additionally, I would be cautious about trusting the wait times on the My Disney Experience App once the party starts. They were highly inaccurate throughout the night—noting some waits at 30 plus minutes when the attraction was really a walk on. I was told that Disney doesn't keep the app as well updated for the special events in general so be cautious when basing decisions on that. Instead, ask the cast member at the ride entrance about the current estimated wait time if you need to know. This can be an understandable annoyance to cast members during regular park hours as they work hard to keep the wait times accurate, but they understand the circumstances are different usually at these events making the question appropriate when necessary.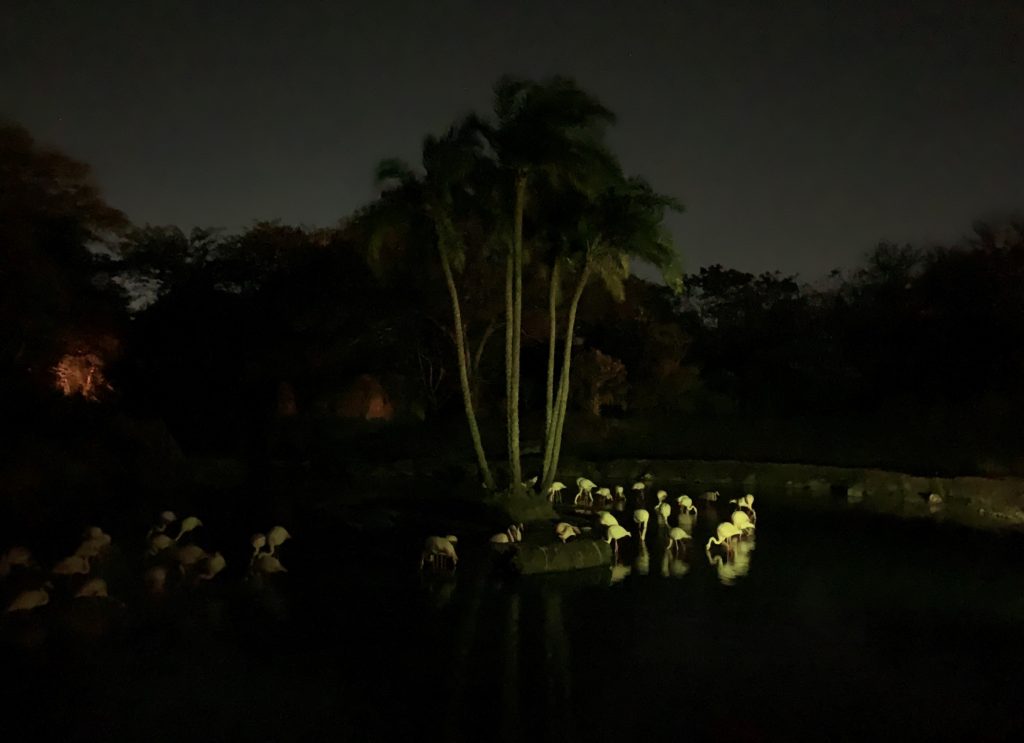 Tip: Kilimanjaro Safaris in Animal Kingdom
Finally, there is one caveat to these approaches in Animal Kingdom, and that is Kilimanjaro Safaris. As we were told by Disney, the residents of the savanna aren't "party animals," so their attraction closes early at 10:00 p.m. If you're interested in going on a moonlight safari, I recommend doing that first, so you don't miss it. I can't get enough of the safari ever, but I've been particularly interested in the nighttime safaris since I was lucky enough to hear the lions roar a couple of years ago. It was one of the most beautiful, powerful things I've ever heard, and I'm always hoping to experience it again. Plus, I just love that no two safaris are ever the same—especially at night. So, I started the party taking pictures and videos to share with all of you, grabbed a free ice cream bar a couple minutes after 9 and headed to over to the Safari. It was a walk on, and I followed that up by meeting all the characters, partaking in the dance party and ended the night with the most popular rides. It worked beautifully for me!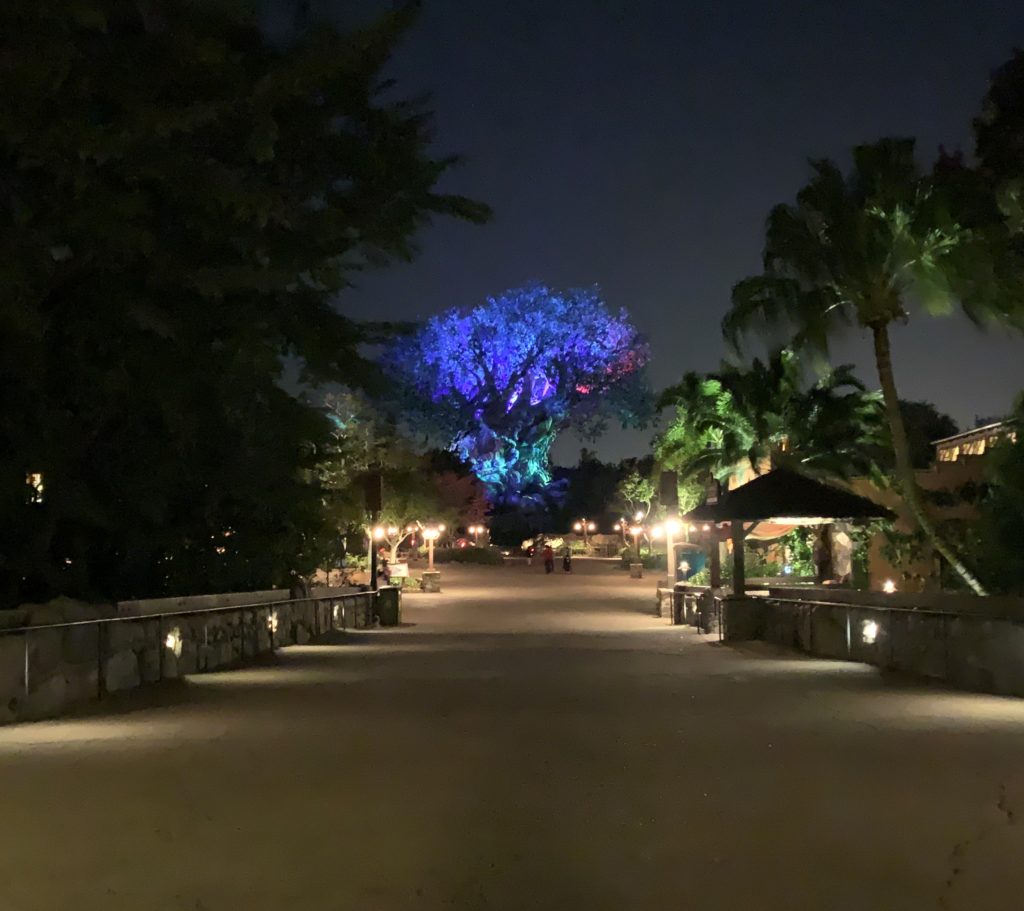 Hope and Gratitude
I hope this advice helps you make the most of all that DVC Moonlight Magic has to offer! Overall, I highly recommend these events for anyone that can attend, and I want to thank DVC again for the opportunity to experience the parks in this way. Also, thanks to all of you for watching and being a part of this greater Disney community. The Disney Vacation Club is "Welcome Home," and I love that the Disney community really is, "Welcome to the Family!" You guys are the best, and we would love to hear about your experiences in the comments below!
Thank you so much for being here! We're loving sharing with you, and we're always happy to answer any of your questions or provide more information to help you have the most magical trips possible. Until next time, remember to hug your loved ones, cherish the memories and always continue Seeking the Magical.