Now in its fourth year, the Epcot International Festival of the Arts is going strong featuring a variety of dining options, noteworthy Broadway stars and exceptional painters, sculptors, singers and dancers alike. We're so excited to be back with you and share a detailed review of the best of the fest along with a few that fell just shy of that distinction. At your request, we're also including critiques of the worst options at the festival so you know to avoid them and save your stomach space and money for the can't miss bites instead. Thankfully, there's still time to grab the items on our best list, and we're hopeful the positive feedback will encourage Disney to bring them back next year for our enjoyment as well!
We invite you to sit back and enjoy the best of the fest either by viewing the following video or reading the full review below. Either way, thanks for sharing in the magic of Epcot's Festival of the Arts!
Epcot's FotA is Back!
Flower and Garden, Food and Wine, Festival of the Holidays…they're all great, but we must admit—we're partial to Epcot's International Festival of the Arts. Sure, Food and Wine has plenty of superior dishes, more variety and a higher success rate overall with their options, and Flower and Garden has great fresh, seasonal food, gorgeous gardens and beautiful topiaries, but the Festival of the Arts excels at taking many different art forms and bringing them together for a uniquely Disney-fied celebration. We just love it!
One can sit back and relax while listening to Broadway stars belt out hits, meet upcoming and well-known artists, or make your own art all while sipping on sparkling libations and enjoying dozens of classic dishes, as well as unique options and deconstructed versions of your favorites. There's so much to love, and we're thrilled that the Festival of the Arts—now in its fourth year—seems like it's around to stay!
While meeting Heather's favorite living artist, Wyland, at last year's festival will always land at the top of her all-time Best of the Fest list, today we'll give you the rundown on the best food options of the 2020 festival. This is Epcot's shortest festival as it only runs until February 24th this year so be certain to grab these while you can and let us know your thoughts in the comments below.
We, Heather and Brian, want to thank you so much for watching, subscribing to our channel and for being a part of this community that's Seeking the Magical together at Disney and in day-to-day life. Now ladies and gentlemen, prep your palettes because we're prepared to paint you a picture of the best of the fest!
The Best of the Fest
Please know that although some of the food is, we don't sugar coat anything in our review. There are a few new dishes that made our list this year, but most are returning favorites that have either moved up or down the rankings based on little tweaks in their execution or delivery.
The Festival of the Arts offers many delicious options, but we would only consider the top dishes we're discussing today as truly great. Thankfully though, there were only a couple dishes that left us sorely disappointed, and we'll let you know which options to avoid and why at the end. Oddly, everything on our best of the fest list is available as a Disney Dining Plan Snack Credit, but the two options that made our worst of the fest list are not snack credit eligible so have at it with the rest dining plan users!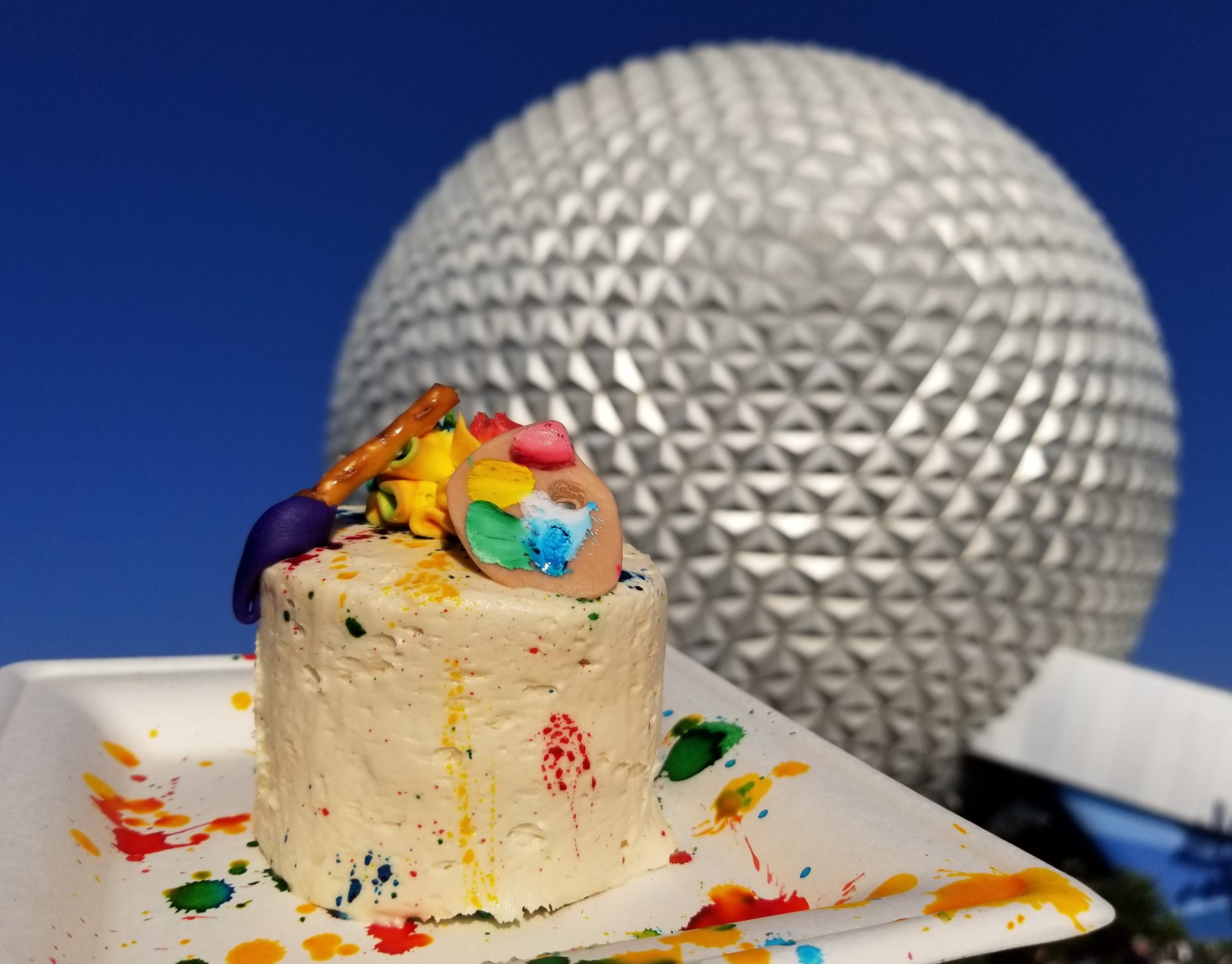 10. Artist Palette Seasonal Cake at Sunshine Seasons
Starting off our list at number ten is the Festival of the Arts inspired Seasonal Mini-Cake available at Sunshine Seasons in the Land pavilion for $5.99. This super artistic creation is made of yellow cake marble-dyed different colors and layered with peanut-butter buttercream that's topped with an extra dollop of frosting, a fondant artist's palette, and a pretzel and fondant paint brush. The whole thing is then splatter painted, Jackson Pollock style with food coloring.
It's by far the cutest dessert at the festival, and, if you carry it all the way to Spaceship Earth like we did to get the perfect photo, many, many people will ask you where you got it! We were happy to fill them in and you too because for some odd reason Disney isn't advertising this seasonal cake with all the other festival dishes on their website, and it's not included in the festival passport either. So, we're saving you from needing to chance stumble on it and letting you know about this must get right away.
Besides being adorable, it's a tasty little cake! We love that they use peanut butter in the frosting to cut the sweetness and expand the flavor profile, but we still needed to wipe some of the frosting away as it's very rich. Nevertheless, it's a standout that we highly recommend.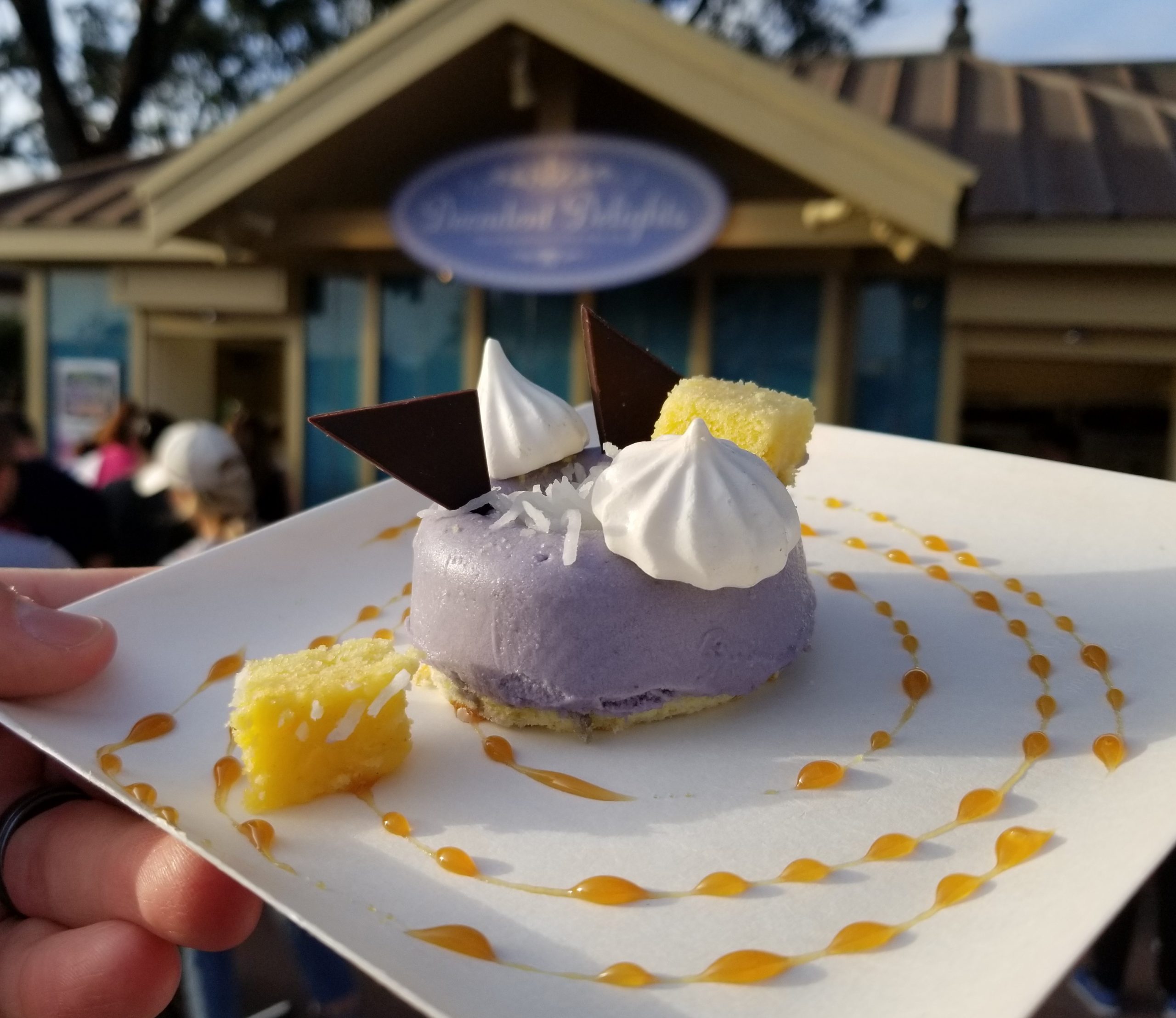 9. White Chocolate and Purple Sweet Potato Mousse from Decadent Delights
Coming in at number nine, is another dessert option that also inches close to the line of too sweet, but, thankfully, stays on the good side. Returning to Decadent Delights and our best of list this year is the White Chocolate and Purple Sweet Potato Mousse available for $6.50. Adorned with cake pieces, caramel, coconut flakes and puffed maple meringue, we would never guess this lite, well-prepared mousse is made of sweet potato, but it is. And we now know that sweet potato makes a surprisingly tasty mousse, and it adds a depth of flavor that is a good counterpoint to the sweet, one-note-ness of the white chocolate—which is typically not my thing.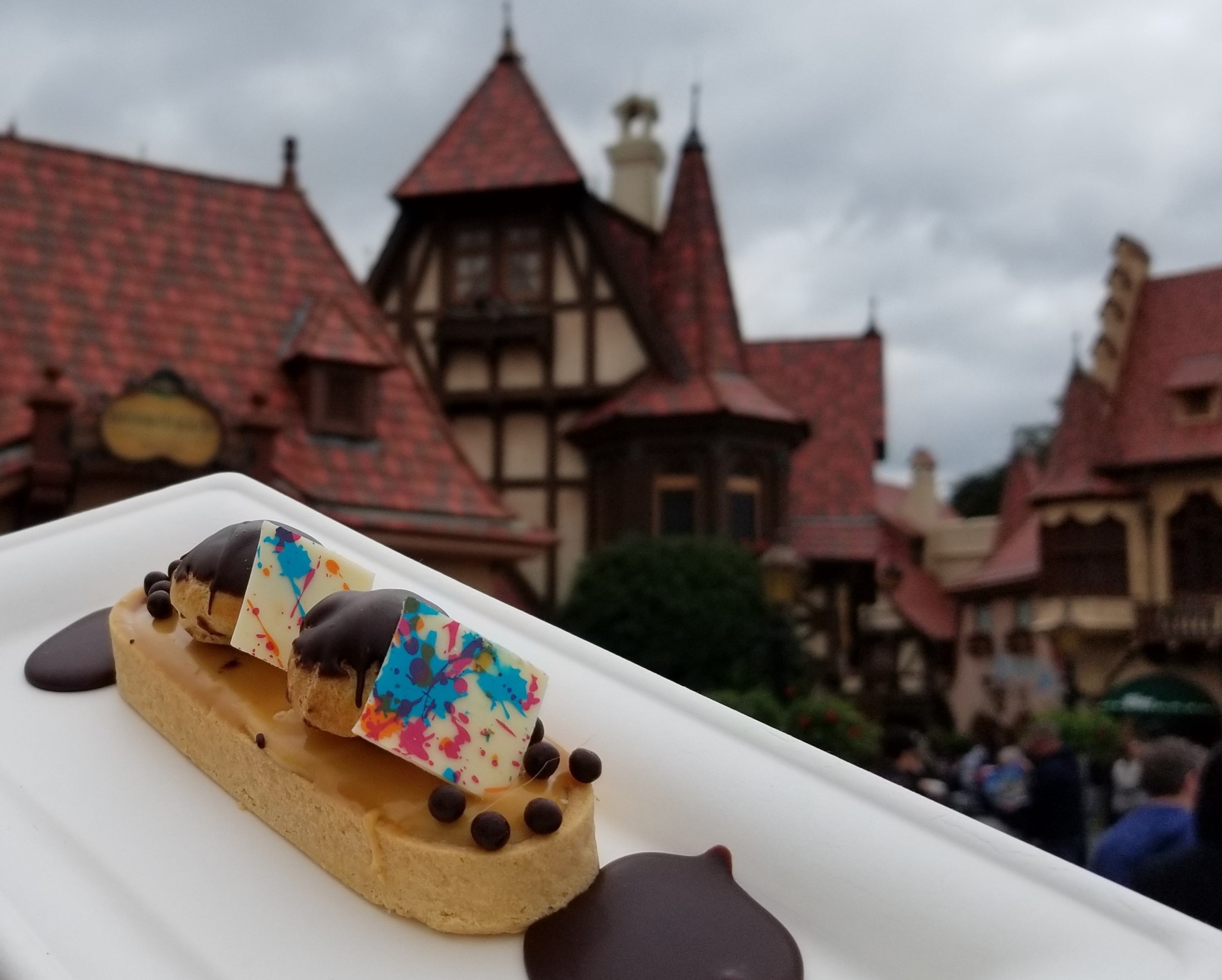 8. Saint-Honoré Tart from Cuisine Classique in Germany
The eighth item on our best of the fest list is the Saint-Honoré Tart found at Cuisine Classique in the Germany pavilion for $6.00. This dessert is a caramel cream tart with little crispy balls dispersed throughout then filled with a rich, caramel glaze and two, small cream puffs coated with chocolate between a couple white chocolate decorative squares. We preferred to eat the chocolate squares and the cream puffs separately as we saw them more as decorative bonus treats while the tart was the star. The crisps in and on the tart were really the highlight—providing an additional texture to the flaky crust and the gooey caramel. If you have a sweet tooth like Brian, we're betting you'll love this one along with the two we just covered.
While, there are two more desserts that make our top ten, we aren't even mentioning many of the other tasty dessert options like the Deconstructed Strawberry Cheesecake from the Deconstructed Dish or the Vanilla, Rose Water and Pistachio Panna Cotta from the Masterpiece Kitchen along with several others that were delicious too. Don't get us wrong—they were good—just not good enough to make the list. Basically, we're telling you that if you're heading to the Festival of the Arts, save room for dessert—you're going to need it!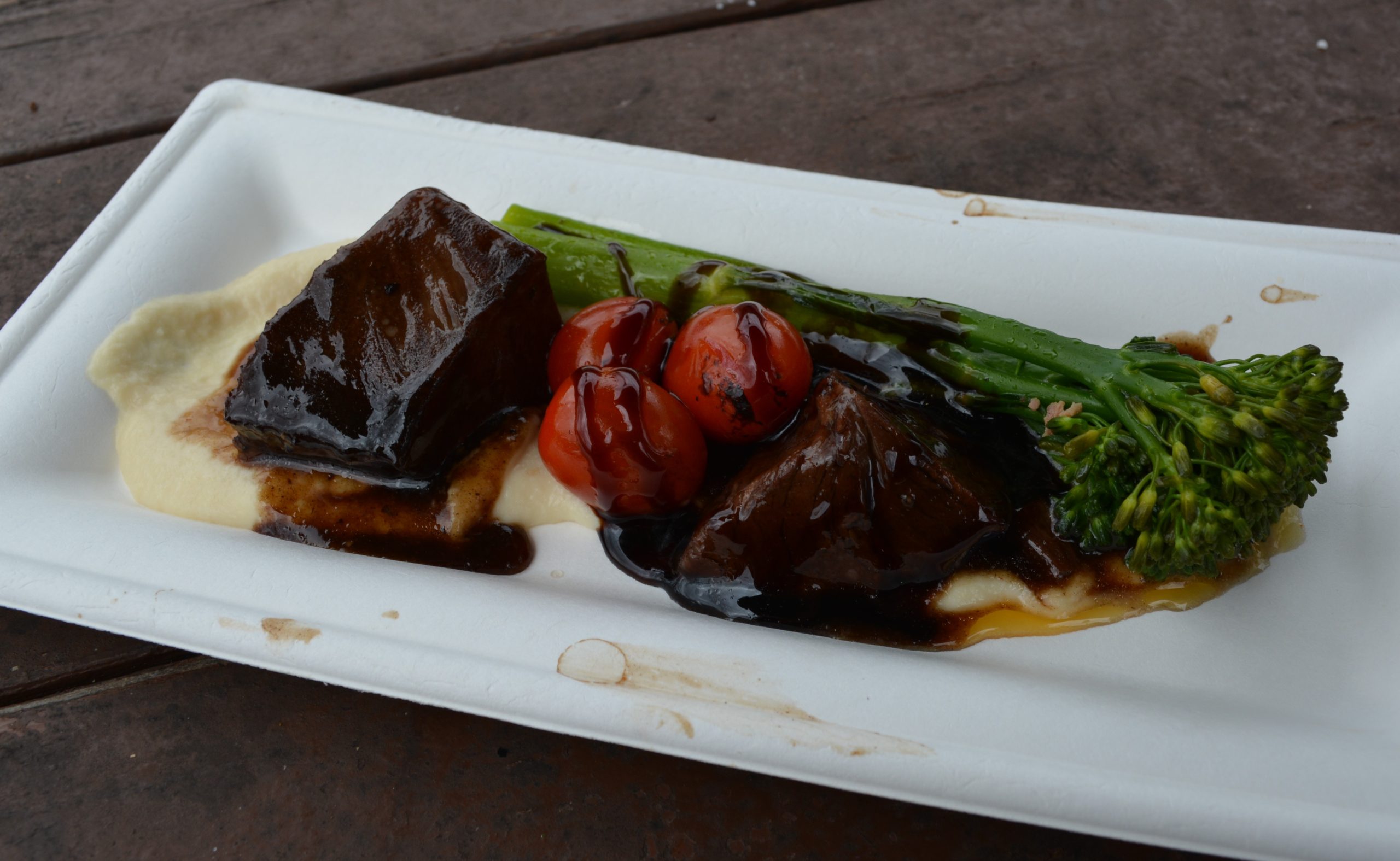 7. Red Wine-braised Beef Short Rib from Cuisine Classique in Germany
Moving on to something savory, coming in at number seven on the list is the Red Wine-braised Beef Short Rib with parsnip purée, broccolini, baby tomatoes and aged balsamic also served at Cuisine Classique in Germany for $8.00. This is essentially a reduced portion of a complete restaurant-quality plated entrée. We had it last year as a complete dish, and we enjoyed it but found the sauce superfluous. So, we ordered it without the aged balsamic this year and thought it was a big improvement! The tartness of the low-quality balsamic rendered the dish slightly off key last year, but, without it, the ingredients sang beautifully together. You're of course free to get it as you see fit as it was still good with the sauce, it was just better without in our opinion.
The next item on our list also comes from Cuisine Classique, which, if you haven't figured out yet, gets the nod as our best booth of the fest. The booth offers three unique dishes that are all featured in our top ten: placing eighth, seventh and, now, sixth.
They also sell the Artist Palette Jumbo Chocolate-Chip Cookie, but that item is available at numerous stands throughout the festival, and FYI, is decent but nothing super special. So, ignoring the cookie since it's not an exclusive item, the rest of the food options reflect a level of consistency and quality that all festival booths should strive for, and we say well done!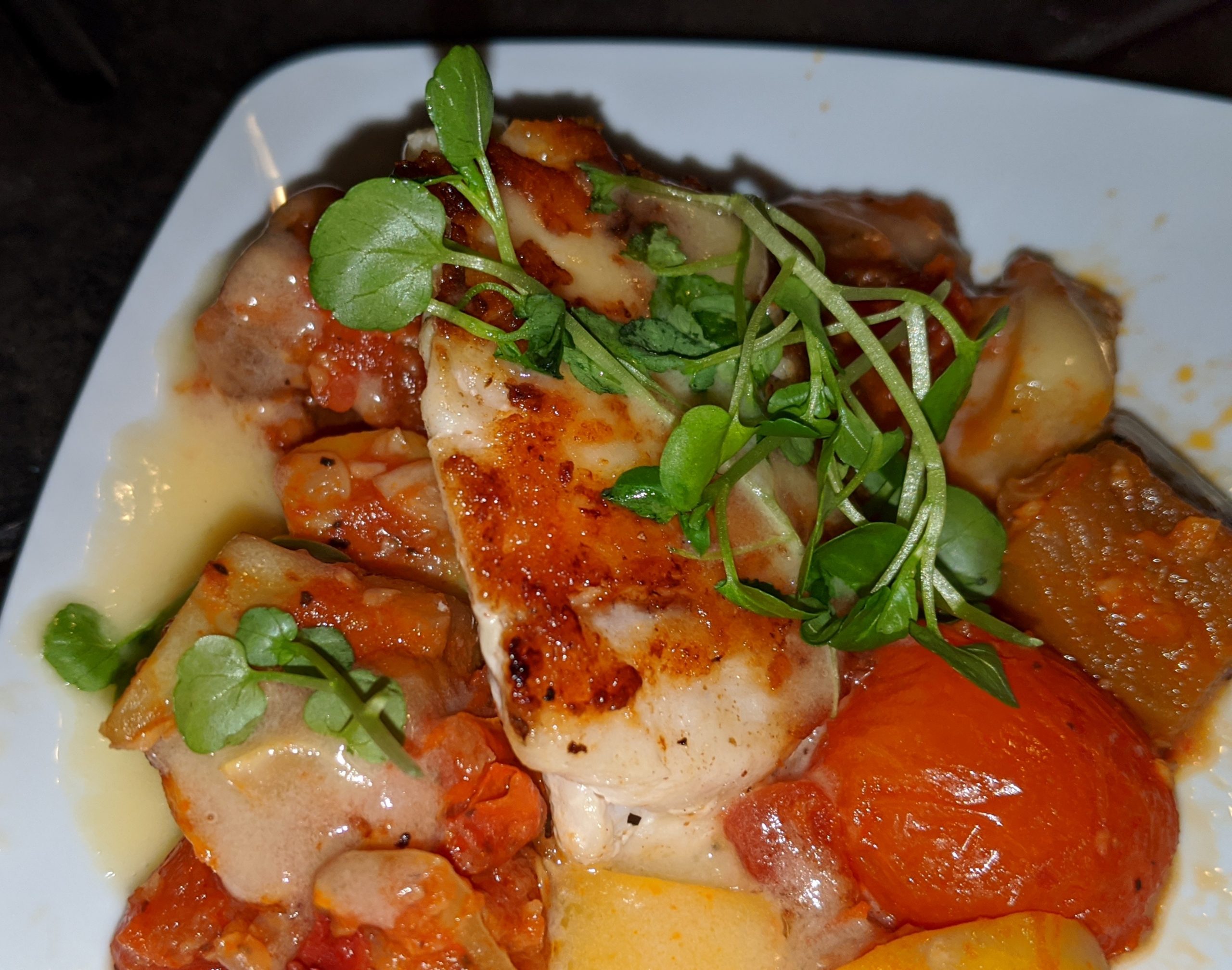 6. Seared Corvina from Cuisine Classique in Germany
Completing the hat trick at number six, is the SearedCorvina with braised ratatouille and lemon-thyme beurre blanc selling for $7.50. This returning favorite is a fresh, uplifting dish. The fish had a sublime sear that locked-in the delicate flavors and mingled so well with the rich, yet lite, beurre blanc sauce which added just a touch of acid from the lemon. Although Brian's probably sat out a little too long, the fish still fell apart with the fork, into flaky bites. The ratatouille was decent, but the whole thing was carried by the fish and the sauce. Anyone who enjoys fish should consider the corvina a must get!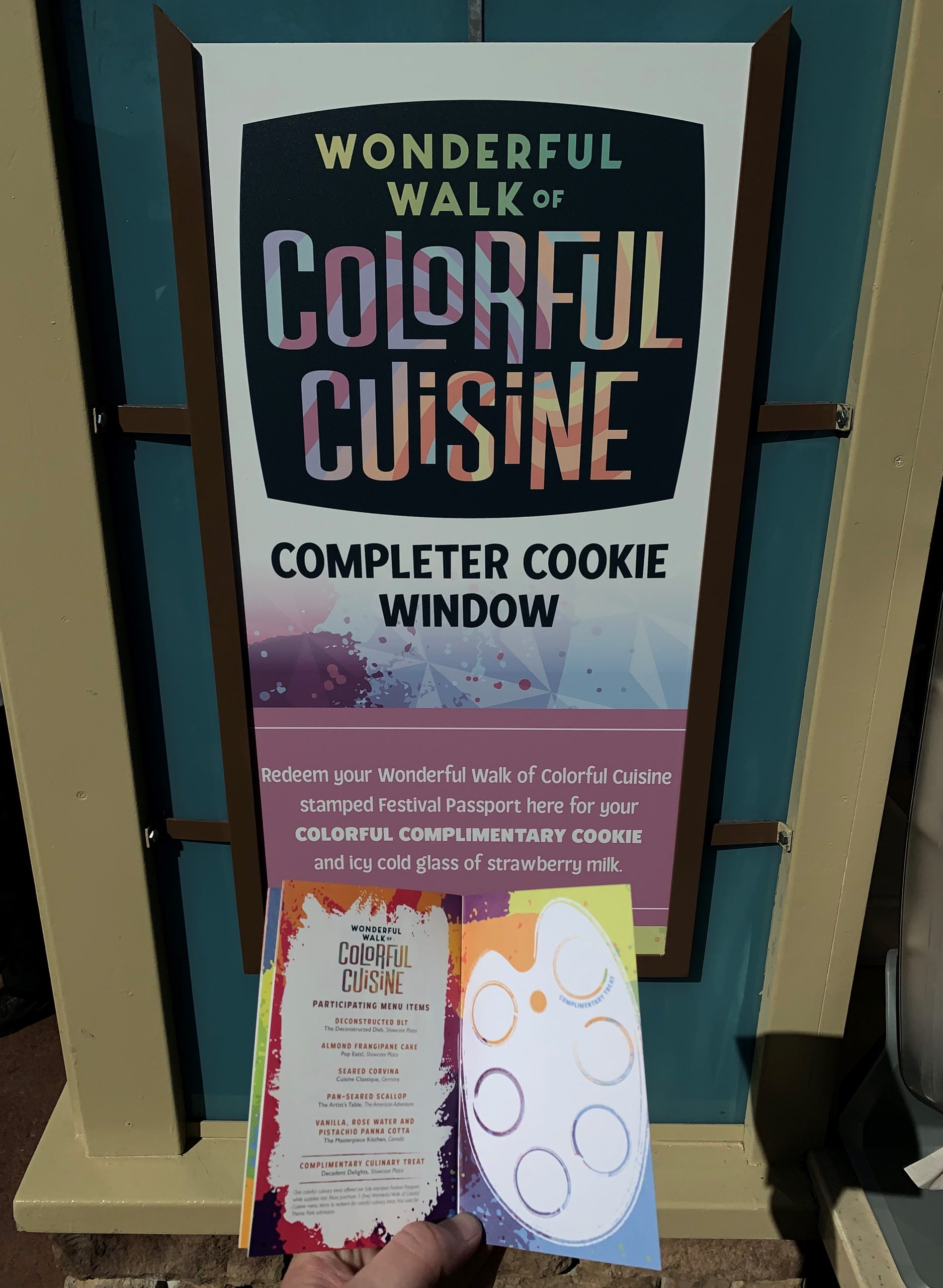 We Interrupt this List to Tell You to Check Out The Wonderful Walk of Colorful Cuisine!
Of note, the corvina is one of five dishes that make up the Wonderful Walk of Colorful Cuisine. This walk is the official food crawl of the festival and is modeled closely after Emile's Fromage Montage which was a cheese crawl introduced at the 2019 Epcot International Food and Wine Festival. However, unlike the montage, this crawl was rather successful, and arguably worth your time and money. The required selections all ranged from good to great, and the reward for collecting all five stamps—an adorable artist's palette sugar cookie and a cup of Strawberry milk—was substantial and pretty tasty. To receive the bonus dessert pairing from Decadent Delights, guests must collect stamps in their Festival Passport for each of the following five dishes: the aforementioned corvina, the almond frangipane cake found at Pop Eats!, the panna cotta from The Masterpiece Kitchen, the pan-seared scallop from The Artist's Table, and the deconstructed BLT from the Deconstructed Dish. Keep reading to see which of the other five selections makes it in the top half of our best of the fest list!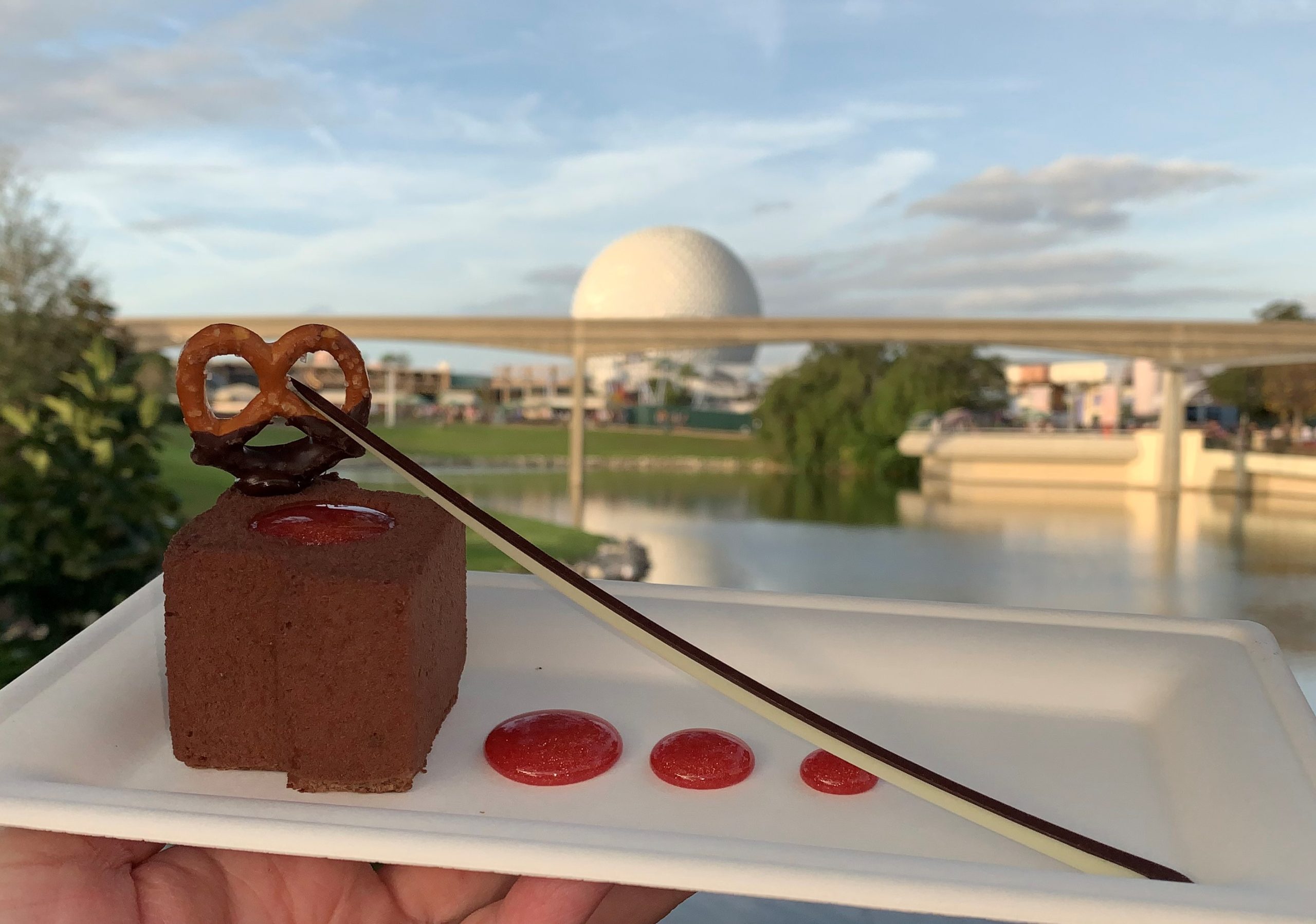 5. Chocolate, Peanut Butter and Pretzel Crunch from Decadent Delights
Now, entering that top half with number five, is the Chocolate, Peanut Butter and Pretzel Crunch found at Decadent Delights for $6.50. This aesthetically pleasing dish is one of the more elegantly plated options at the festival, and it doesn't disappoint from looks to taste. The chocolate cake is rich and moist—almost mousse like—while the raspberry coulis is mild and not too sweet. We love that the peanut butter crisps are dispersed throughout the cake providing a surprising bite to the otherwise silky-smooth texture. We liked this last year too, but there were significantly more crisps this time around which elevated the dish overall.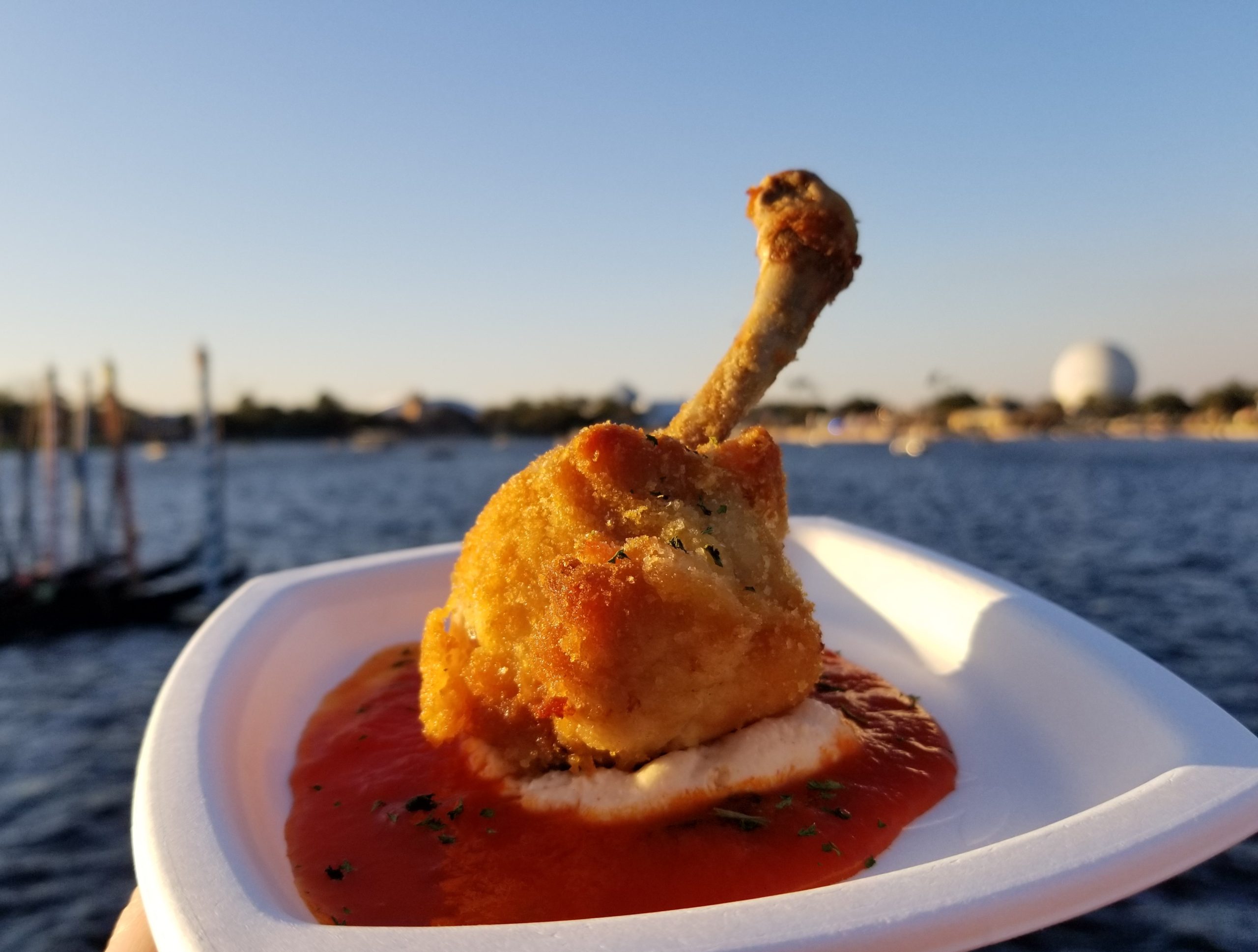 4. Pollo ala Pirandello from L'Arte di Mangiare in Italy
Just off the medal platform, coming in fourth on our list is the Pollo ala Pirandello found at L'Arte di Mangiare in the Italy pavilion for $10.00 or a Disney Dining Plan Snack Credit just like all the others. So, take note dining plan users—this is one of the best deals at the festival for your snack credits. We will say though, we were highly disappointed that the chicken leg we purchased didn't have the mini Chef's hat that is featured on many of the promos from Disney. That was a legit letdown, and it made us question if it was worth spending $10.00 on a single chicken leg with no hat. The logical part of Heather still questions it, but it was so good we ended up buying a second one the next day. So as per usual our taste buds trump logic.
The chicken drumstick was perfectly fried and stuffed with sweet ricotta cheese then laid on a bed of pomodoro sauce and more cheese. If fried stuff with cheese excites you as it does us and Joey from Friends—all the points by the way if you got that reference before we said Joey—you need to suppress your logical mind and spend $10.00 on this chicken leg. Also, note that this item has proven very popular, and the booth has run out repeatedly during the festival so head to Italy earlier in the day if it's a priority for you.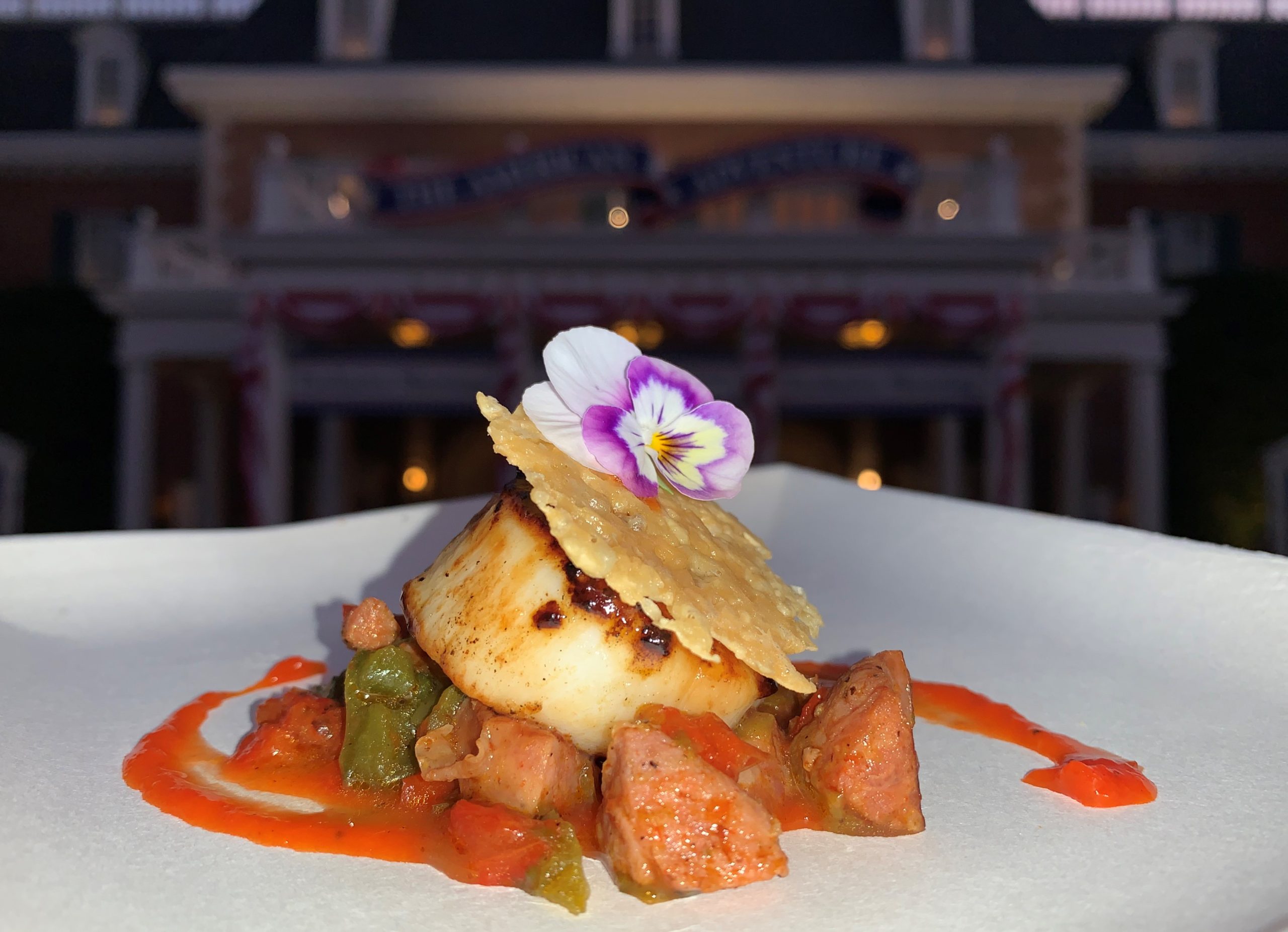 3. Pan-Seared Scallop from The Artist's Table in America
To sample the dish placing third on our best of the fest list, head to the Artist's Table in the American pavilion, and order the Pan-seared Scallop with chorizo, roasted red pepper coulis and a parmesan crisp for $7.00. The scallop was flavorful with a smooth, grit-free texture and a nice sear that lent to only a faint aftertaste. Notably, it was the best scallop Brian has ever had at an Epcot festival, and they usually do them fairly well. Beyond the scallop, the chorizo added a delightful contrasting flavor and texture and the red pepper coulis tied everything together with a hint of spice and sweetness to compliment the buttery scallop. The mild heat nestled on Brian's palette while he enjoyed this dish, and he would happily order it again. (Since Heather is allergic, she was unable to try this one.)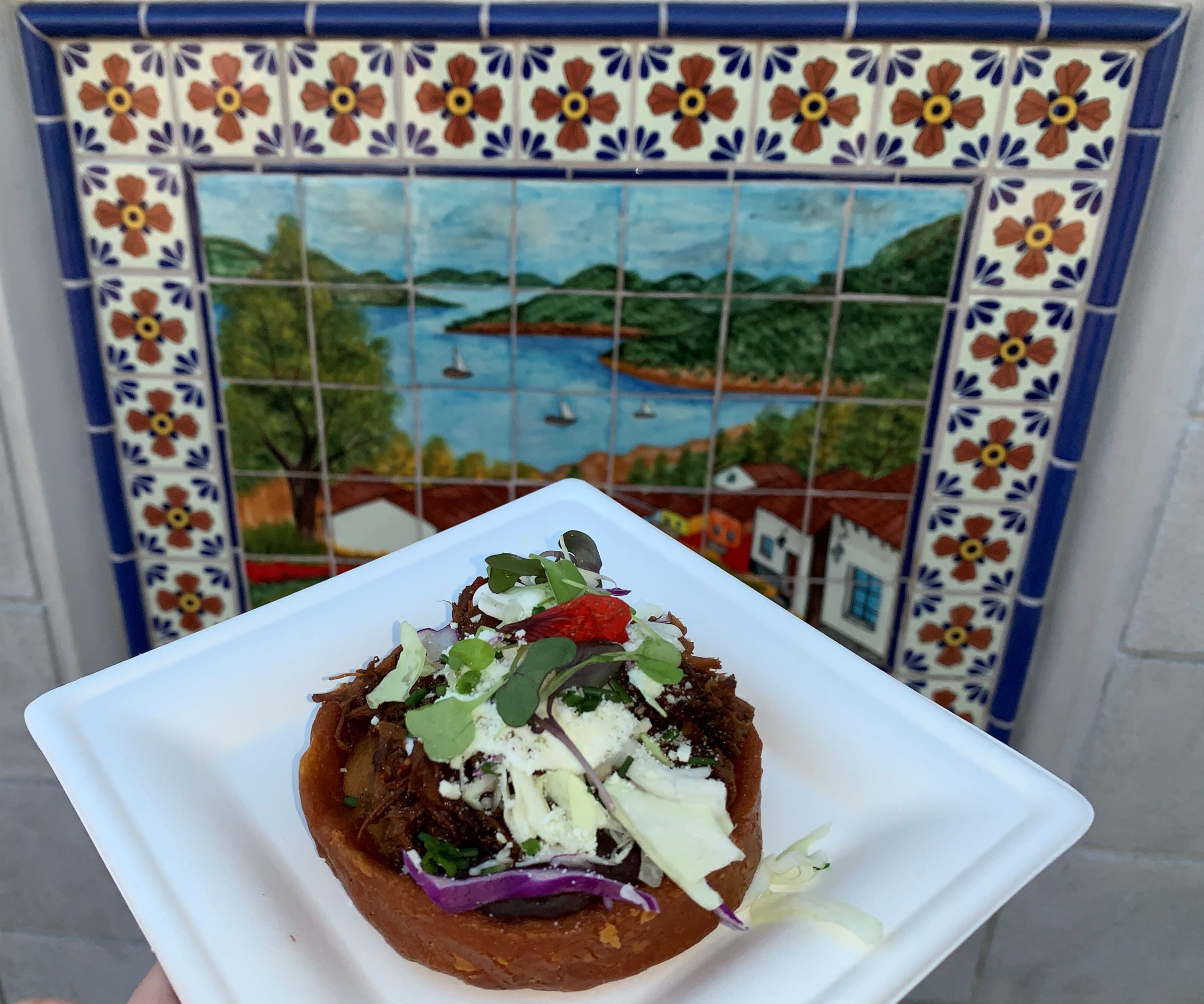 2. Sopes de Barbacoa from El Arista Hambriento in Mexico
Our runner-up for the second year in a row is the must get Sopes de Barbacoa from El Artista Hambriento in the Mexico pavilion for $7.25. This dish features braised, shredded barbacoa beef served on a fried Guajillo corn shell with black beans, cotija cheese, Mexican cream and chives. Neither of us are big fans of black beans, so it says something that we love this dish even with the beans! We also scraped them off once and just went the lazy way and ordered it without beans once too. While we thought the lack of beans improved the dish, it was already an amazing option! Yes, we admit…we shared three of these little sopes this year, and we could've had more if we weren't trying to save room for everything else! There is just so much to love about the moist, slow-cooked barbacoa paired with the saltiness of the cheese and cream, the flakey yet crisp shell and the zesty crunch of the slaw-like toppings. It's all so well balanced, and we highly recommend that you make it a priority to order one…or three.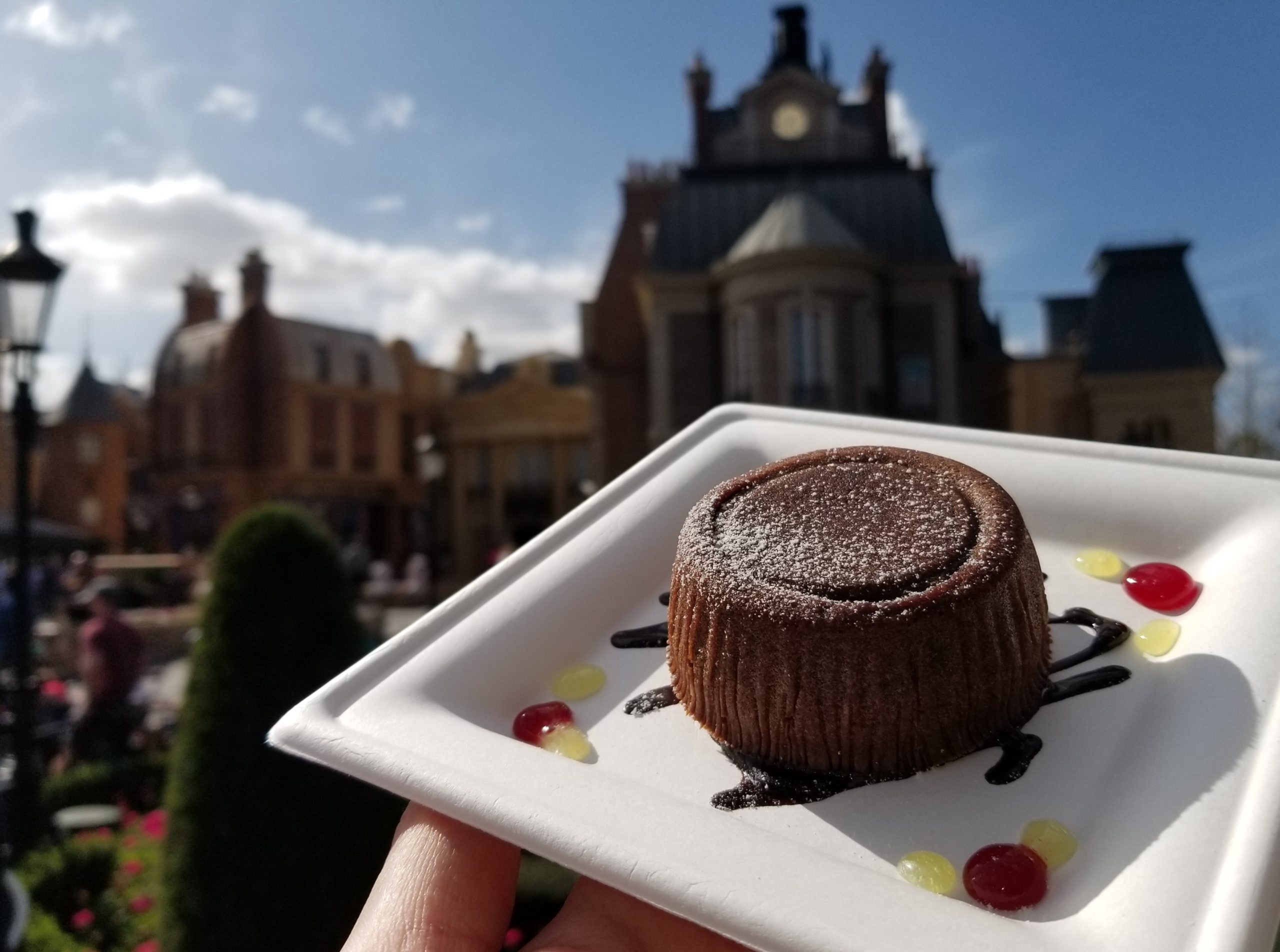 1. Moelleux Aux Chocolats Valrhona from L'Art du Cuisine Francaise in France
Now, grabbing the top spot yet again is the Moelleux Aux Chocolats Valrhona found at L'Art du Cuisine Francaise in the France pavilion and selling for $7.00. In a way, we're critical of the fact that such a classic—even basic—dish has managed to come in first on our list for the 2020 Epcot International Festival of the Arts, but it's undeniable. Every other item on our list has at least one thing we would change or tweak on it if we could, but there's really nothing negative to say about this one. When a timeless, crowd-pleasing favorite is consistently done to perfection, it deserves the recognition.
Although it's not the most exciting option, it certainly isn't dull. Each little lava cake is imbued with delicious, molten Valrhona chocolate and is filthy rich while avoiding being excessively sweet. Moreover, it perfectly straddles the line between the moist but not dense, structured cake and the gooey, rich molten center. It's exquisite!
A Few Bonus Hits
So, before we kill this decadently delectable vibe by talking about the two dishes that earned the unfortunate distinction of the worst of the fest, we'll quickly let you know about a few dishes that were just this close to making our top ten.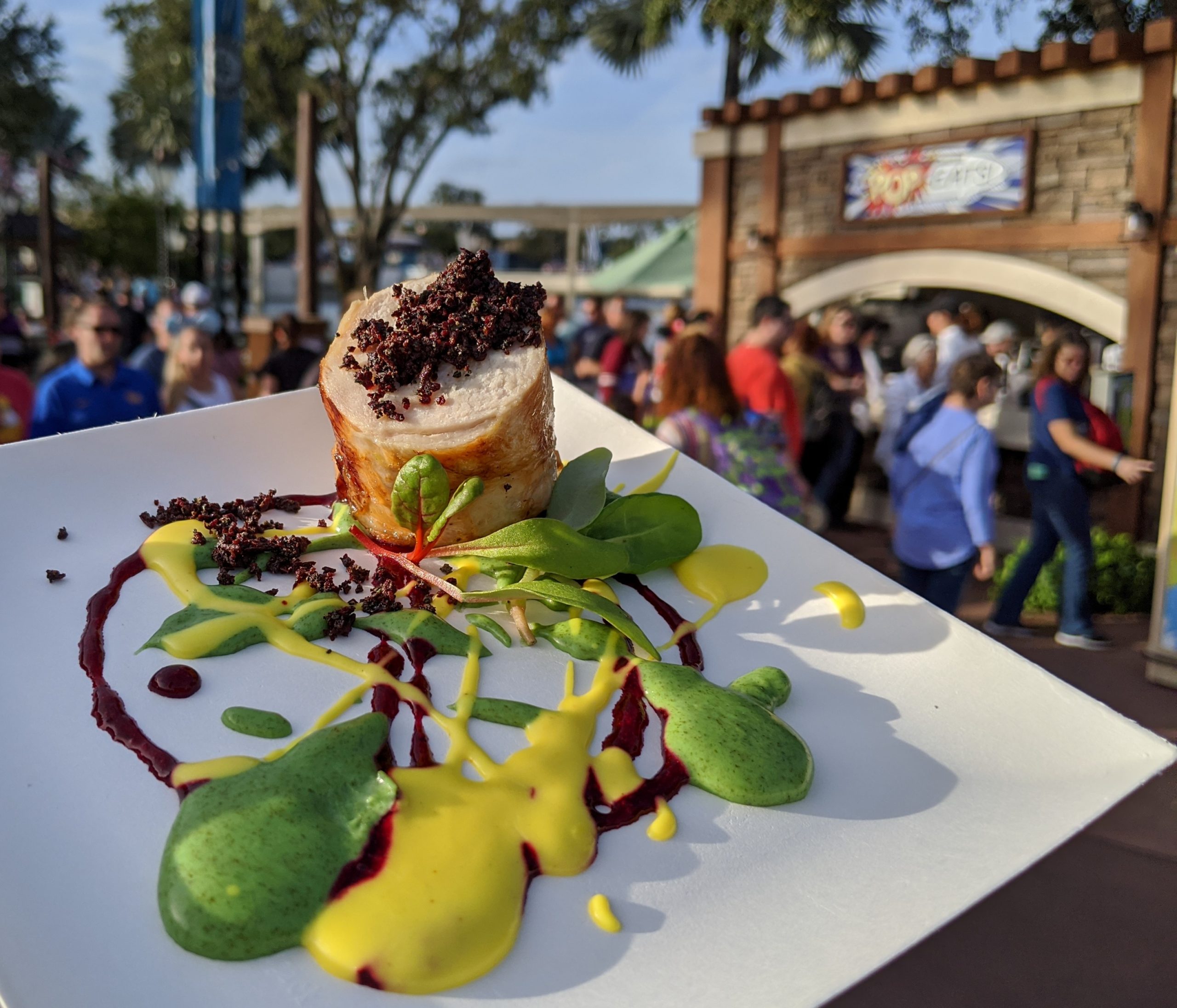 Bonus: Sous Vide Chicken Roulade from Pop Eats!
While these three dishes were all note-worthy, they fell short for one reason or another. Still, they're good enough to be considered among the top tiers of festival dishes. The first is the Sous Vide Chicken Roulade with apples and sage served over a warm brie fondue with blueberry and beet gels and garnished with beet chip crumbles found at Pop Eats for $6.75! We loved this one yet again this year, but the presentation was weaker.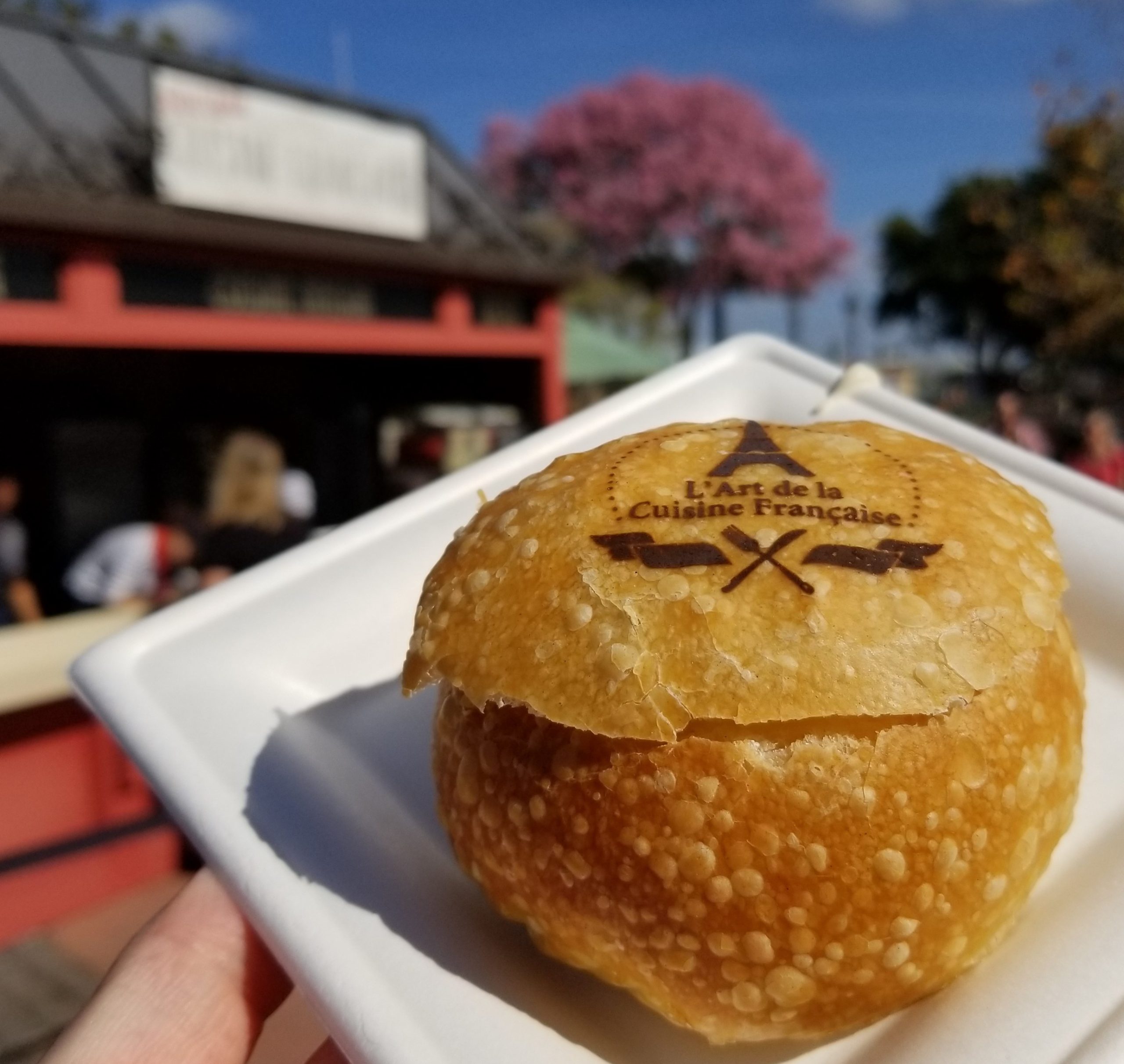 Bonus: Crème de Brie en Petit Pain from L'Art du Cuisine Francaise in France
Next, we want to shoutout the Crème de Brie en Petit Pain from L'Art du Cuisine Francaise in the France pavilion available for $7.75. This adorable little branded bread bowl is stuffed with warm creamy brie cheese. Last year, the cheese was more of a soup than the thick, spreadable cream we were served this year. As odd as it may sound, we preferred the cheese soup because it maintained a better balance of ooey-gooey cheesiness to the relatively small portion of bread.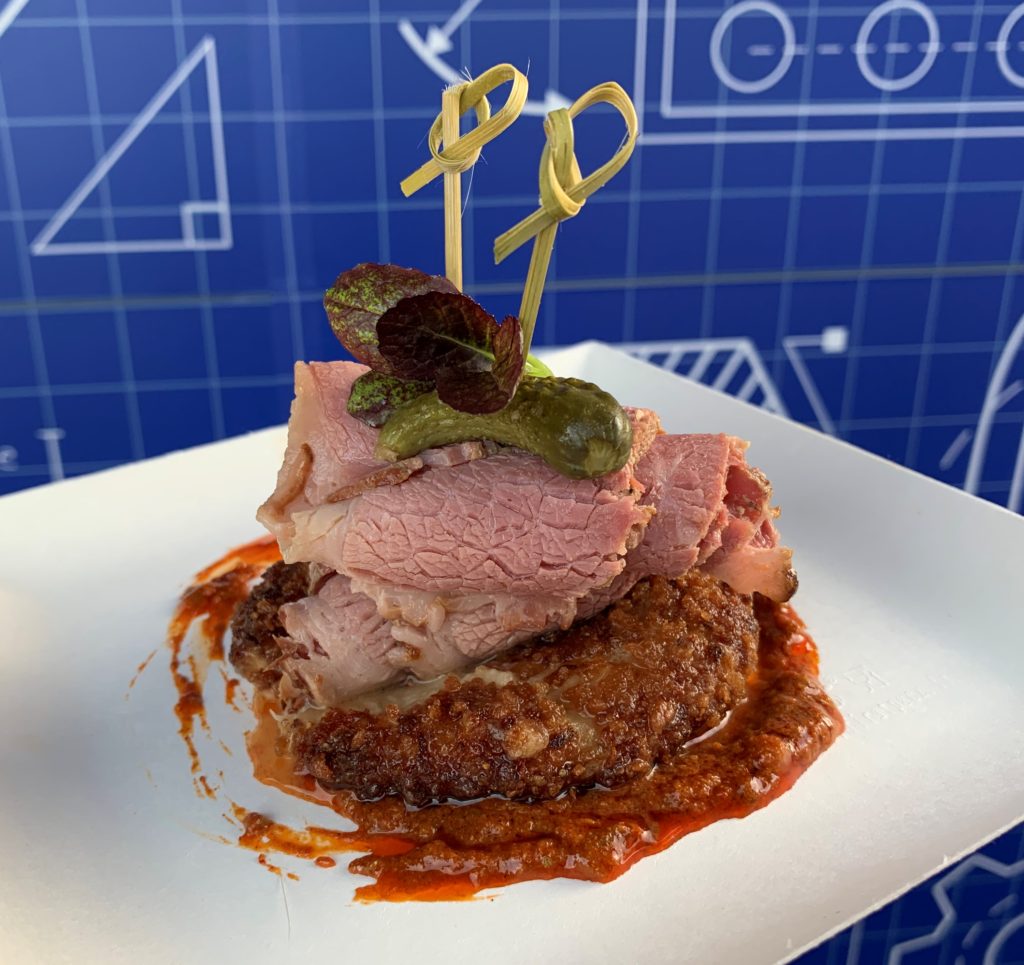 Bonus: The Deconstructed Ruben from the Deconstructed Dish
Finally, we recommend the Deconstructed Ruben hailing from the Deconstructed Dish for $6.75. The "deconstruction" is achieved by layering the corned beef on a crisp bed of lightly fried sauerkraut with Jarlsberg cheese and thousand island dressing. Neither of us typically care for sauerkraut, but Brian actually found this to be exceptional. We give mad props to anyone who can make us truly enjoy something we normally don't like. So, if Ruben's are your thing, you're likely going to love this even more.
There were plenty of other crowd-pleasing favorites at the festival, but that concludes the dishes that were notable enough to make our best of the fest list.
We were happy with the selection overall, but we do think many of the dishes were not quite on par with last year's Festival of the Arts. This year, more of the offerings were just decent as they simplified a lot of the plating and cut corners preparation wise—and it showed. This was disappointing to see since more intricate plating and an increased attention to the craft of cooking is one of the things that make the Festival of the Arts stand out. Hopefully, they change that back for next year.
The Worst of the Fest
We also hope they improve the two dishes on our worst of the fest list. They are the Wild Mushroom Risotto available for $9.25 from the Masterpiece Kitchen and the Symphony in Chocolate Flight Paired with Cream Liqueurs selling for $13.00 from the Artist's Pallet. While it's not shocking that the alcoholic chocolate flight is not Disney Dining Plan Snack Credit eligible, we're surprised that the Wild Mushroom Risotto isn't either—when that is actually cheaper than the chicken from Italy.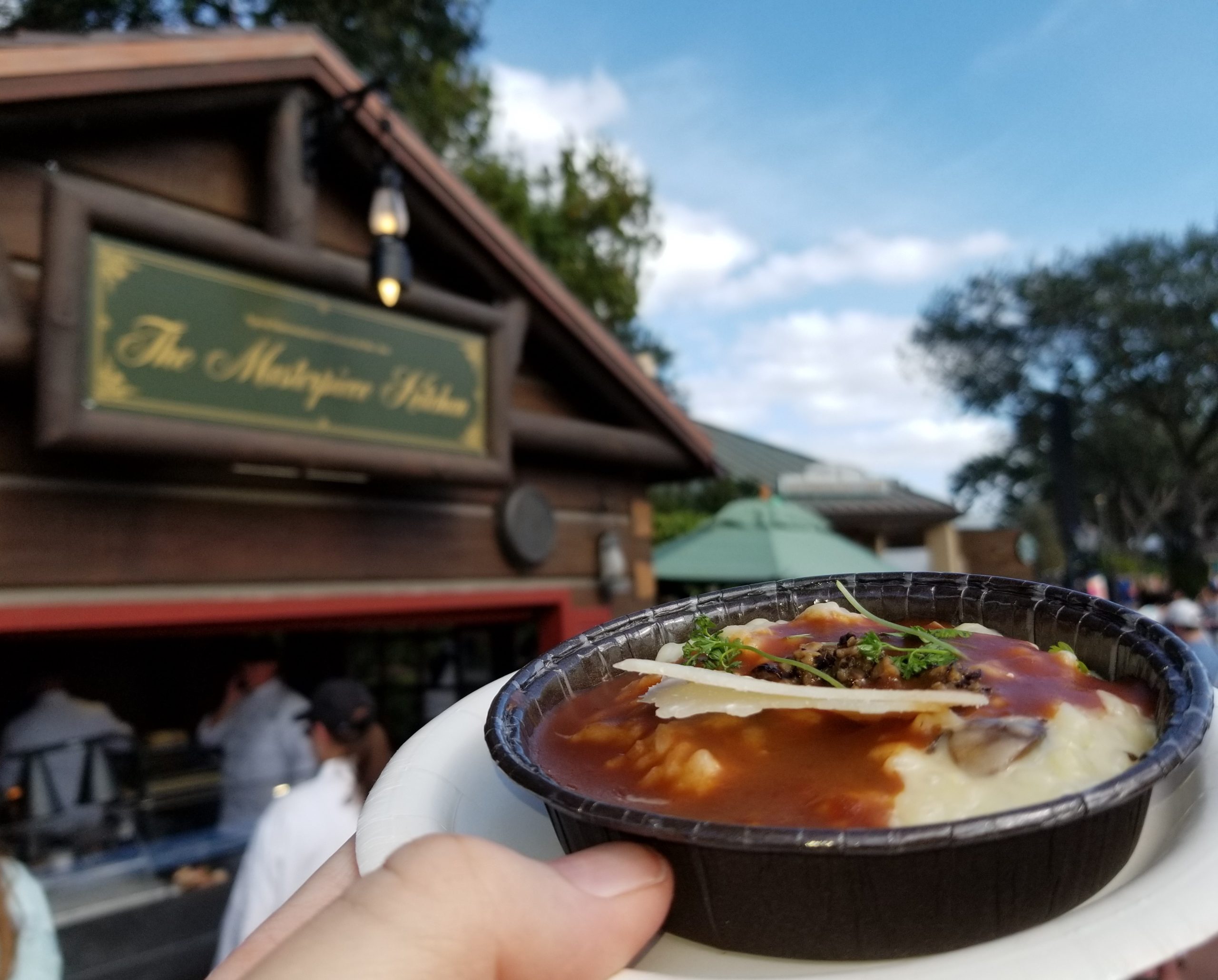 Skip: Wild Mushroom Risotto from The Masterpiece Kitchen in Canada
Regardless, we wanted to love the first one especially since risotto is one of our favorite things to eat and cook, but they killed it with the fake truffle flavoring. It was just too much and not palatable after a couple bites.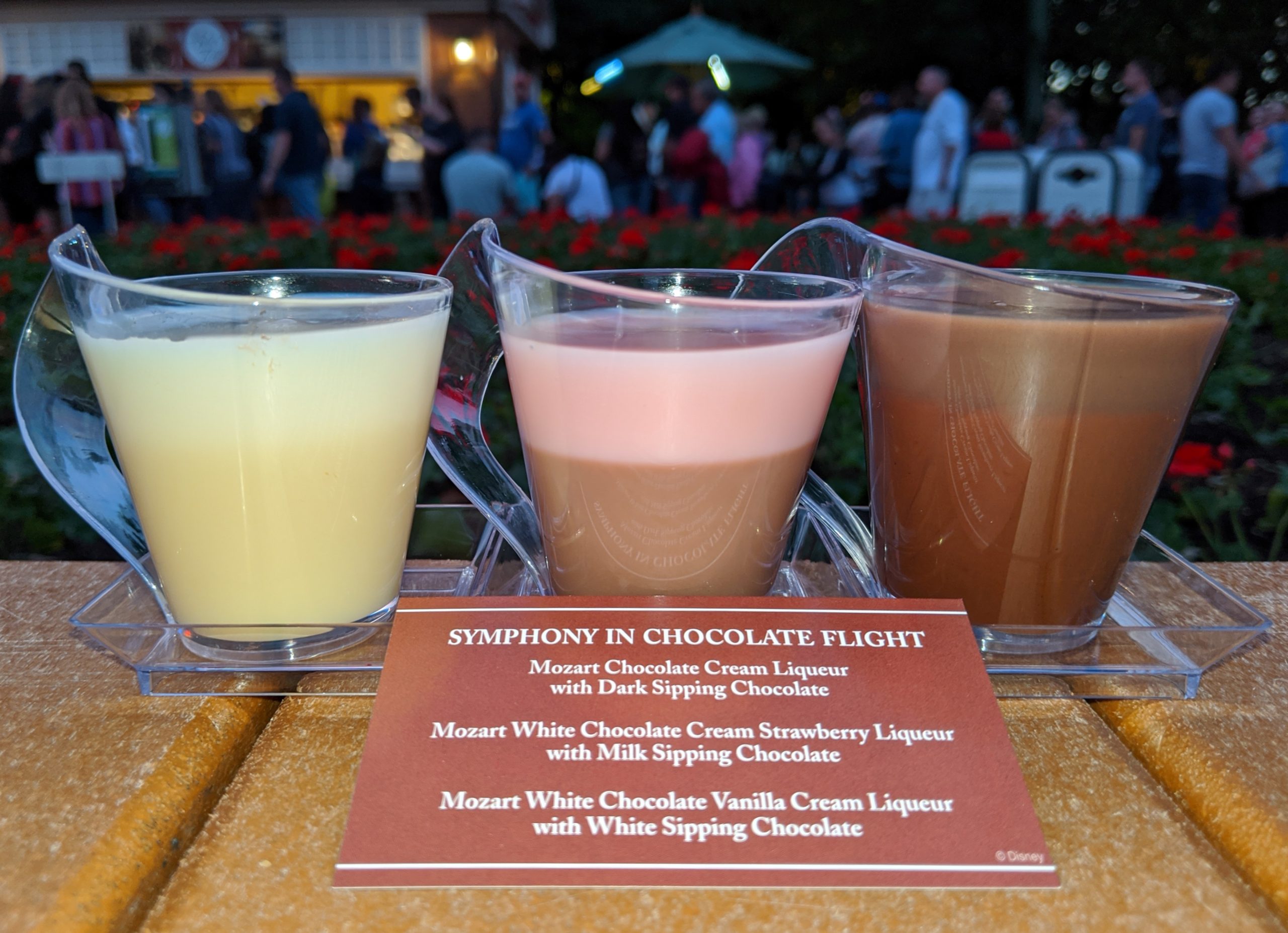 Skip: Symphony in Chocolate Flight with Mozart Cream Liqueurs from The Artist's Table in America
This was a good idea in theory since everyone loves the non-alcoholic Sipping Chocolate Flight so much that includes white, milk and dark chocolates, but it was like drinking poorly blended cough syrup. We don't think the Mozart Cream Liqueurs were ever well mixed with the sipping chocolates, but they separated immediately and made a gooey, sickeningly sweet syrup in the lighter liquid. It was a struggle to consume. Thankfully, there were so many other scrumptious sweet and savory options that we highly recommend instead that you don't need to bother with those two.
We hope you've enjoyed our rundown of the best and worst of the Epcot International Festival of the Arts, and we're happy to continue the discussion and answer any questions in the comments below. Thank you again for reading and remember to hug your loved ones, cherish the memories, and always continue Seeking the Magical.