As you know…
Arabian nights, like Arabian days
More often than not
Are hotter than hot
In a lot of good ways
Sadly, the "Wish Granted Donut" now available at Sunshine Tree Terrace in the Magic Kingdom is not like most Arabian nights or days—unless a hot mess of a snack counts. We really wanted to love this perfectly themed new donut celebrating the upcoming release of the live-action Aladdin, but it was impossible for a few key reasons.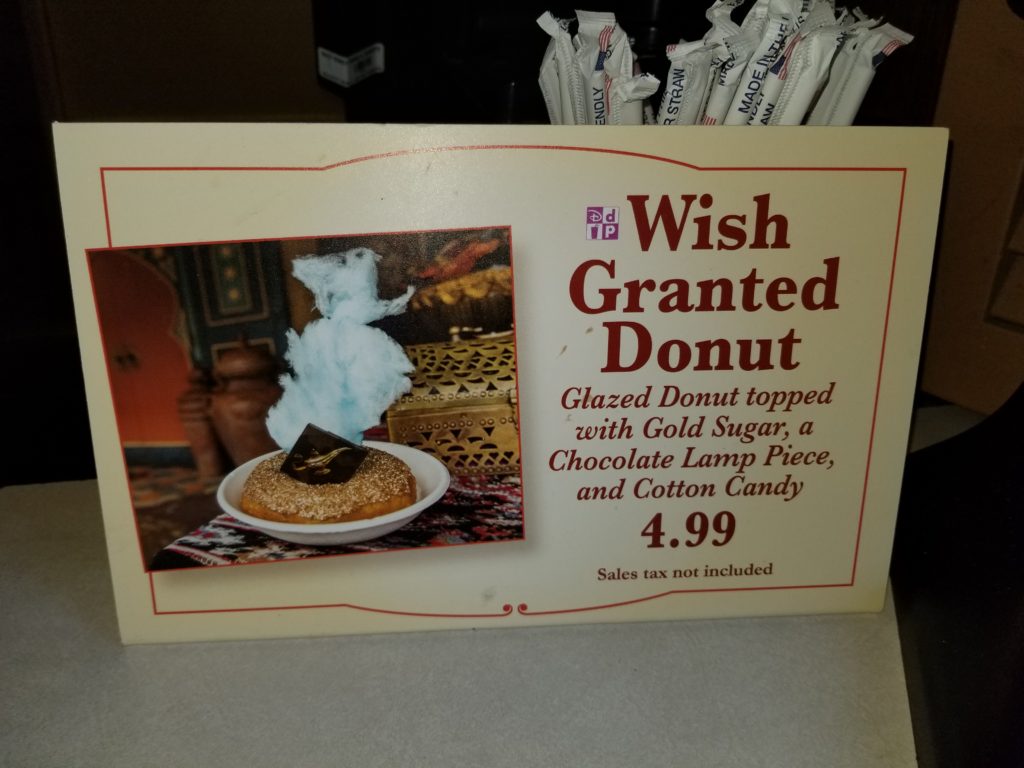 First and foremost, one decorating decision Disney made drastically impacted the taste and experience of the donut making it less than appetizing under the best of circumstances. The donut is your classic yeast (raised) donut, and it was supposed to be light and fluffy with a bit of a chew and a subtle yeast flavor. They glazed it with a standard icing, but the big issue was their decision to douse the glaze with a very thick coating of gold shimmer sugar.
Shimmer sugar is like a sanding sugar but with even larger crystal structures. The appealing thing about sanding sugars for decorating is that the crystals do not dissolve when subjected to heat, and they're large enough to reflect light and maintain bold colors. They're great for looks but can be challenging texture wise depending on their size and the quantity used. Shimmer sugars are typically gold or silver and are basically sanding sugars on steroids. While appealing for decorating, these sugars are very, very crunchy when eaten and always tend to mess with the mouth feel of baked goods. As a result, they should be used sparingly and in appropriate circumstances—texture wise. Disney did neither.
By coating the donut completely in the hard, crunchy shimmer sugar, it killed any enjoyment in eating it. It was a mix of feeling like you were chewing on sand (hence the term "sanding"), possibly breaking a tooth or biting through tiny bones on the donut. It was NOT enjoyable for us at all.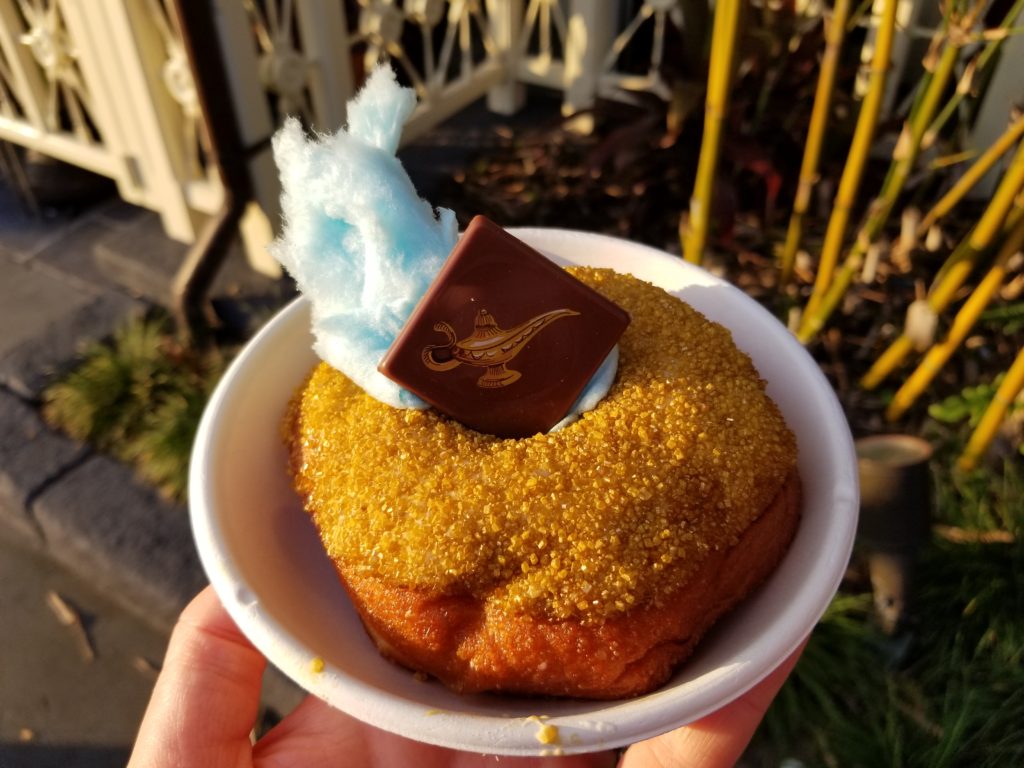 To top it off, the donut we purchased was beyond stale. It was worse than any "day old" donut we've ever tried; it was hard, dense and dried out. The donut should not have been sold, and our donut was not the only problem. We spoke with others who purchased the donut on different days, and to a one they all said the same. The baking and handling of this item is very off making it not worth the snack credit or the $4.99 they're charging for it even without the texture problem.
Sure, the little cotton candy piece and the chocolate genie lamp are adorable, but they don't do anything to rescue the rest of it. The donut is undeniably photogenic, but that's all.
When we're not at Disney, we want our little indulgences to be worth it—worth the money, the calories, the extra ten minutes working out, etc. At Disney, we think calories don't count, but we still want to feel like our treats are worth the money and the stomach space (there is SO much great food and so little room sometimes). This was neither. We DO NOT recommend the "Wish Granted Donut." If you have to do it for the gram, then so be it. Just know that there are better treats out there that are perfectly gram-able AND delicious.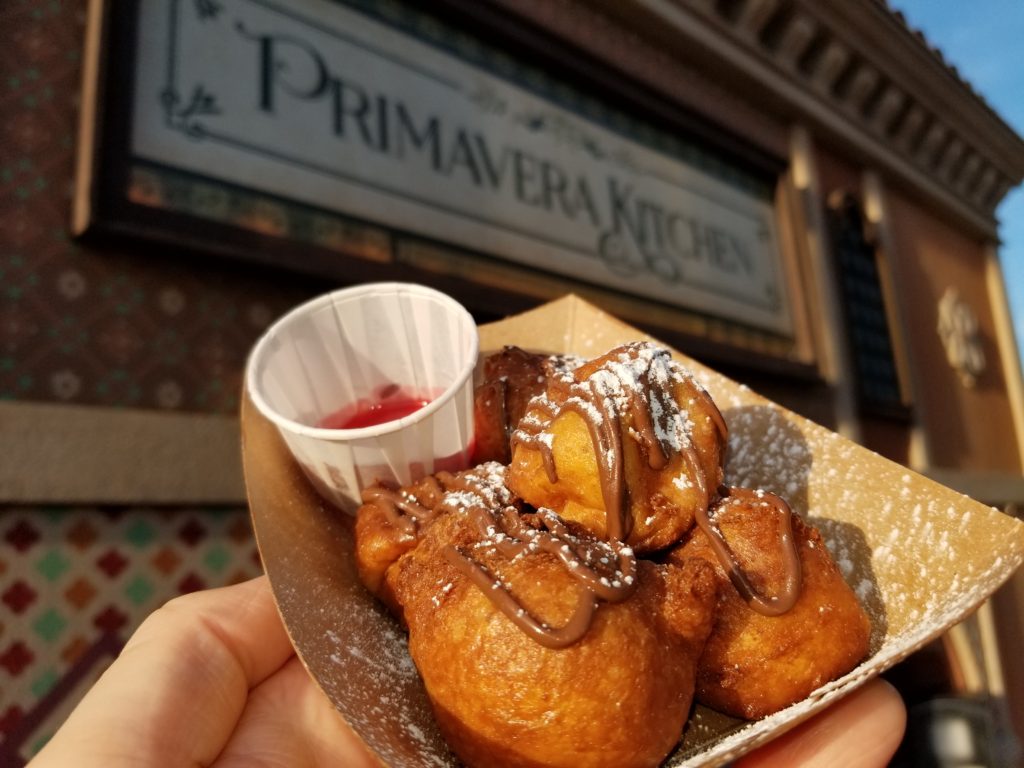 To fill your Disney donut cravings, we highly recommend the Zeppole from the Primavera Kitchen in the France Pavilion at the Epcot Flower and Garden Festival. The little ricotta cheese fritters are sprinkled with powdered sugar and drizzled with a chocolate-hazelnut sauce, and they're fluffy and delicious!!! We hope you check them out and come back next week for out top ten best items from the festival. It is full of amazing food that we can't stop craving!
Please understand that we know what we like, and we often feel very strongly about it. If you can't tell by this rather long post about a single donut, we are self-described "foodies," and we take this stuff fairly seriously. That said, we know that everyone is different. Brian and I do not always agree on food, and we don't expect you to always agree with us. We'd love to hear what you think of the "Wish Granted Donut" whether you agree or disagree so leave a comment below and share your thoughts with us and fellow readers.