By: Brian
Hello and welcome back to Seeking the Magical! Today, we're discussing what you need to know about the shops and dining options within Star Wars: Galaxy's Edge as well as briefly covering information on the new Star Wars: Datapad feature available in the Play Disney app. We've done the research and compiled this guide so you can be ready for the opening of the new land in Disneyland, this Friday, May 31st and in Walt Disney World's Hollywood Studios on Thursday, August 29th.
There is so, so much to cover in this regard so we won't bog you down with the details of every menu item and price. Instead, we'll provide a rundown of what you can expect to experience at each location shopping and dining wise, some of the anticipated highlights and the logistics that you need to know about each activity. We'll also point out the price of certain activities when significant.
If you would like to know how to get into Galaxy's Edge, please check out our video discussing the need to know information about the backstory and getting into Galaxy's Edge for both Disneyland and Disney World, as well as what to expect from the first ride, Millennium Falcon: Smugglers Run.
A brief update to the information in the video is that if you have an 8 a.m. reservations to get into Galaxy's Edge, in Disneyland, you may enter the park at 6 a.m. so you can check in at Star Wars Launch Bay and then walk over to the entrance of Galaxy's Edge unfettered by the crowds; though you will still have to wait until 8 a.m. to enter the land. I also wanted to point out a correction to the video in that the Extra, Extra Magic Hours for Walt Disney World's Magic Kingdom and Animal Kingdom run from 7 to 8 a.m. from August 29th to November 2nd.
In order for you to better plan your visit to Galaxy's Edge, please note the locations of the stores and dining options are on the map below from the Star Wars: Galaxy's Edge Merchant and Food Guide. It is important to always consider the time it will take you to traverse the 14-acres of Galaxy's Edge, especially since the Tauntauns at Creature Stall are not for riding.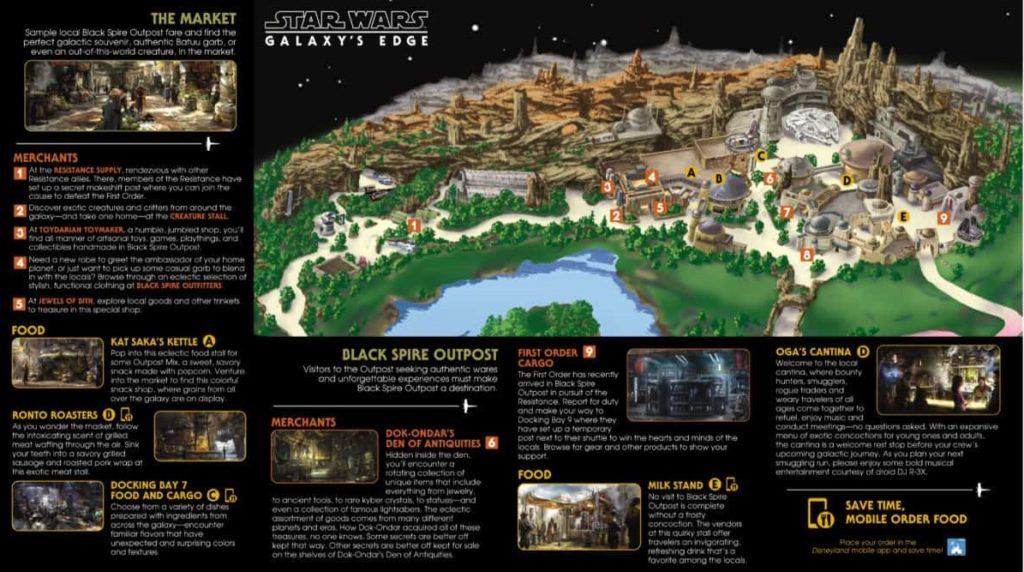 Shopping in Star Wars: Galaxy's Edge
Let's start with the topping to every vacation—shopping! This goes well beyond "exit into gift shop" kind of stuff. Disney is basically selling the shopping experiences in the land as attractions onto themselves, and, as much as I hate to admit it, I am excited for the opportunity to dole out several hundred more dollars for some of the park exclusive (and in some cases land exclusive) items; whereas I would not if they were just in a normal Disney store.
The shops range from immersive, intimate experiences where you create your own items to novelty Star Wars centric gifts. What sets many of these shops apart from those found elsewhere in Disney Parks is the presentation. Unlike other shops, the use of branding labels and packaging for items is greatly reduced if even observed.
For example, instead of purchasing a lightsaber in a plastic package, you can design your own, custom-built lightsaber at Savi's Workshop. The whole process is choreographed like an attraction where guests will have extensive interactions with the characters. To start, one does not simply walk into Savi's Workshop…
Savi's Workshop
For those seeking a custom-built lightsaber at Savi's Workshop, you must head to Savi's Scrapyard. There you can seek for the hidden workshop by arranging an appointment to meet the Gatherers—a group dedicated to restoring balance to the Force. No details yet on how to make this reservation but don't be surprised if it involves the Disney Park App/Star Wars Datapad or talking with a cast member either in person or over the phone. At the time of your appointment, you will find a symbol displayed at the front of the workshop and give a secret phrase that you received after making your appointment to the Gatherers to enter inside where you will meet Savi and begin to build your lightsaber.
From our knowledge, the parts you get to use to build your lightsaber is, at least in part, dependent upon how you respond the Gatherer's questions. For example, they will ask you something along the lines of what kind of lightsaber you want? If you are going for a specific look and want some time to think about it, we recommend watching a video with specifics details of Savi's Workshop which should show examples of each style of lightsaber and give you time to ruminate on your upcoming selection. Having an idea of what you want ahead of time is important because your time in Savi's Workshop will only be around 15 minutes.
The lightsaber building experience is recommended for those 5 and up and each builder may bring up to one guest. Also, at least one member of your party must be 14 or older. Due to the limited number of build-stations, only 14 builders will be allowed in Savi's Workshop at a time. A consequence of this is that if the park is open from 8 a.m. to 12 a.m., only 896 people will be able to do this one experience per day, which is a fraction of those expected to be in the park. One factor that may reduce the demand is the cost. The price for the lightsaber building experience will be $199.99 plus tax. Also, there are no returns or discounts (no Annual Pass, DVC, etc.) and if you build it—you buy it. What you get to take home with you is lightsaber with a hilt made of metal with possibly some plastic components, a detachable 36" light up blade made of reinforced plastic, and a padded carrying case. The lightsaber has been described as heavy with a solid feel.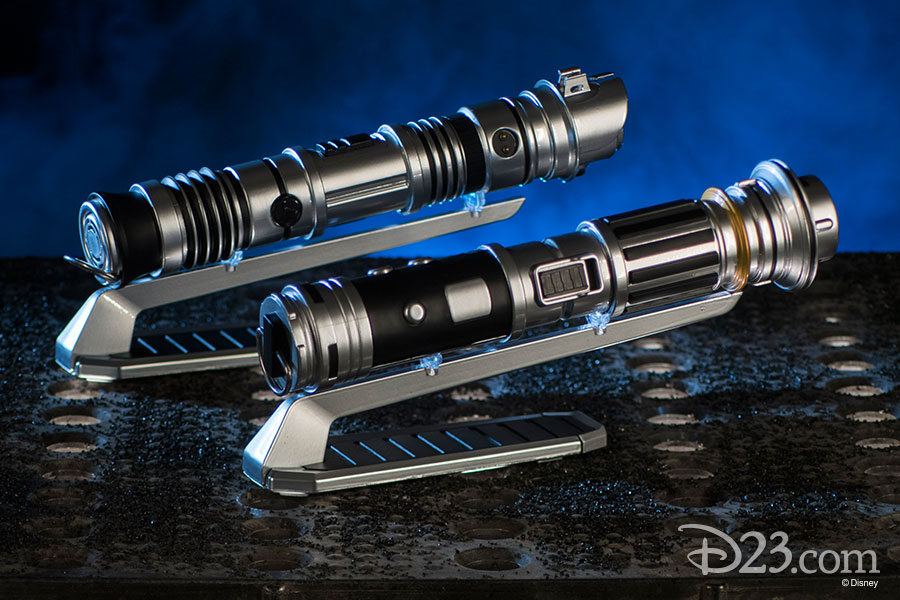 If you would like to purchase a lightsaber, it is important to consider how you may travel with it in the park and on your way home. You can purchase a belt to carry the hilt by your side while you store the blade in the carrying case over your shoulder making it fairly easy to get around the park. Also, it is rumored that the attraction, Rise of the Resistance, will have a special compartment to store your lightsaber in while you enjoy the ride, though hit is unclear, if such a storage space is available for Millennium Falcon: Smugglers Run. After finishing your vacation at either Disney park, there is a reasonable chance you will be flying back home. Since the blade is so long, it may get damaged in transportation as I doubt TSA will let you take it through security. Instead, it might be best to have the lightsaber bubble wrapped and shipped for traveling long distances across the galaxy.
Dok-Ondar's Den of Antiquities
If you would like to customize your new sweet saber further, or rather than purchasing a custom lightsaber you would prefer a replica of one used by your favorite Jedi or Sith lord, then it may make sense for you to head to Dok-Ondar's Den of Antiquities where you will find various "artifacts" from those strong in the force and a vast collection other familiar memorabilia seen throughout the Star Wars franchise. In the Star Wars universe, Dok-Ondar is a powerful, well-connected, and stern businessman who often deals in illegal goods on the black market. Some of the dubious items that you will find at Dok-Ondar's Den of Antiquities include collectable "artifacts," apparel, housewares, toys, and Star Wars holocrons that Disney says will each have their own story.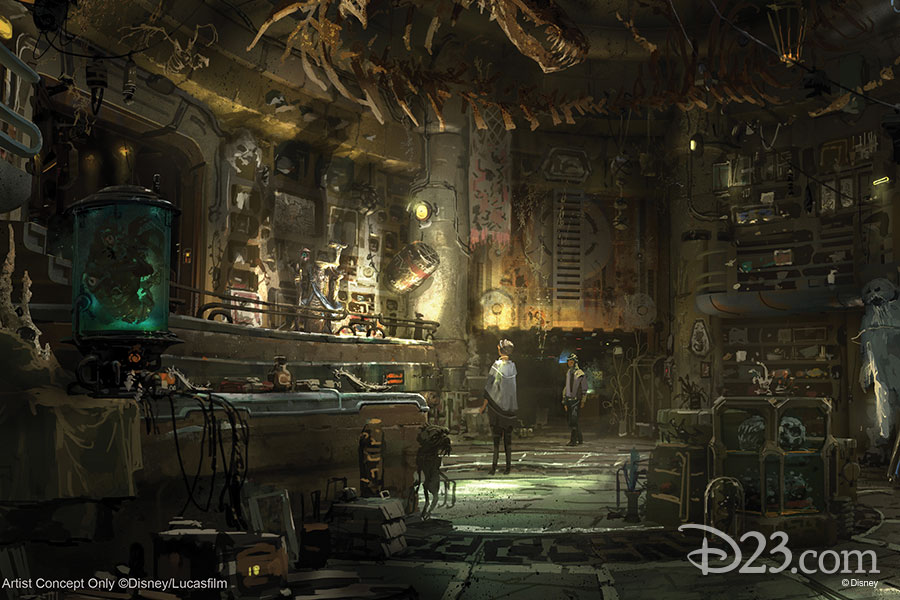 In addition to the merchandise, which will be presented to look more like a random assembly of items for purchase rather than a traditional organized store, you will see numerous items not technically for sale in the upper rafters of the store such as alien remains and a 12-foot stuffed Wampa. There will also be a number of animatronic creatures in the building to provide ambiance. You will also see an audio-animatronic Dok-Ondar conducting business at his desk. If you are feeling shrewd, you can try to barter with the 245-year-old Ithorian proprietor through a Disney cast member working in his shop; though if you decide to go down this path, be aware that you probably won't get a discount on your item's listed price and may even end up having to pay more! Dok-Ondar is a dealmaker though and it has been stated that he is willing to part with anything in his collection—if the price is right. We're not sure if that is just hyperbole or foreshadowing of things to come in Galaxy's Edge.
Droid Depot
While walking through Black Spire Outpost, you may see remote controlled droids roaming the streets that you can interact with adding another level to the fantasy. Imagineers worked with LucasFilm to incorporate detailed aspects of the Star Wars films including using the actual molds for all of the droids in the movies. Those familiar 3-wheeled droid "footprints" you see going through the land? Those were created by taking rubbings from the wheels of the 1977 R2-D2 to create replicas which were attached to the bottom of a triangular piece of plywood that was pulled through freshly poured concrete. I guess they found the droids they were looking for….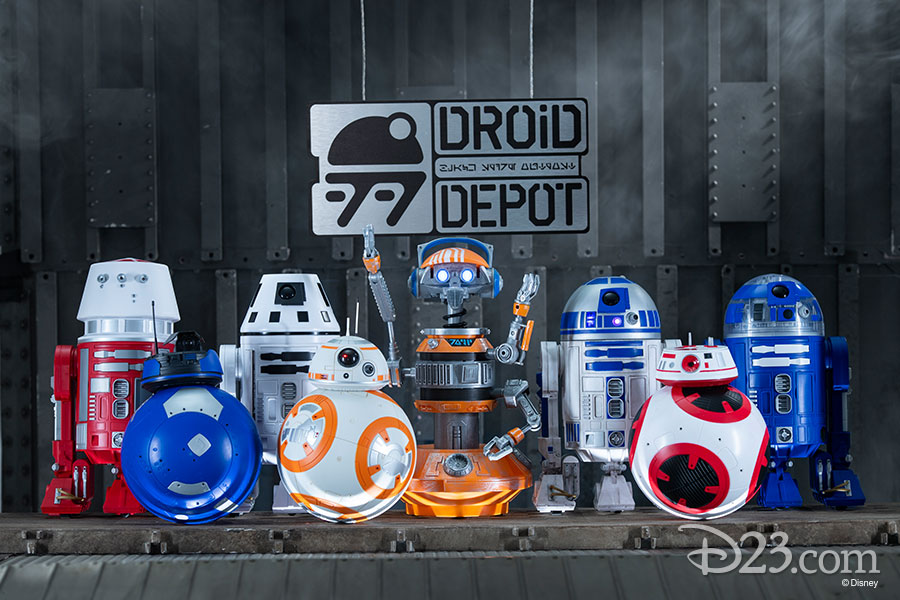 Now, if you are looking for a droid and you come across a shop with a number of audio-animatronic droids out front, you're in luck! The Droid Depot invites those age 3 and up to design and take home your own custom remote-controlled droid based on either a R-series astromech droid, like R2-D2, or the ball shaped BB-series, like BB-8. These droids start at $99.99 and like the custom lightsabers are non-refundable nor are discounts available. The Droid Depot also has pre-fabricated remote-controlled droids for sale if you're not interested in building one and if you are heavily invested in having your own R2-D2, you can get a life-size remote controlled R2 unit with all the bells and whistles for a mere $25,000!
To craft your droid, you will first pick parts off a conveyor belt running against the back wall and take them to a build station to assemble using a screwdriver. There will be information guides for you to use that provide stepwise instructions to build your droid using the components and panels that you selected. Next, you will select a personality circuit at the chip station. If you find you aren't a huge fan of one personality, you can keep replacing the chip until you find a good match. Finally, you plug your droid into the Activation Station to do a diagnostic check and power it up. It is important to know, that there will be no time limit for assembling your droid, so don't feel rushed while making your little buddy. There have been some rumors about a reservation system going into effect but as of this time, it is first come, first serve and it is likely that lines will be long to do the build.
Once you are finished, you will find that your tailor-made droid is not simply a remote-controlled device but also an interactive component of the Galaxy's Edge experience. The droid is designed to respond to your actions as well as beacons transmitted inside Galaxy's Edge. This enables your droid to interact with the droids of Black Spire Outpost and to respond to various situations that you experience on Batuu. It's important to note, that will not be allowed to have your droid rolling through the streets of Black Spire Outpost but a carrying case will be provided that seems to let the droid peak out at the world.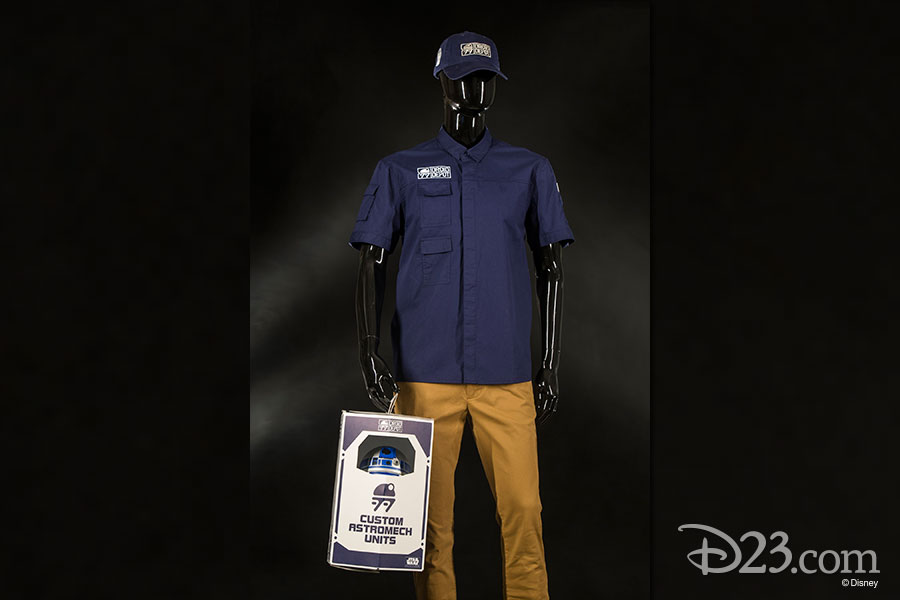 Creature Stall
At the Creature Stall, guest will be able to select an interactive "pet" that they can take home with them. The Creature Stall is said to be run by an Amani alien named Bina who has gathered creatures, both cute and brute from across the galaxy—including creatures seen throughout Star Wars movies and shows—which will give Star Wars fans an idea of what they might find there. The Creature Stall is quite small and cramped, filled with cages of audio-animatronic critters, and will only be able to hold around 12 people at a time. Curiously, this was by design, as the Creature Stall was meant to be characteristic of market stalls found in Istanbul and Morocco. While I can appreciate the "authentic" look they are going for, I am wary of the functionality of such a set-up for Disney-sized crowds and as such, expect lines just to go into the shop. Even if you don't purchase a creature, it may be fun to go inside just to interact with and sometimes play with many of the critters in the shop. If you do decide you want to take a "unique companion" home with you, you will find them as miniature plushes, puppets, and plastic creatures of the critters displayed in the store and typically have their own special features in the form of sound effects, movements, or both.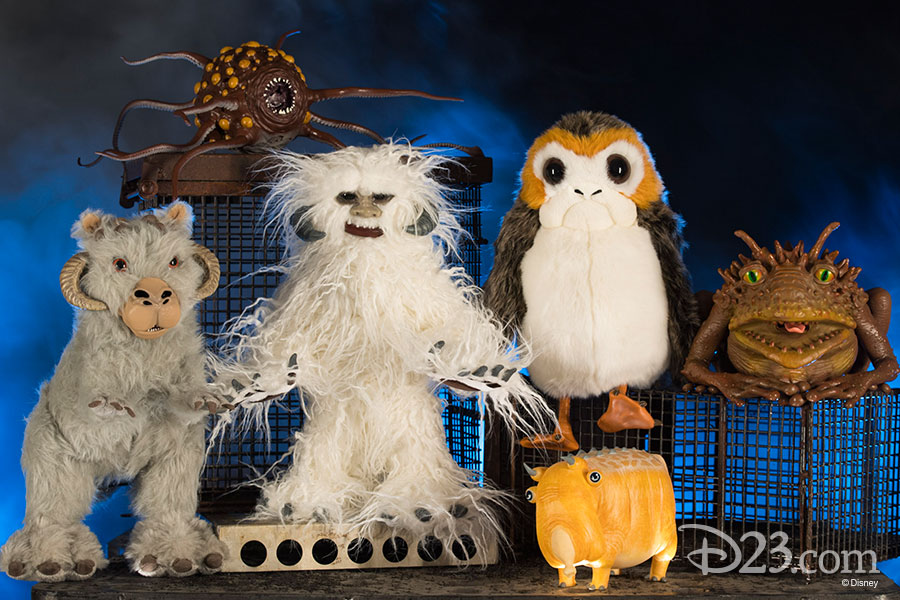 Toydarian Toymaker
The Toydarian Toymaker is a place to find plush hand-crafted dolls, puzzles, games, and instruments seen throughout the Star Wars universe. A silhouette of the Toydarian proprietor, Zabaka, who is of the same race as Watto from Star Wars: The Phantom Menace, can be seen through a window in the back of the store, supposedly working away on her next creation. The instruments include at least some of those played by Figrin D'an and the Model Nodes from the Mos Eisley Cantina in the Star Wars: A New Hope as well as Ewok Drums. You can either play the instruments yourself or play pre-recorded music on them.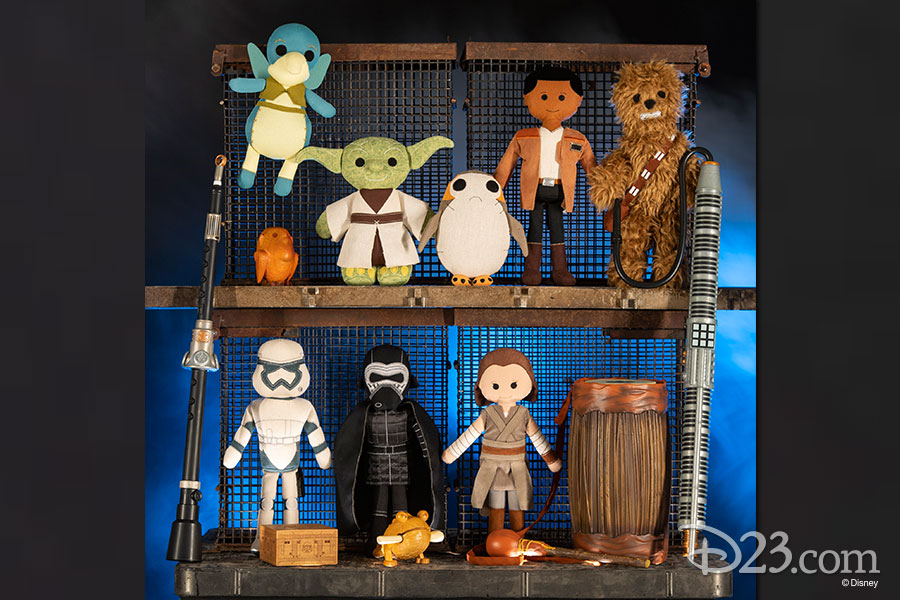 Jewels of Bith
The aforementioned Figrin D'an and his band from the Mos Eisley Cantina are from an alien race referred to as the Bith and this is a street cart that apparently will be run by a cast member in guise as a Bith. The cart will carry various trinkets and jewelry and possibly other items as well but at this time, very little is known about it.
Resistance Supply, First Order Cargo, and Black Spire Outfitters
While guests 14 and older are not allowed to wear costumes, masks, or any clothing that drags on the ground inside a Disney park, you are allowed and even encouraged to Disneybound—clothing that is inspired from or representative of a Disney character rather than a direct costume. As such, if you are looking to garb up in the trendiest attire in Black Spire, then head over to one of the three clothing stores in Galaxy's Edge—Resistance Supply, First Order Cargo, and Black Spire Outfitters.
Resistance Supply and First Order Cargo are set up as makeshift outposts where guests can purchase clothing and other souvenirs related to their respective affiliations. You can find Resistance Supply at the Resistance's Headquarters in the forested ancient ruins of Galaxy's Edge, and First Order Cargo inside of Docking Bay 9, easily identified by the life-size TIE Echelon outside. Each of these locations are presented as a "recruitment" post for each faction, so what you do there may impact how the denizens of Black Spire Outpost interact with you. In terms of an immersive experience, these stores probably snap you back to reality faster than anything else in the land as certain items there are definitely not something you would expect to see on Batuu! For non-affiliated attire, Black Spire Outfitters is an alternative option where you can find clothing that you might find in Star Wars films that you can mix and match to create your own unique Star Wars look.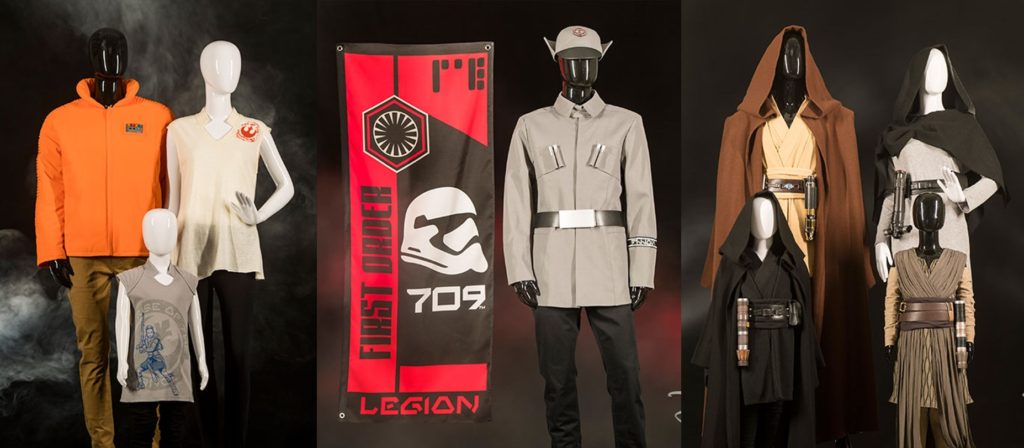 Dining in Star Wars: Galaxy's Edge
Next, we will be turning our attention to the five dining options available to guests of Galaxy's Edge. It should be noted that no dining options accept reservations at this time.
In Galaxy's Edge, Disney wanted the look and sound of a whole new world. Furthermore, they wanted to draw guests in through their palates using a lineup of food with "exotic" ingredients prepared by "otherworldly methods". We know, what are "otherworldly methods", right? Basically, it means that the menus feature fun Star Wars names for items and have some offerings that are outside of the typical chicken nuggets and burgers and presented in a flashy way. Some of these dishes have less-common seasonings, cooking preparations and/or flavor combinations. I guess we'll call that otherworldly…sure, why not.
Docking Bay 7 Food and Cargo
Docking Bay 7 Food and Cargo will be the primary quick service option for weary travelers searching for a bite to eat. Nestled inside of a "working" hanger bay, Chef Strono "Cookie" Tuggs, fresh after fleeing a First Order assault of Maz Kanata's castle on Takodana, has set up shop and assembled a menu with a number of "exotic" offerings from his travels. Like most quick service options now, you will be able to either stand in line or use mobile ordering to place your order. We are likely to go with the mobile ordering option since you won't waste time while you walk across the land to get your food.
Based on the descriptions, the entrees are essentially a twist on American classics. For example, the smoked Kaadu Ribs are sticky pork ribs and the Fried Endorian Tip-Yip is fried chicken with mashed potatoes and gravy. These and other dishes prepared by "Cookie" are presented in a manner that gives them an otherworldly feel and hopefully, with additional spices, provide a twist to the classic dishes.
Specific menu option are only available at certain times of the day, a la breakfast, lunch, and dinner, so if there is something at Docking Bay 7 Food and Cargo that you need to try from a certain menu, make sure you go there when it is served. For example, the Felucian Garden Spread is only available at lunch whereas the Braised Shaak Roast and Ithorian Garden Loaf only appear at dinner. There are also kids meals which appear to be variations of the Yobshimp Noodles and Fried Endorian Tip-Yip, as well as the dish, "A Taste of Takodana" which is a black bean hummus and accompaniments.
Two desserts are also on the menu at this establishment. The Oi-oi Puff is a raspberry cream puff with a passion fruit mousse, and the Batuu-bon is a chocolate cake with a white chocolate mousse as well as a coffee custard. I have a feeling I will be ordering both of these because they sound delicious, and I think both have very fun names!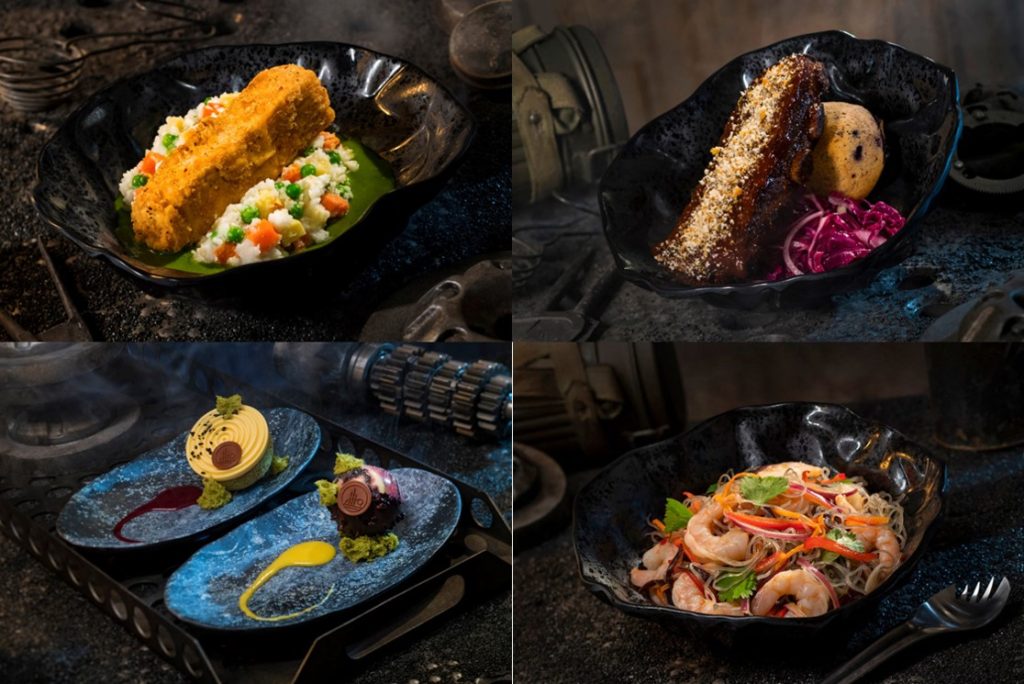 After receiving your food, you may choose to sit inside the hanger or dine el fresco in the outdoor seating area surrounded by the crumbling walls of the old market.
Throughout Galaxy's Edge we recommend that you keep an eye out for "Easter Eggs" that Disney imagineers have hidden—often in plain sight—for your enjoyment. An "Easter Egg" is a secret, detail or reference that Disney intentionally creates for fans to figure out. For example, at Docking Bay 7, there are crates with the numbers 77, 80, and 83. While you could look at the crates and think nothing of this, alert Star Wars fans will recognize these as the years when the three original Star Wars movies were released in theaters.
Oga's Cantina
We've known for a while now about Oga's Cantina, a haven for rogues, scoundrels, and travelers from all corners of the galaxy to enjoy a drink, make a deal, and take in the music spun by DJ R3X—formerly Captain Rex from the old version of Star Tours. The proprietor and local underworld kingpin, Oga Garra, has a strict code of conduct for her establishment to keep her patrons happy, but, when dealing with certain unsavory characters, you can never be sure what to expect or who will walk in the door. You can expect various characters, including stormtroopers, to enter the bar from time to time that you can interact with extensively if you wish. You should also expect to not have any place to sit since there will be no chairs at Oga's Cantina. Guests may stand around the curved bar or at one of the eight tables situated at alcoves around the bar to imbibe their beverage but don't be surprised if you are asked to 'move along' once you are done with your drinks. Outer space may be unlimited, but space here is not.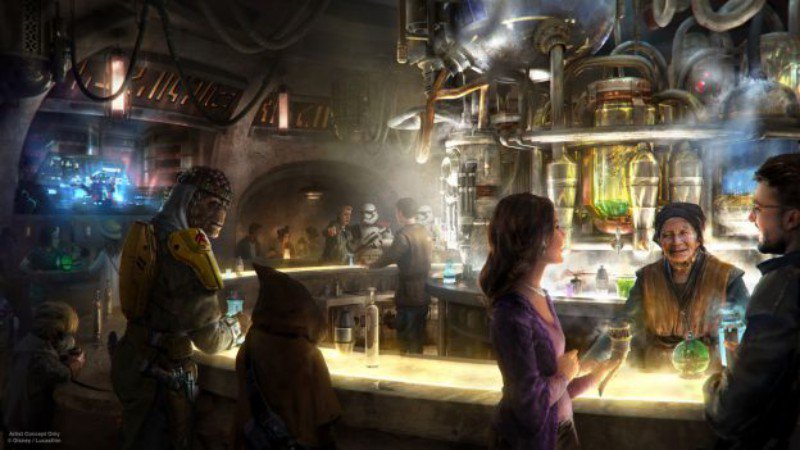 Speaking of drinks, Oga's will feature a wide array of specialty alcoholic and non-alcoholic beverages with flashy presentations. Or as Disney puts it, "otherworldly methods". Beyond the flashy drinks, there will be beers, hard cider, and wine on tap from national distributors using Star Wars labels. If you have ever dreamed of having a beer flight where the beer is poured into rancor teeth, you can get the novelty set for $75. Be sure to look over the menu before heading to Oga's Cantina to see if there are any drinks you have to have or at least have to get that perfect Instagram post in order to save time while you're there. Like Docking Bay 7 Food and Cargo, there will be a breakfast and a lunch/dinner drink menu but if you are looking for food to go with your drinks, we do not expect much beyond the food component of some concoctions and the Batuu Bits snack mix.
Ronto Roasters
Ronto Roasters is a kiosk with mobile ordering where you will be invited to try the Ronto wrap or Nuna Turkey Jerky at lunch and dinner. The Ronto wrap is roasted pork and pork sausage wrapped in at Pita with a spicy Szechuan peppercorn sauce—so be aware of that before placing your order. While actually cooked in back, the sausages for the wrap are presented as being grilled under a converted pod-racing engine. The grill spit is turned by 8D-J8, a former smelter droid turned pit master that interacts with the guests while they wait for their food. Beverages available will include a trio of fruity concoctions in addition to standard fountain drinks.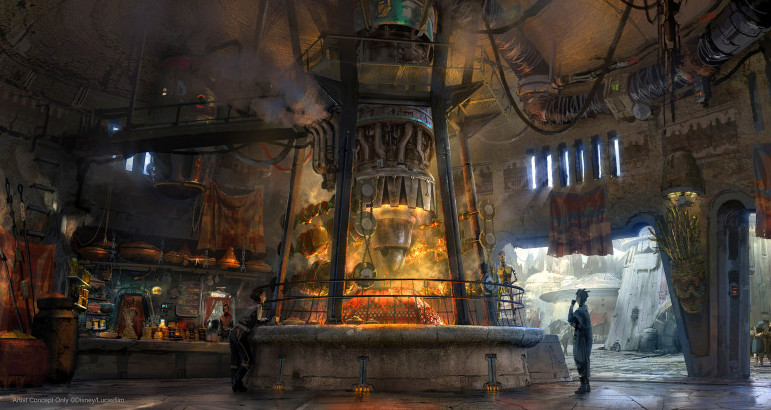 Milk Stand and Kat Saka's Kettle
The Milk Stand kiosk provides fans the option of indulging on the Blue "Bantha" Milk and Green "Thala-siren" Milk made famous by Luke Skywalker during Star Wars: A New Hope and The Last Jedi, respectively. Both milks are non-dairy concoctions that use a base of rice and coconut milk blended with flavors and are served frozen. The Blue Milk combines flavors of Dragon Fruit, Pineapple, Lime, and Watermelon and the Green Milk contains flavors of Mandarin Orange, Passion Fruit, Grapefruit, and Orange Blossom. The Milk Stand is sure to be super popular and will be available for mobile ordering.
If you are on social media and pay any attention to Disney announcements, you have probably heard about the Blue and Green Milk for quite some time, and, recently, you probably saw a barrage of postings about Galaxy's Edge exclusive Coca-Cola products. These specialty Coke items will be available at Kat Saka's Kettle and are designed to look like "Thermal Detonators" with lettering written in Aurebesh—a written language used in the Star Wars universe and which you will likely see all over Galaxy's Edge. Due to the anticipated high demand for the Coke products, there will be a limit of only three per guest, per transaction. If you want more, you will have to return to the back of the line, and Kat Saka's Kettle DOES NOT feature mobile ordering. The only food that the Kettle will sell is "The Outpost Mix", a sweet and spicy popcorn dish.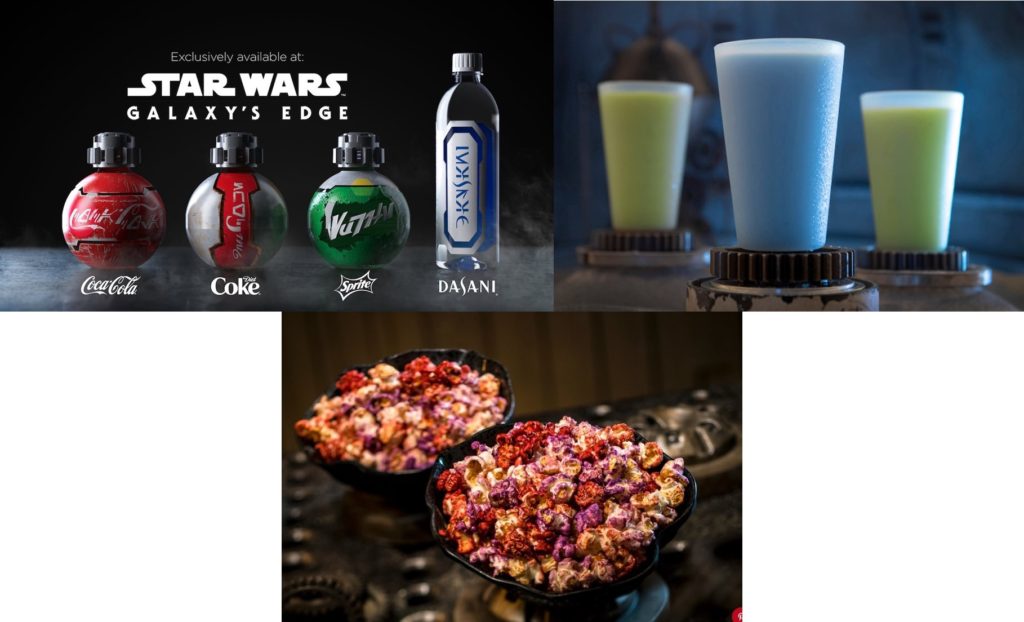 Star Wars: Datapad
For those using a smartphone in Galaxy's Edge, it is prudent to discuss the Star Wars: Datapad. When you arrive on Batuu, the Play Disney Parks App can reconfigure to the Star Wars Datapad where you can develop your Galaxy's Edge profile. The Datapad allows you to Hack, Scan, Translate, and Tune with an array of locations and objects across the land. This will enable you to interact with more characters and components of Galaxy's Edge and learn more of the story of Black Spire Outpost.
For example, if you scan some of Hondo Ohnaka's cargo leading up to the ride Millennium Falcon: Smuggler's Run, you may get a better understanding of what you are smuggling and who it's for. You can use the Tune function to listen in on conversations being broadcast in the parks and you can use the Datapad's functions to interact with things such as video screens, doors, ships, cameras, droids, and even water fountains! If you go to the app now—even when you're not in the park—there is a small preview of what to expect.

The App can also be used to take on missions that involve you completing tasks in the park and as a reward, you may receive galactic credits. What are credits good for? Based on reports, whether you have credits or owe credits can be the difference between Galaxy's Edge characters trying to get on your good side or having a bounty placed on your head should you opt in for that part of the experience.
May the Force Be With You
It feels like a long time ago, in a galaxy far, far away when we first heard about the creation of a new Star Wars Land and the time is almost here where we will be able to experience it. Depending on how many visitors are allowed into Galaxy's Edge at a time, it is important to realize you will likely not be able to do everything in one day. As such, it's best to identify what your top priorities are before arriving at the park. This is especially important during the reservation-only period at Disneyland where you have just four hours to explore the land, and you can't simply jump into the queue for Smuggler's Run near the end of your time to extend things…the stormtroopers will find you!
We hope this overview of the shops and dining options along with information on the Datapad proves useful to you as you prepare for your journey to Batuu. Galaxy's Edge looks like it will be an awesome new Disney experience, and we hope you have a great time in the land whenever you have the opportunity to go.