It's crazy hot and humid in Walt Disney World right now, and it will be for the next several months. Thankfully, Disney has a fairly new, amazingly refreshing treat to help you beat the heat and cool down—lime Dole Whip! Find out all of the available types of this delicious Disney snack and where you can find each by watching the video below or read all about it under that. There's even a specialty, adults only version that is truly delicious so be certain to stay tuned for that!
Lime Dole Whip was first introduced in the Magic Kingdom during the summer of 2018. Out of nowhere, it popped up at Storybook Treats in Fantasyland as the frozen portion of the Peter Pan Float. The new concept float was made with the lime soft-serve, sprite and topped off with a red, chocolate feather to look like Peter Pan's iconic hat. This combination dessert and drink is seriously amazing and oh so refreshing! It's not too sweet, and it feels really light. Unlike a corn dog or a big sundae, this Disney snack doesn't weigh you down. Plus, it helps with hydration which is always appreciated in Orlando.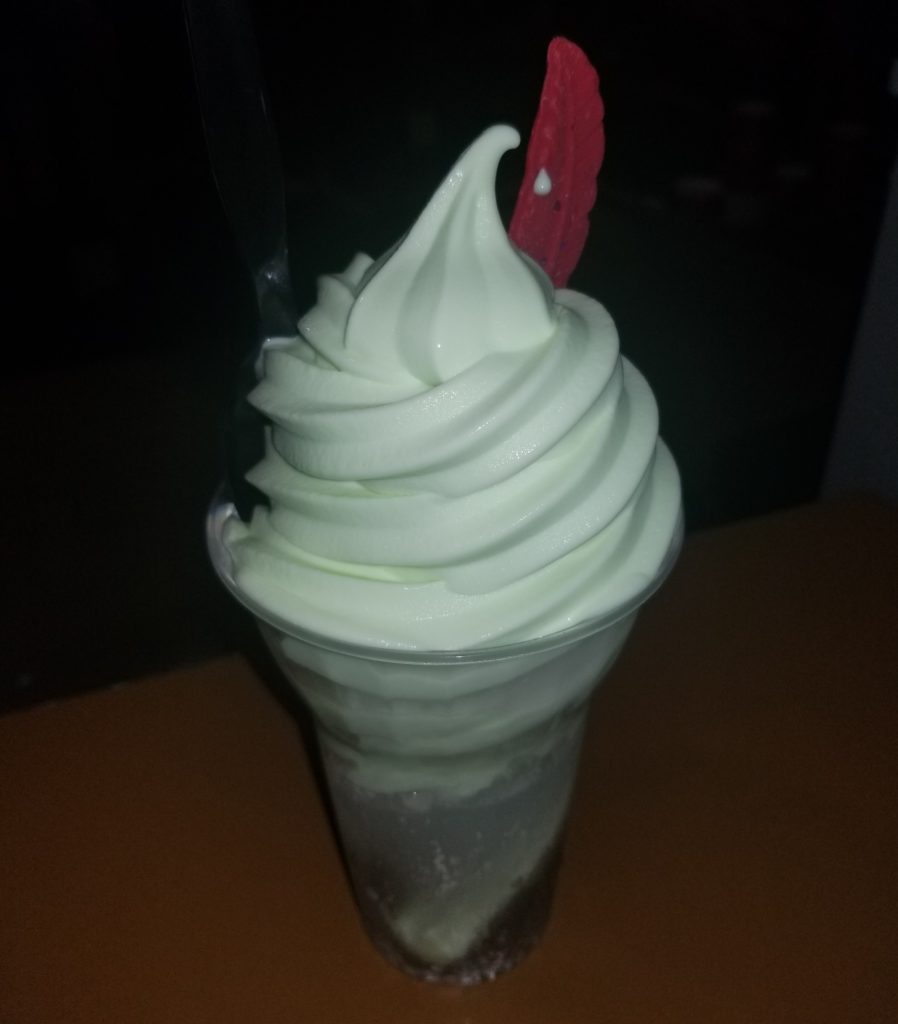 On this one, I should let you know that I'm weird. Shocking I know, but I am. I love ice cream, and I love root beer, but I've never actually enjoyed the two together. I always preferred eating the two components separately—floats were just not my thing. That is until the Peter Pan Float came along. The lime soft-serve and sprite are so perfect together that they're straight up relationship goals, and I'm so happy that the Peter Pan Float—now selling for $5.99—has been a menu mainstay at Storybook Treats since its debut last year. It flew under the radar at first, but it quickly gained a huge fanbase when the lime Dole Whip was part of a specialty treat during Mickey's Not So Scary Halloween Party in 2018.
There, they introduced the Maleficent cone—made with lime-soft serve sprinkled with purple sugar and topped with chocolate horns all in a black waffle cone. It was a huge hit, and it came back temporarily in January to celebrate the return of Maleficent to Disney's Festival of Fantasy Parade. It stayed around for about a month then and reappeared this summer at the Disney Villains After Hours special ticketed event in Magic Kingdom. We strongly suspect that it'll rear its horns again for this year's Halloween season, but we'll just have to wait and see.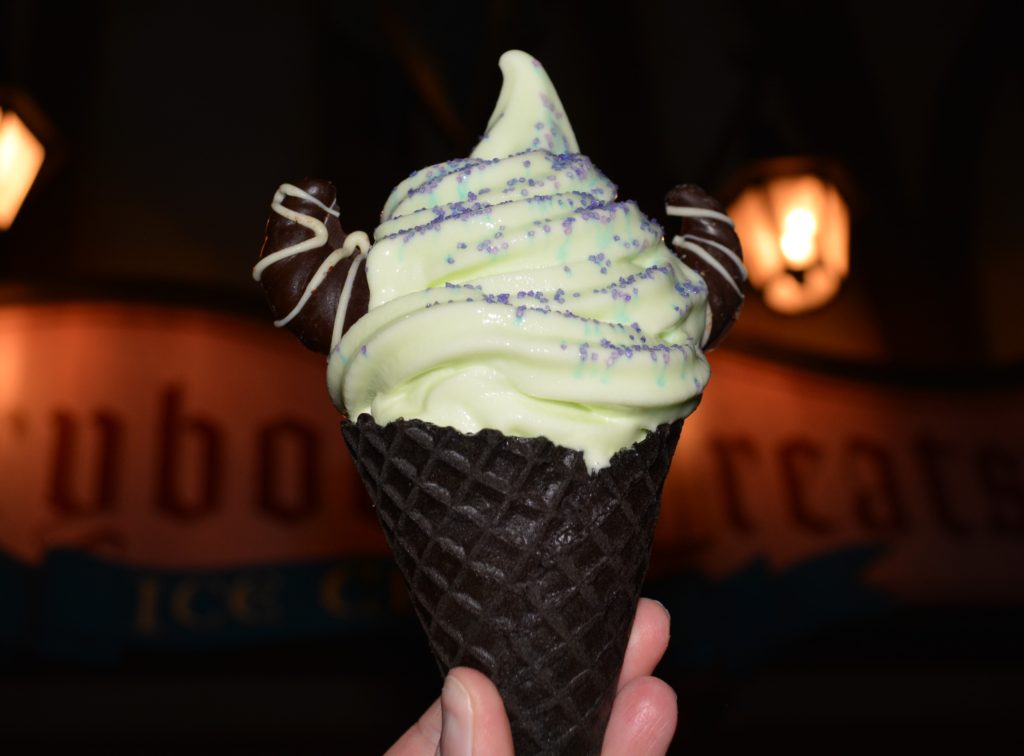 Right after Halloween last year, Disney switched out the Maleficent cone for a new character cone featuring the lime Dole Whip still at Storybook Treats in the Magic Kingdom. Tink's Pixie-Dusted Cone flew in and out of the kingdom in a matter of months, but it was a huge hit while it lasted! In fact, it paved the way for a wide variety of character cones that we've seen since. Tink's cone featured the soft-serve piled high in a green waffle cone base that was enveloped in a cloud of lime cotton candy and topped with pixie dust—commonly referred to as edible glitter—and white chocolate Tinker Bell wings.
The look of the cone was universally adored, and the lime cotton candy was amazing too! I really wish Disney would bring this cone back and make the cotton-candy a stand-alone option. Please Disney, bring it back! In fact, here's a marketing idea for you. First, make a lime green wall, then make lime flavored and colored cotton candy and a bunch of lime treats and merchandise and sell that just like the purple wall. I think that's a great idea—don't you all?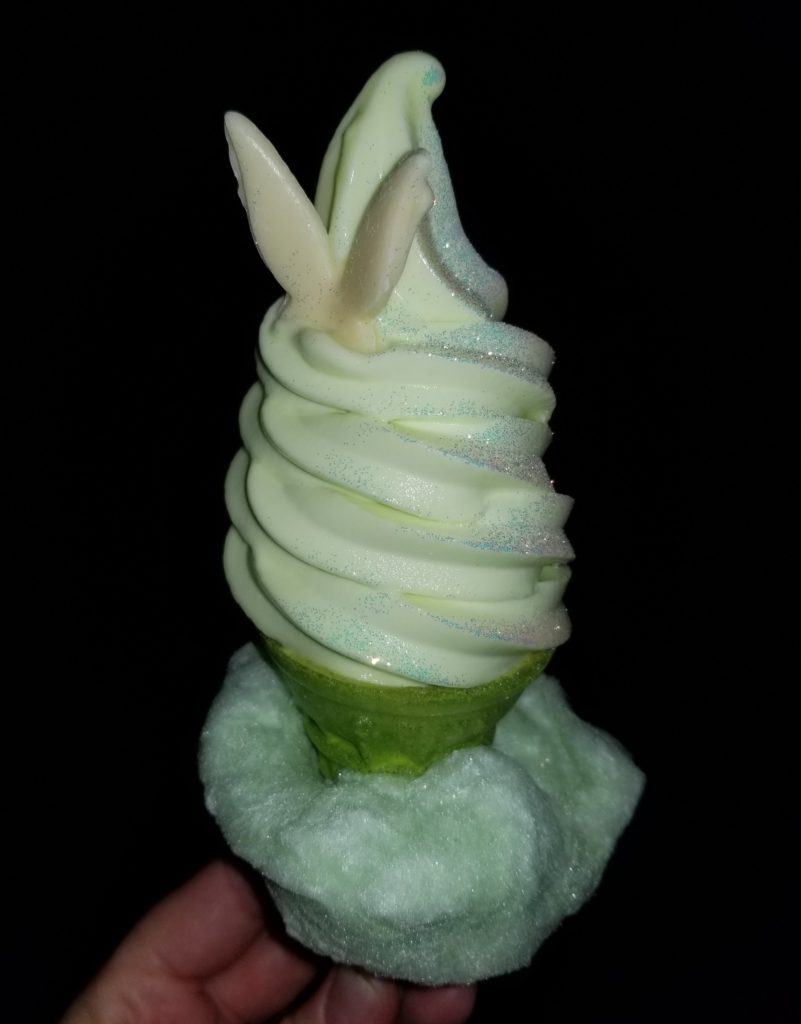 Anyway, back to Tink's cone. You should know that the lime Dole Whip is NOT ice cream. It's a vegan treat if you get it without any of the other non-vegan components like the chocolate feather or the chocolate Maleficent horns. Sadly, both cones were replaced this spring with The Lost Princess Cone featuring lemon Dole Whip—which is also incredible but not quite as amazing as the lime. However, since Storybook Treats still has the lime Dole Whip for the Peter Pan Float it will all be okay. And, you can now get a lemon and lime swirl in a cone or a cup for $4.49 or a Disney Dining Plan Snack credit, and it's delicious too. The swirl option is actually a secret menu item that they don't advertise publicly, but we're always happy to hook you up with the best tips, tricks and secrets for your Disney Parks adventures!
While Storybook Treats is the only place in the parks where you can get lime Dole Whip right now, it did make its way to one of the resorts this spring. Now, you can also find it at Pineapple Lanai at Disney's Polynesian Village Resort.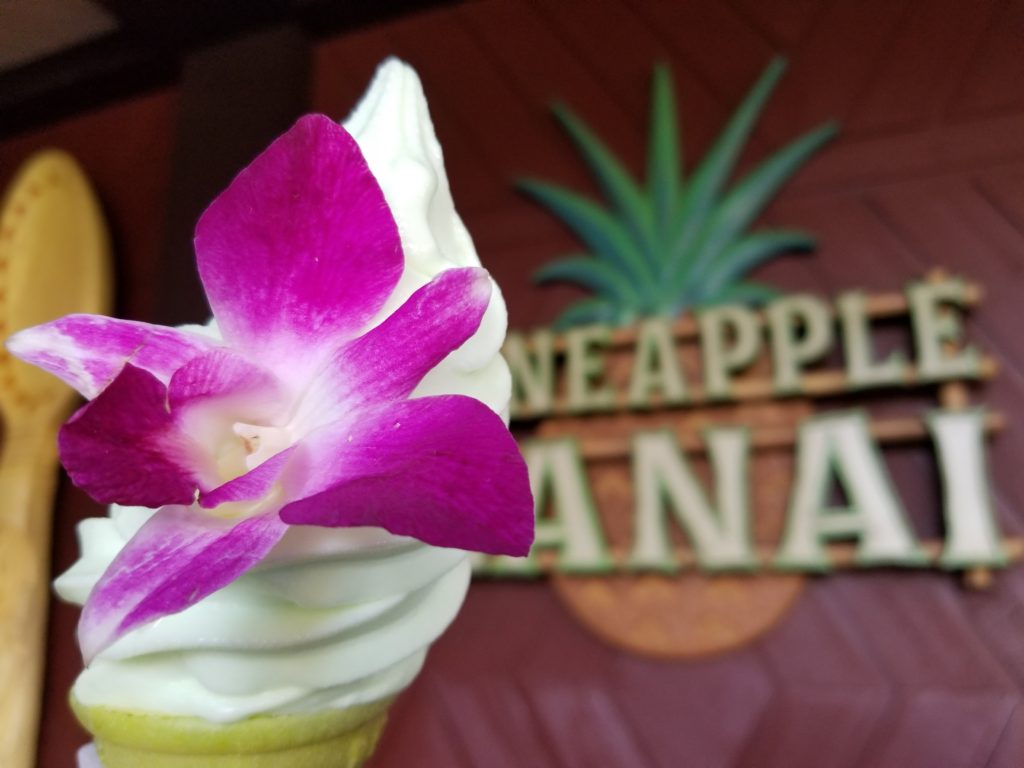 Fittingly, here you'll find the Te Fiti Cone modeled after the Polynesian goddess of earth and life featured in Moana as the rightful owner of the heart of TeFiti. Selling for $5.29, the lime soft serve is presented in the same green waffle cone base as Tink's Pixie Dusted cone, but this one is garnished with a beautiful tropical Orchid. While edible, the flower doesn't taste good so I would recommend plucking it from the cone after you take the obligatory pictures, licking the Dole Whip off it and decorating your hair. Of course, do what you want with it, but I say why waste a beautiful flower like that?!
Last but not least is the special lime Dole Whip option for adults only. The Barefoot Pool Bar also at the Polynesian Resort offers a brand-new Frozen Margarita with Dole Whip Lime for $12.50. It's a blend of Corazón Blanco tequila with the lime soft-serve and a tajin rim. Tajin is a unique mix of chili, lime and sea salt, and it's very popular in Mexico. The lime Dole Whip is a phenomenal substitute for lime juice and agave or any other sweeteners that are typically used in margaritas. This drink is a knockout summer sensation even without the tajin rim. I do think it enhances the drink though and provides a great little kick of tang and spice, but, if that's not your thing, you can get a standard salt rim instead. Overall, the Dole Whip is the star of this drink, and, while noticeably present, the alcohol clearly takes a back seat.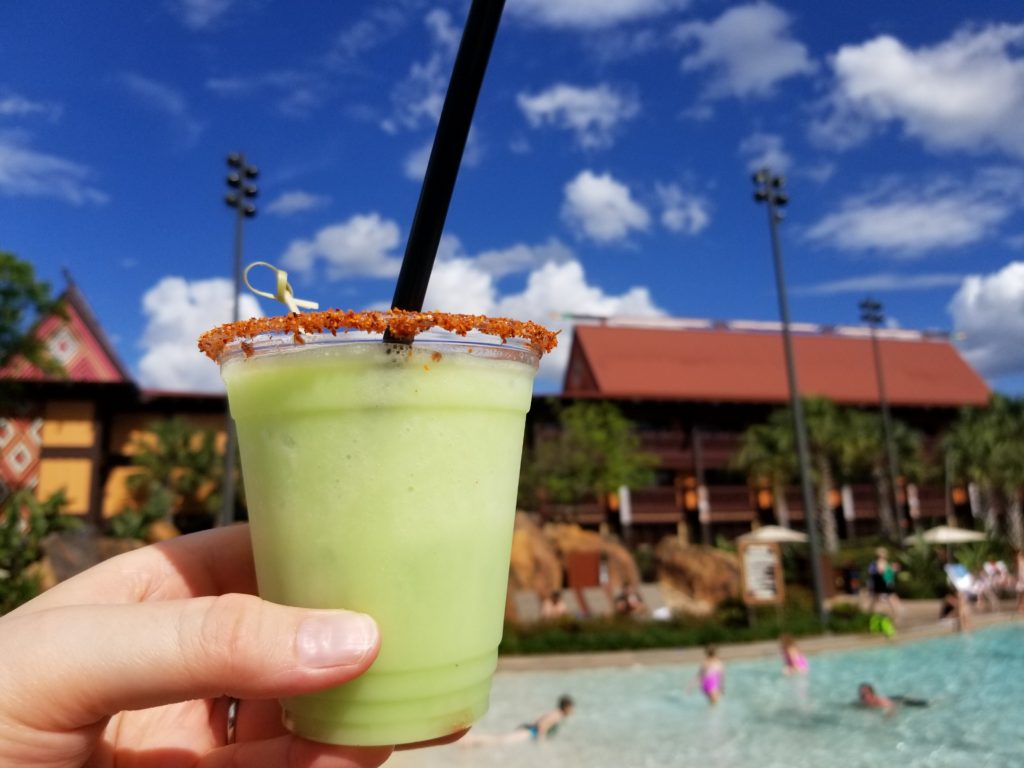 I'm sorry to say we've come to the end of the list of places to get lime Dole Whip at Disney, but I'm tentatively hopeful this won't be the case for long. It really is a standout new menu item, and I'm wistfully dreaming of the day when it can be found in every park, Disney springs and at many of the resorts like the original pineapple Dole Whip can now. That's my Disney dream, and I know I'm not the only one. Sure, I may be a bit obsessive about it, but I have yet to meet anyone who doesn't enjoy it. If you ask me, Walt Disney World has always been an amazing place, but, now that they have lime Dole Whip, they're the vacation destination of your parched in the summer sun dreams. Trust me on this one—get the lime Dole Whip.
Before you do though, we'd love to hear about your experiences and your perspectives in the comments blow. We're thrilled that you're a part of this community of Disney fans that remember to hug their loved ones, cherish the memories and always continue seeking the magical.