Do you remember the Cinderella Slipper Dessert that was previously available at select Magic Kingdom resort area restaurants by preorder? While we lost that specialty dessert item, a uniquely interactive version has reappeared exclusively at Cinderella's Royal Table in the Magic Kingdom. Fittingly coined, the "Lost Slipper Dessert", this secret menu item is one of the most Disneyfied-Disney desserts!

Check out our latest video below or read our review to learn how to order this secretively fashionable dessert and get our exclusive tips for the perfect reveal—which is a lot trickier than it looks! We'll also let you know about other custom options to enhance your experience at Cinderella's Royal Table and even throw in a stellar proposal idea too!
Since Disney specializes in fairytales, it's only fitting that they feature over-the-top fantastical desserts as the happily ever after to their most magical meals. And trust us when we tell you, we've gleefully skipped ahead to the finale many, many times!
Here at Seeking the Magical, we're all about unique and memorable desserts. While we respect the notion that every dessert should taste as good as it looks, we're admittedly willing to forgive less than spectacular flavors and textures if the dish delivers a wow in presentation, experience or setting. The Lost Slipper Dessert from Cinderella's Royal Table in Walt Disney World falls into the forgivable category as this secret menu item is just satisfactory enough on the palate, but it is completely worth the extra effort to experience it yourself. Clearly, Cinderella's Slipper is one of the most Disneyfied-Disney desserts, and if you pull off a successful grand reveal on this limited time treat, it's like watching the fireworks at the end of a Magic Kingdom day—sheer perfection!
What Was Lost…
For several years prior to the pandemic, the "Chocolate Glass Slipper Dessert" was available in various iterations at multiple signature dining restaurants in the Magic Kingdom area including California Grill, Narcoossee's, and Citricos. The slipper was featured in dark, milk, or white chocolate, and it was accompanied by a chocolate crown in the "Signature Slipper and Crown Dessert" available exclusively at Cinderella's Royal Table in the Magic Kingdom. At the time, guests had to call dining lines at the individual resorts or contact the Walt Disney World Resort Cake Ordering Hotline to pre-order the dessert at least 48 hours in advance of a confirmed dining reservation. Even though ordering the slipper was much more involved than simply asking one's server for something off a not-so-secret menu, it remained a popular specialty item for guests truly in the know! Sadly, the Cinderella Glass Slipper Dessert did not return when the parks reopened in 2020; instead, Disney was really pushing their Mickey Dome Cakes available at most restaurants and many resort quick service locations as well.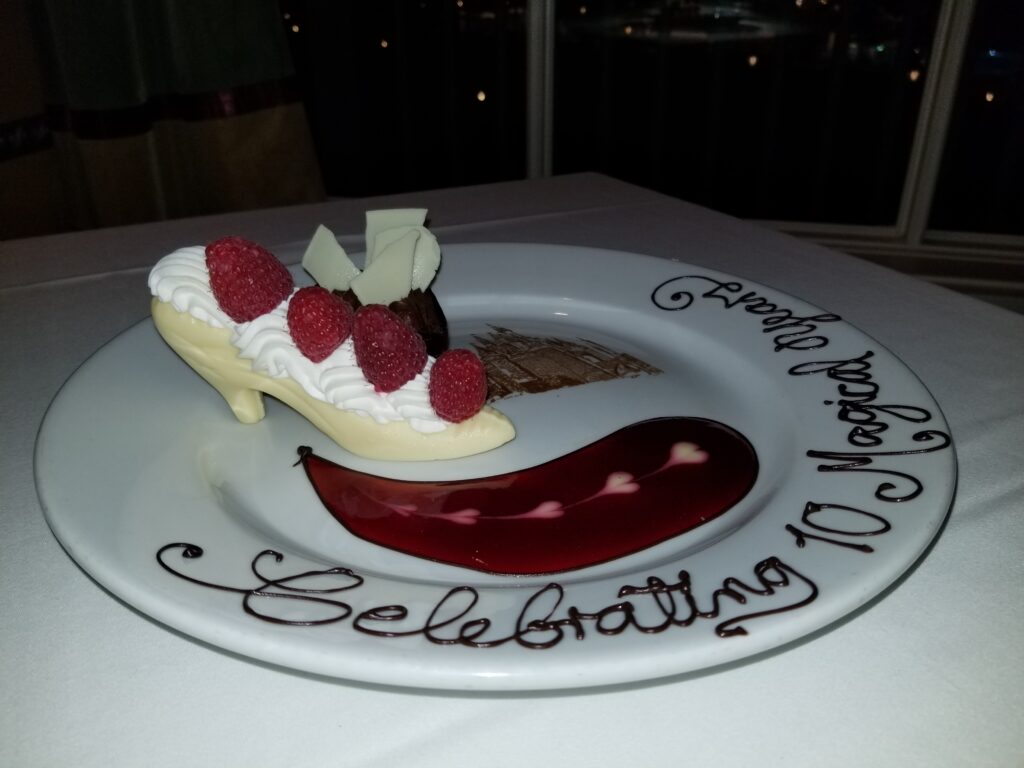 We have nothing against the Mickey Dome Cakes…they're cute enough and a good option for serving a larger party of 4 to 6. Still, they're not as special in our humble opinion. Thus, we were thrilled to learn that the slipper finally returned to Cinderella's Royal Table, and this time it's an experience—not just a plated dessert!
…Has Been Found!
Now coined, "The Lost Slipper Dessert", diners can drizzle hot caramel sauce on a milk chocolate dome to reveal a mini-white chocolate slipper filled with raspberry mouse and whipped cream tucked inside. Available for $25.00 plus tax and gratuity, this dessert must be pre-ordered for confirmed dining reservations at Cinderella's Royal Table by emailing [email protected]. Please note that the Special Events cast members are in the office Mondays, Wednesdays and Fridays and ask you to allow 72 hours for a response.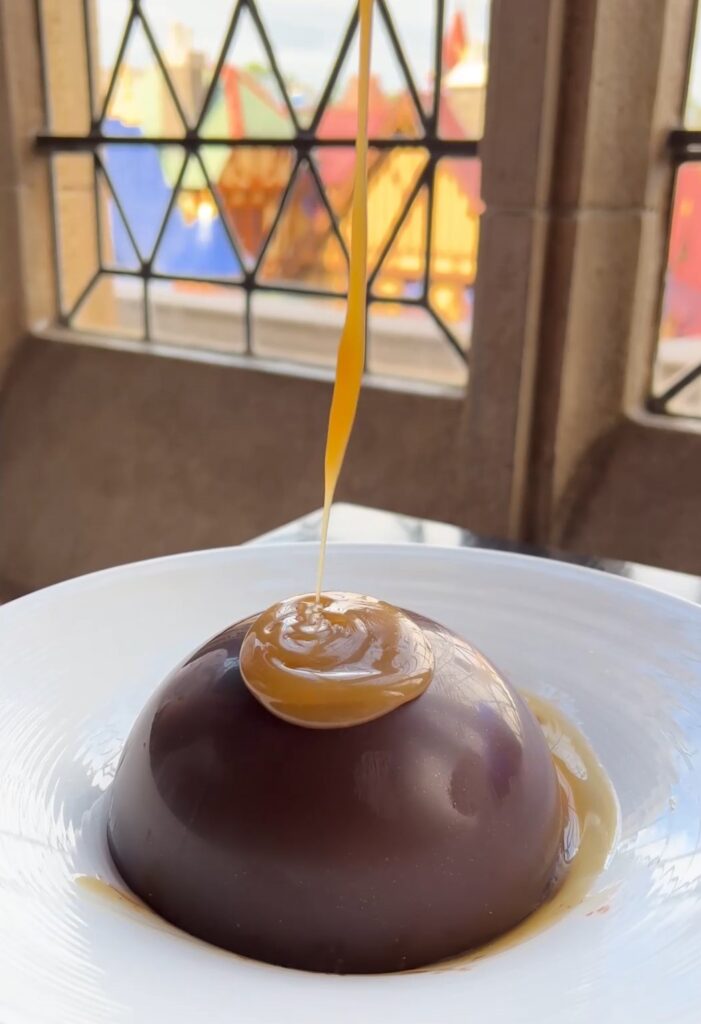 The Grand Reveal
Now on to the fun of how to achieve the perfect reveal! I have seen this served with the caramel poured in a line down the center or even an x pattern on top and then, the dome sliced and pulled apart with utensils or by hand. While that is one way to expose the components underneath, it does not do the dish justice! If you look at Disney's own marketing for the dessert, it shows the caramel being slowly poured on top and the dome magically melting away revealing a pristine scene beneath. This is the way to reveal the Lost Slipper, but it is tricky to pull off!
Our guess is the servers are going the way of the knives and fingers because they have not been given the opportunity to practice and perfect their pouring techniques, and that is a shame. Because of this, we went in planning to pour our own caramel. While not ideal, it was the right call especially after we were served one dessert with a caved in dome which made the reveal absolutely impossible as the sauce pooled there and just melted onto the slipper below. We knew it would be a problem the moment we saw it, but we didn't send the dish back. We admit—we should have, but after having both worked in the restaurant world for so many years in high school and college, we empathize.
Anyway, to achieve the perfect reveal you need to start with an intact dome and still hot caramel sauce. Then, pour the sauce in a steady stream right onto the dome's center. Pouring too fast will just make the center melt and collapse on the slipper; too slow and it will not melt the chocolate fast enough. The pace in the video above is just about perfect. Then, once you see a hole beginning to form on the top of the dome, stop pouring and let it open. If done at the right pace, the chocolate will naturally melt on itself—collapsing the dome and achieving the grand reveal. As you can see, we had it on this pour…it was happening…and then, we dropped the phone. That's just the way the chocolate dome crumbles sometimes…or melts.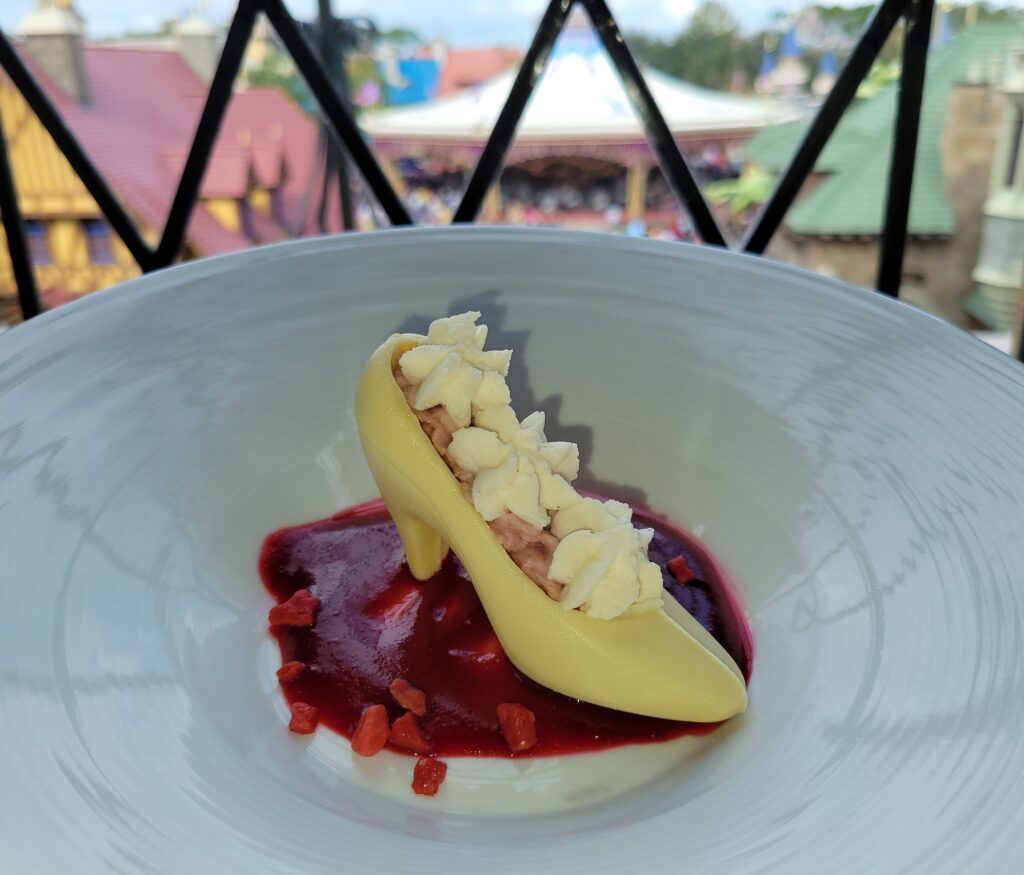 Other Specialty Options
If a grand reveal of this perfectly petite chocolate slipper isn't enough for you, there are other specialty options at Cinderella's Royal Table. Please know that we stuck with ordering a couple of the Lost Slipper Desserts to figure out the perfect reveal for you, and we did not pre-order any of these offerings. As a result, we cannot review or recommend any; we are simply providing the information in case you are interested. First, guests may crown one of their own a Princess for the day with a crystal tiara. Once seated, a Royal Attendant will present a crystal tiara to the party for a group member to rest on the head of the newly minted royal. Options include a 3-inch tiara for $25.00 and a 5-inch tiara for $40.00 plus tax and gratuity.
Such an occasion might call for a sparkling cider toast after your meal, served in an exclusive keepsake Cinderella's Royal Table champagne flute for $19.00 each plus tax and gratuity.
Finally, if the Chocolate Slipper is much too temporary for you, feel free to order an official Cinderella Glass Slipper that will be presented on a platter at the conclusion of the meal and costs $65.00 plus tax and gratuity.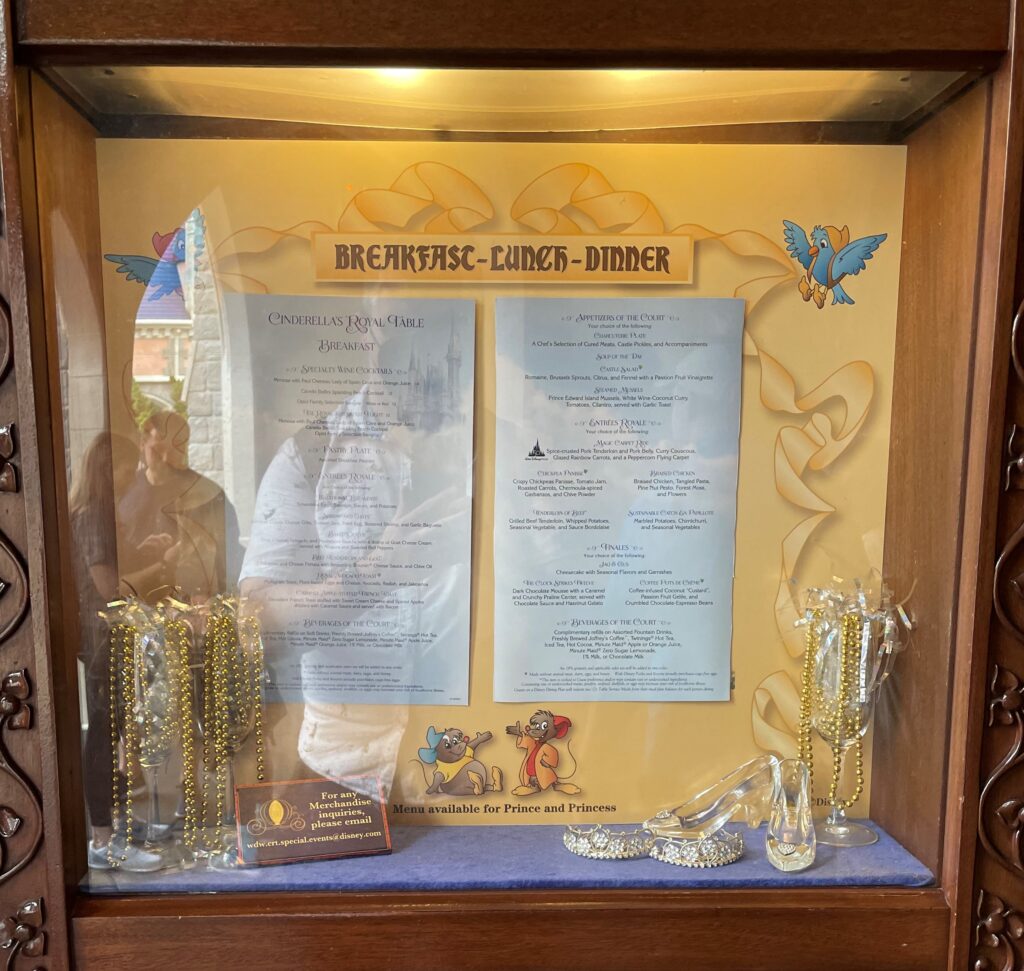 Getting to Yes!
All that is well and good, but perhaps it's time to up the ante! You see, many, many marriage proposals happen every day in Disney World with the vast majority taking place in front of the castle or while dining at Cinderella's Royal Table. We have witnessed several in person, and they always appear to be such magical moments! Now, we grant you that placing the ring in the dessert is not a new concept, but this idea takes that to another level and conveniently sidesteps the liability concerns of the restaurant handling one's actual engagement ring. Disney could sell a custom ring that is placed on the chocolate glass slipper in the Lost Slipper Dessert and discovered with the grand reveal prompting the proposal with the actual engagement ring. How cute would that be? And the betrothed would walk away with a bonus ring to mark the occasion! This also allows for a wide variety of ring options—everything from costume jewelry to actual precious gems. If that isn't sweet enough, they could include additional add-ons like the couple being whisked off by a royal attendant to Cinderella's pumpkin carriage waiting outside the castle for a ride down main street.
Can you imagine? Do you know how much they could charge for that? Disney could probably make up for their disappointing third and fourth quarters with that add-on alone! Don't get us wrong—we think Disney is far too expensive! But, if they must turn a greater profit, do it with specialty add-ons and lower the base prices elsewhere to make it more feasible for everyone to experience the magic. That's our hot take.
Anyway, we thank you so much for being here and reading our blog! Until next time, remember to hug your loved ones, cherish the memories, and always continue Seeking the Magical.