By: Heather
It's that time of the year again when it's nearly impossible to take cute Instagram photos of a huge chunk of Disney snacks anywhere outside! If you bravely attempt it, you'll have to snap quickly because soon you'll end up with a sticky, melty mess of ice cream or frosting on your hands. That is not enjoyable, and the point of a snack is to enjoy it in the first place—not just 'gram about it. Recently, I was amused when I discovered a new Disney cupcake that is not only tasty but, also, essentially melt proof. I'm pretty certain the components of the cake were chosen for their unique aesthetic qualities and not their resistance to heat, but that is a happy side effect for all of us in this weather!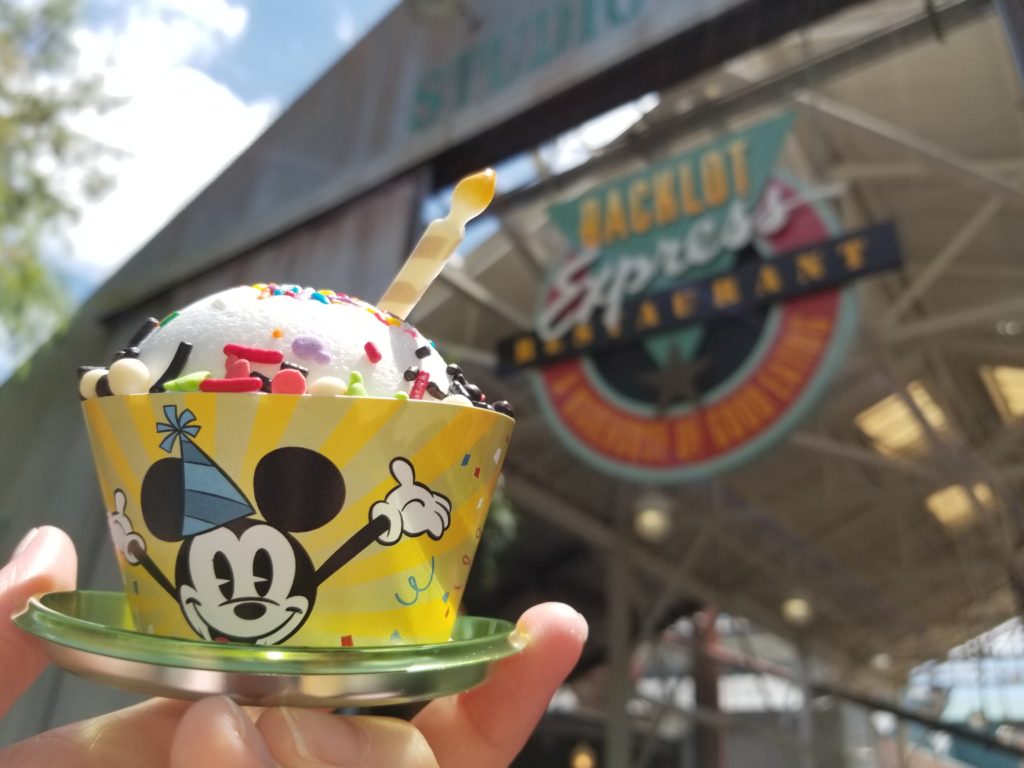 The snack in question is the Mickey Celebration Cake that is available for $5.29 (or a Disney Dining Snack Credit) from Backlot Express in Disney's Hollywood Studios. This cupcake, and a corresponding Minnie Mouse version, were released on May 1, 2019 to celebrate the 30th anniversary of the park, and they've both stuck around since the celebratory day.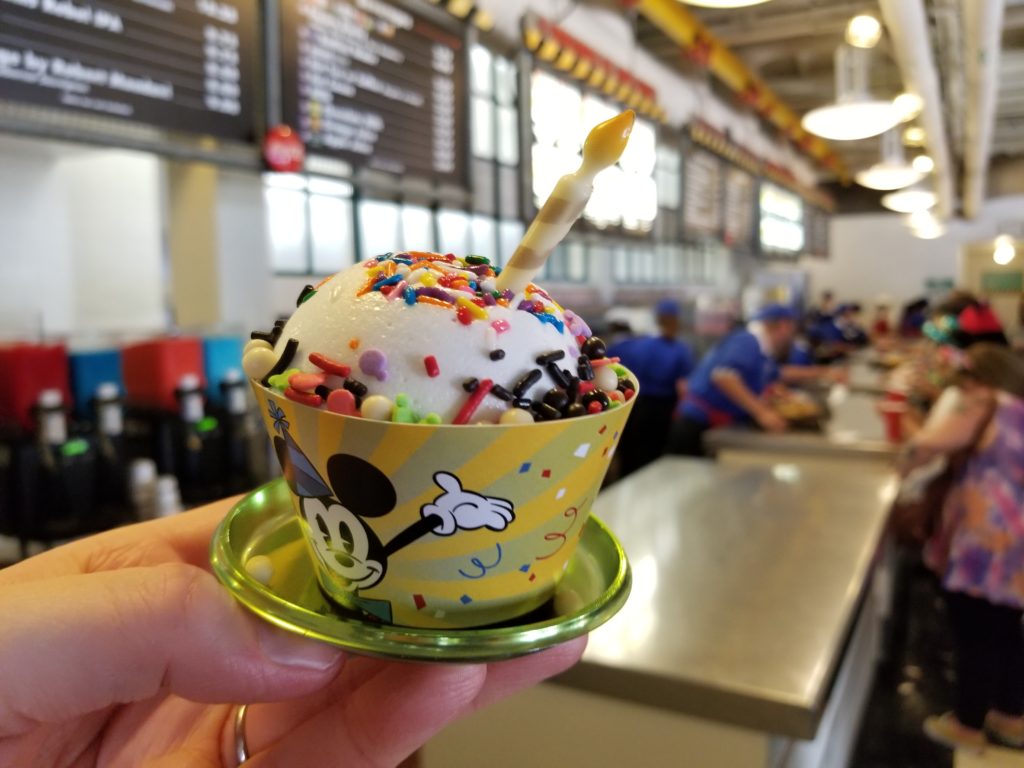 The Mickey version is made of chocolate sponge cake with a chocolate cream filling and a vanilla marshmallow topping along with crispy pearls and Mickey sprinkles. The Minnie version is yellow cake with a strawberry cream filling and a strawberry marshmallow topping accented with crispy pearls and candy strawberry pieces. Both come with an adorable, edible fake birthday candle that lopsidedly sticks out the top, and both get high marks for their curb appeal. These are adorable desserts made even cuter by the perfectly themed paper wrappers!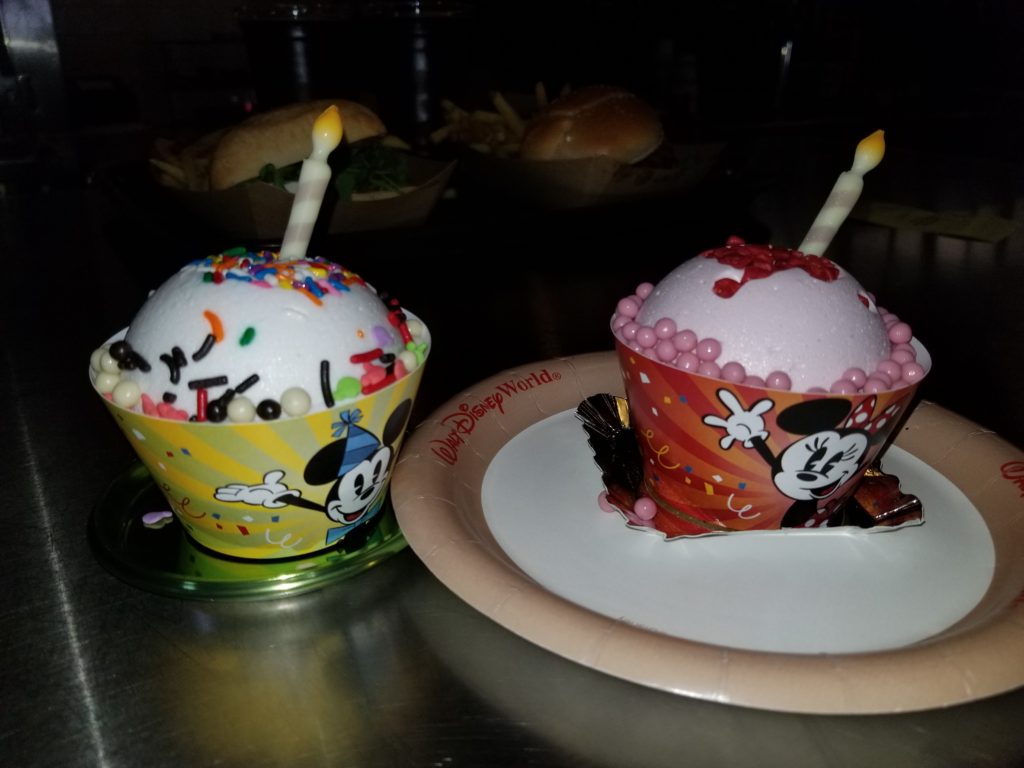 When I first heard about this cupcake and saw pictures, I was very intrigued by the perfectly formed mound of "frosting" on top. I surmised it was the marshmallow that was listed in the description, and I was very curious how that would work. While it gave the cupcake a unique, almost caricature like look, I wondered how thick it was and how it would taste as the primary "frosting."
Once I ordered it and was able to feel the marshmallow for myself, I realized that it might be able to withstand some heat. The marshmallow on top is very dense—almost rubbery to the touch and is much closer to an actual marshmallow than marshmallow fluff or other type of frosting. When I lightly pushed my finger into it, the dome gave a little and, then, popped back just like a cake would when it's done in the oven.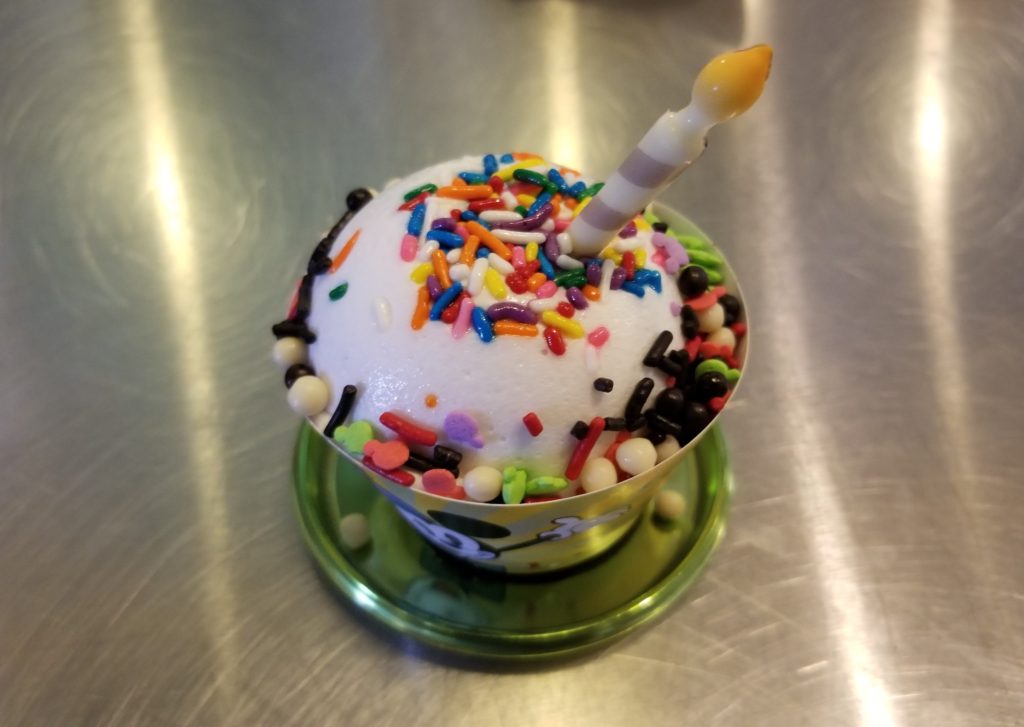 The day I tried this had a high of 91 degrees in Walt Disney World, and it was very humid! I was in a bit of a hurry anyway to get back to the rides and attractions, so I decided to eat my meal and take my cupcake to go as is. I also wanted to test out what I had assessed regarding the topping. Thus, I took some time watching the Jedi Training Academy with my cupcake; then, I decided to head over to the Indiana Jones Epic Stunt Spectacular.
As the cupcake was in celebration of the 30th anniversary of the park, I thought it was fitting to feature it in front of the oldest, still operating attraction in the studios. (There's a common misconception that Indiana Jones is an opening day attraction, but it actually isn't. It officially opened on August 25, 1989 while the park opened on May 1, 1989.) By the time I waited in the line and was seated, over half an hour had passed, and the cupcake still looked just as cute.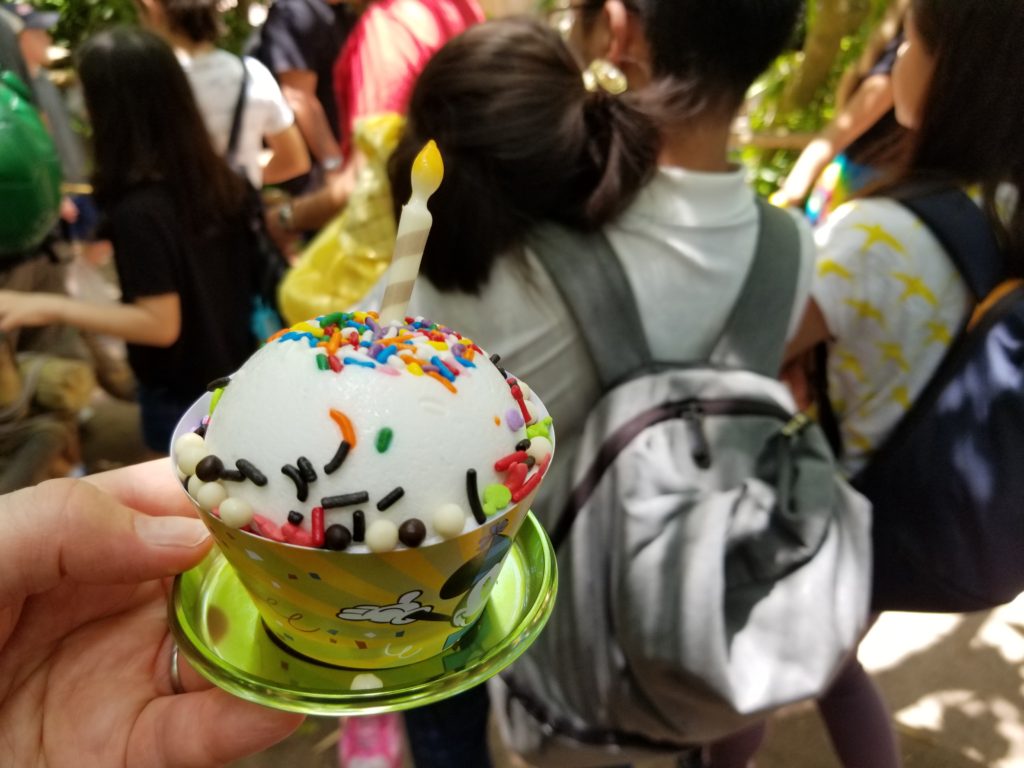 By this point, I was in awe of a cupcake physically withstanding 91 degree heat better than I can/do, and I was admittedly a little jealous. So I decided it was time to dig in while I waited for the show to start.
The cupcake was a little hard to get into with all of the little crispy pearls and sprinkles included at the top rim, but I managed. The chocolate cake included in Mickey's version was moist, and I loved the extra ooze of the chocolate filling thanks to the heat! Lastly, the remarkable, non-melting dome of vanilla marshmallow was actually decent. It provided some sweetness without being overpowering like many frostings, and it lightened the overall flavor. Sadly, it was a little sticky and odd to bite into, but I'm sure that could be fixed by simply eating it with a knife and fork. Overall, I would happily get this cupcake again for a quick, chocolate and sugar fix. (I'm allergic to strawberries so I was not able to try the Minnie version, but a friend did. She said it was good but underwhelming and thought the Mickey version was far superior.)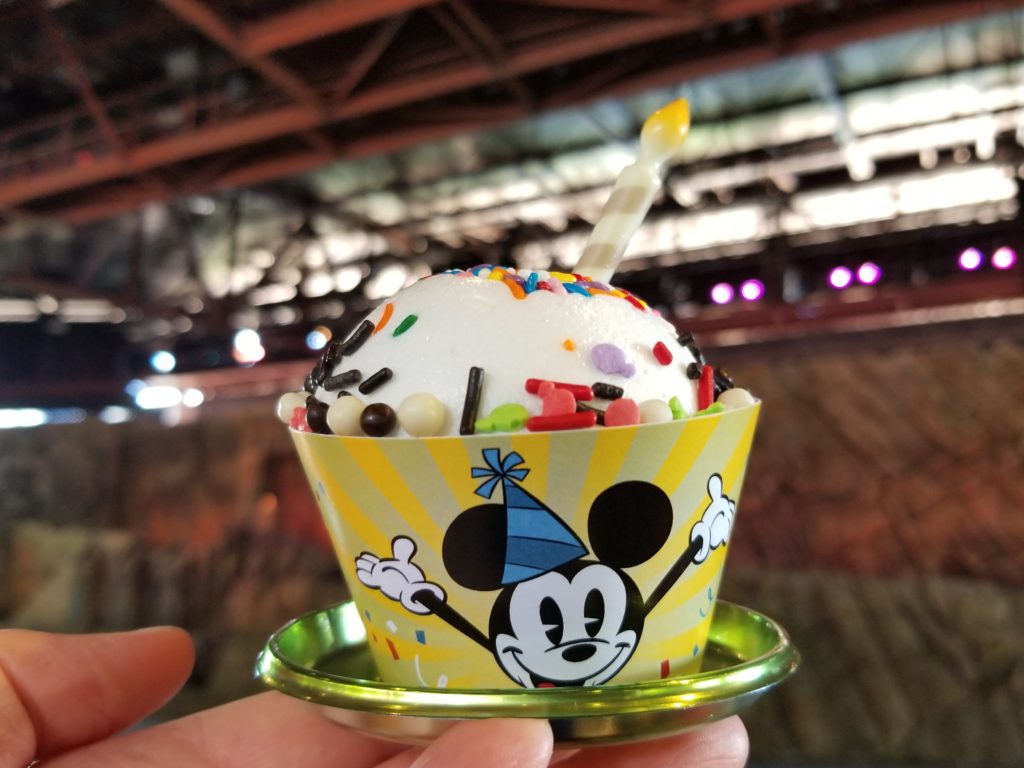 More noteworthy though, is how well this cupcake stood up to the elements of a Florida summer! If you want a tasty, sweet treat AND you want to take pictures of it outside, I highly recommend the Mickey or Minnie Celebration Cakes! If you don't care about pictures or the thing melting on you, then we welcome you to try this unique treat still. Save for the non-melting aspect, it isn't deserving of "highly recommend" status, but we'll say that you likely won't regret your choice. It's super cute and tasty after all!